Editor's note: This story has been updated to correct that ZipRealty currently provides brokerage services in 21 markets, including Salt Lake City, where the company has announced plans to transition brokerage operations to a new "Powered by Zip" partner.
ZipRealty Inc. continues to shed agents and support staff even as it grows traffic to its website, which now features Internet Data Exchange (IDX) listings from six markets where the company no longer has brokerage operations but provides referrals and lead management tools to brokers.
The Emeryville, Calif.-based brokerage said fourth-quarter 2011 revenue was down 31 percent from the year before, to $18.5 million, and that it finished the year with 1,701 agents — half as many as it had at the end of 2010.
That was the lowest quarterly revenue production since the first quarter of 2005, when ZipRealty employed 983 agents. The technology-based brokerage — ranked by RealTrends as the fifth-largest in the nation by transaction sides in 2010 — expects revenue will continue to shrink to approximately $15 million this quarter.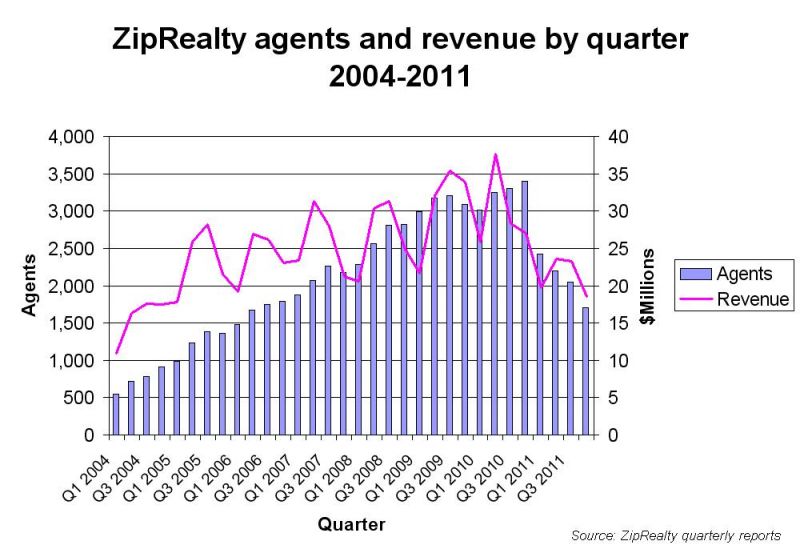 Click graph to enlarge.
ZipRealty kicked off 2011 by closing brokerage offices in a dozen markets as a cost-cutting measure, and in July announced that it was eliminating buyer rebates.
The downsizing has reduced expenses, helping the company trim fourth-quarter 2011 losses to $2 million, half of what they were in the same period a year ago. ZipRealty posted a $9.7 million loss for the year as a whole, down 38 percent from $15.6 million in 2010, with 2011 revenue also falling 28 percent, to $85.1 million.
Now, the company says it's hoping to trim another $7 million in annual expenses through additional downsizing, including a 16 percent reduction in its field sales support workforce, and layoffs that will affect 20 percent of the company's corporate sales support and administrative workforce.
CEO Lanny Baker said in a statement that returning brokerage operations to a "cash-flow-positive financial position" is the company's primary near-term objective, and that ZipRealty's second-half results showed "clear progress on this front."
While ZipRealty still provides brokerage services in 21 markets, it also has high hopes for its new "Powered by Zip" referral program, which uses ZipRealty.com to generate leads for other brokers.
In reporting fourth-quarter results, the company said more than 10 percent of the leads generated by ZipRealty.com and the company's mobile apps are being serviced by "Powered by Zip" partners.
All of ZipRealty's referral partners are ranked within the top three brokerages in their local markets, the company said.
Brokerages providing IDX listings to ZipRealty.com through the "Powered by Zip" program are Better Homes and Gardens Metro Brokers in Atlanta; Long Realty in Tucson; Coldwell Banker Howard Perry and Walston in Raleigh, N.C.; Coldwell Banker Hearthside Realtors in Philadelphia; Bob Parks Realty in Nashville; and Coldwell Banker Vanguard Realty in Jacksonville.
ZipRealty today announced its seventh "Powered by Zip" partner, Prudential Utah Real Estate. With 18 offices covering the greater Salt Lake, Ogden and Park City areas, the brokerage is "the largest residential brokerage under single ownership in the state," ZipRealty said.
ZipRealty said it will transition its existing brokerage operations in Salt Lake City to Prudential Utah. The company no longer operates as a broker in five other "Powered by Zip" markets — Atlanta; Tucson; Raleigh, N.C.; Philadelphia; and Jacksonville, Fla. — and was never in the brokerage business in a sixth, Nashville, Tenn.
MLSs typically restrict the display of IDX listings to their members' websites, and when franchisors briefly convinced the National Association of Realtors to allow them to display IDX listings on their websites last year, the uproar that ensued forced NAR to reverse its policy.
ZipRealty maintains it has the right to display IDX listings in "Powered by Zip" markets where it's not in the brokerage business, because the branding of its partner brokers is prominently displayed on ZipRealty.com.
The company said recent changes to ZipRealty.com and the company's mobile products "are driving significant gains in organic traffic in early 2012," and that the company expects "to add partners and further develop (Powered by Zip) in 2012."
But ZipRealty executives acknowledged that "risks and uncertainties" to their future business projections include ZipRealty's ability to build its "new and unproven Powered by Zip network," and "to access leads and MLS listings from third parties that it does not control."