Realogy Corp. says business is booming at its title and settlement services business, Title Resource Group, and that the company will hire 200 new employees in New Jersey and Texas.
Headquartered in Mount Laurel, N.J., TRG has approximately 1,800 employees and 375 branch offices across the country, up from 337 at the end of 2011.
"We have continued to expand our lender channel business in the first quarter of 2012, and the increased business volume from new and existing clients is driving significant job growth for us," said TRG CEO Don Casey in a statement. "It feels good to be hiring in this economy. We expect to increase the overall size of our workforce by about 12 percent to over 2,000 employees."
TRG is looking to fill a wide range of positions, ranging from title examiners to closing communicators, and title and recording specialists. Other regular full-time and temporary positions are available, with call center experience or mortgage processing experience preferred, the company said.
Two informational webinars are scheduled for Monday, March 19, followed by recruiting open houses in Mount Laurel and Houston talent recruiting efforts with a webinar for potential applicants to get to know more about TRG, followed by job fairs in Houston on Tuesday, March 20, and Mt. Laurel on Wednesday, March 21.
TRG is looking to hire former military service members and will participate in the RecruitMilitary Job Expo at Lincoln Financial Field in Philadelphia on March 29. (For links to the webinars and job fairs, click here).
After peaking at in 2003 at 261,501 title and closing units, TRG saw transaction volume fall by 44 percent over the next five years, to a low of 146,355 in 2008. At 156,095, transaction volume was essentially unchanged from 2011. But 2011 revenue was up 10 percent and earnings by 16 percent.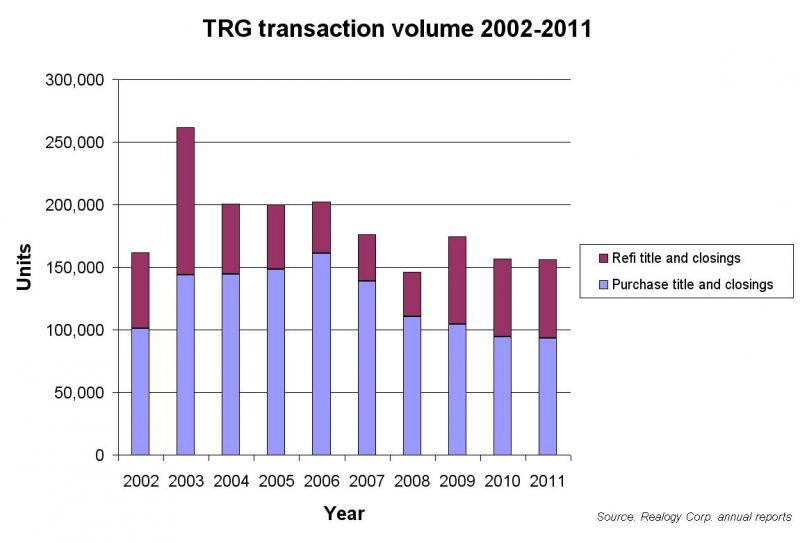 According to Realogy's most recent annual report to investors, most TRG offices are co-located within one of Realogy's company-owned real estate brokerage offices.
Company-owned brokerages "are the principal source of our title and settlement services business for resale transactions," Realogy said in the report, along with business from independently owned brokerages that are affiliated with Realogy brands like Century 21 and ERA.
TRG handled more than a third of the title and settlement services generated by Realogy's company-owned brokerages, with a "capture rate" of 38 percent in 2011, the company said.
TRG operates in 48 states and provides closing services in all 50 states, under 70 distinct brand names in local markets including US Title (Missouri), Sunbelt Title (Florida), Equity Title (California), Texas American Title Company (Texas), Market Street Settlement Group (New Hampshire and Maine), Mid-Atlantic Settlement (Maryland) and Burnet Title (Minnesota, Illinois and Wisconsin).
TRG issues title insurance policies on behalf of large national underwriters and through its own subsidiary, Title Resources Guaranty Co., which Realogy acquired in January 2006. TRGC is licensed as a title insurance underwriter in 26 states and Washington, D.C.