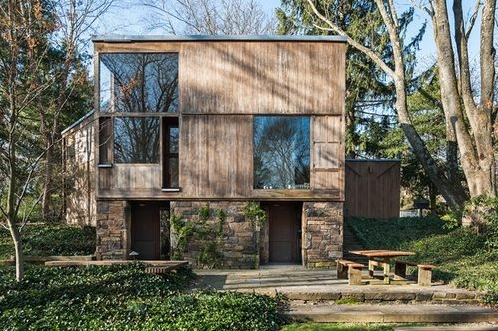 Click here to view the full photogallery.
Location: Hatboro, Pa.
Price: $600,000
The Skinny: The legendary architect Louis Kahn, a Philadelphia native who designed great buildings from there to Bangladesh, didn't produce many private homes over the course of his career. Of those that survive, the quirky, brick and concrete designs — plus, a desire to leave great work untouched — has led to poor market performance.
Case in point, the one-bedroom Esherick House, which has been on the market for years without takers. Now, another Kahn creation is coming to market: the Fisher-Kahn House in Hatboro, Pa. Given by the original owner to the National Trust for Historic Preservation, who instituted a preservation easement for the grounds, the house is now listed for $600,000 and has a much more manageable four bedrooms and 2.5 baths.
Source: Curbed Philly
View the original item at Curbed.com: Louis Kahn's Fisher House On The Market for the First Time, by Rob Bear.
More from Curbed.com's House of the Day:
Copyright Curbed.com 2012