Housing starts jumped 6.9 percent from May to June to the fastest pace in nearly four years, according to the latest numbers from the Census Bureau.
At a seasonally adjusted annual rate of 760,000 units per year, housing starts were up 23.6 percent from the same time a year ago, reaching the highest level since October 2008.
Single-family housing starts were up 4.7 percent from May to June, to a seasonally adjusted annual rate of 539,000 homes per year, a 21.7 percent increase from a year ago and the highest level since April 2010.
The jump coincides with a jolt in homebuilder confidence. With a six-point jump of the National Association of Home Builders/Wells Fargo Housing Market Index in July, the index reached its highest point (36) since March 2007, the largest one-month jump in a decade, according to NAHB.
Housing starts have been rising on an annual basis since September 2011, and in June were 59 percent above their April 2009 trough of 478,000 homes per year.
Single-family home starts were up 53 percent from their March, 2009 bottom of 353,000 per year.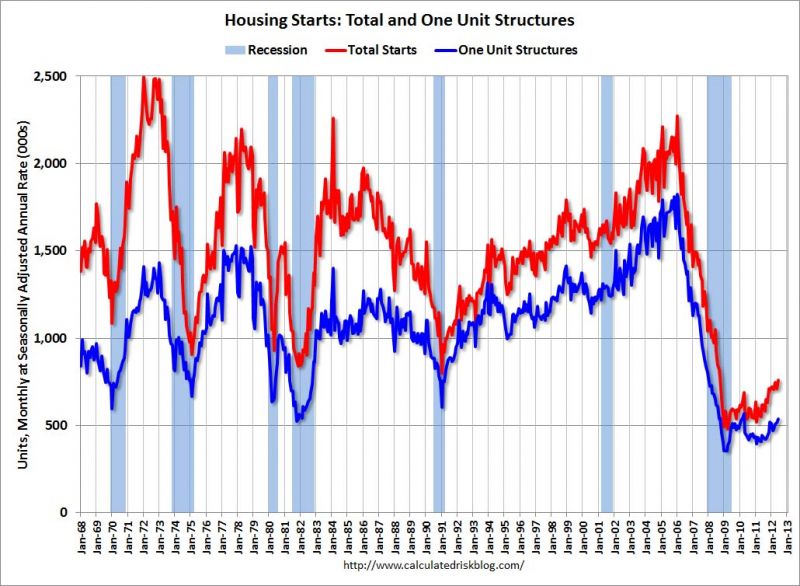 Source: CalculatedRisk blog.
As was the case in May, the West and South saw the biggest gains. The West saw the biggest year-over-year rise in overall housing starts in June — 63.4 percent  — followed by the South (26.9) and Northeast (11.6 percent). The Midwest saw housing starts fall 19.8 percent from a year ago, due to a decline in multifamily construction.
For single-family housing starts, the Northeast saw the biggest annual gains (42.1 percent), followed by the West  (33.7 percent), South (18.7 percent), and Midwest (8.3 percent).