Housing starts, though dipping 1.1 percent in July from June, were up 14.2 percent on a year-over-year basis, continuing a steady upward trend.
July groundbreakings were at a seasonally adjusted annual rate of 746,000, down from June's adjusted rate of 754,000, but up from July 2011's rate of 614,000, according to the latest numbers from the Census Bureau.
Single-family housing starts were down 6.5 percent from June to July, to a seasonally adjusted rate of 502,000, but still a 17 percent increase from a year ago and 42 percent above their March 2009 bottom of 353,000.
July also saw the most single-family construction permits filed by builders (513,000) since August 2008, according to the National Association of Home Builders.
Housing starts have been rising on an annual basis since September 2011 and are now 56 percent above their trough in April 2009 — 478,000 — according to census records dating back to January 1959.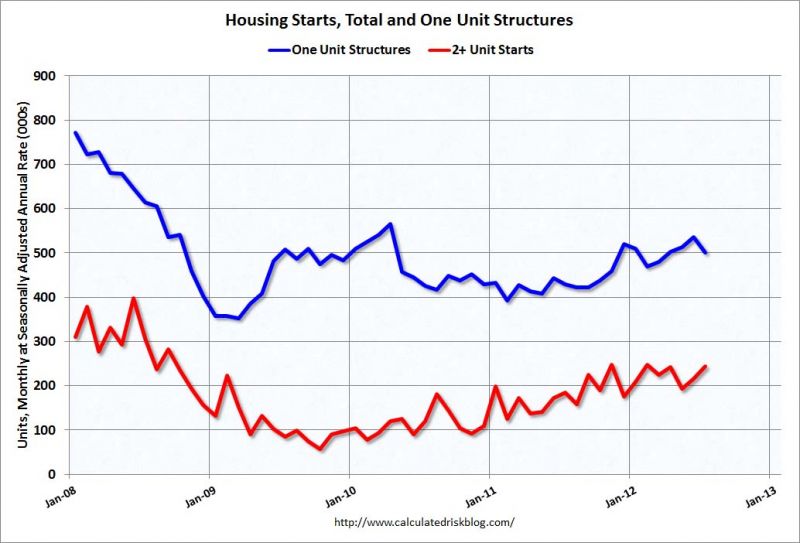 Source: Calculated Risk  
The sustained housing-start improvement over the last several months "confirms that recent previous increases are part of a sustained trend, not a temporary blip," said Jed Kolko, chief economist and head of analytics at real estate search portal Trulia.
Calculated Risk's Bill McBride credits the lack of new construction during the housing downturn with helping spur a recovery this year.
"The record low level of completions over the last four years — and record low level of housing units added to the housing stock — is an important reason for the budding recovery in housing," McBride wrote in a blog post.
"The last four years have seen record low completions, and 2012 will also be very low. This low level of completions means that a significant portion of the excess vacant housing supply has been absorbed. And completions in 2012 will still be very low even with the 20-plus percent increase in housing starts."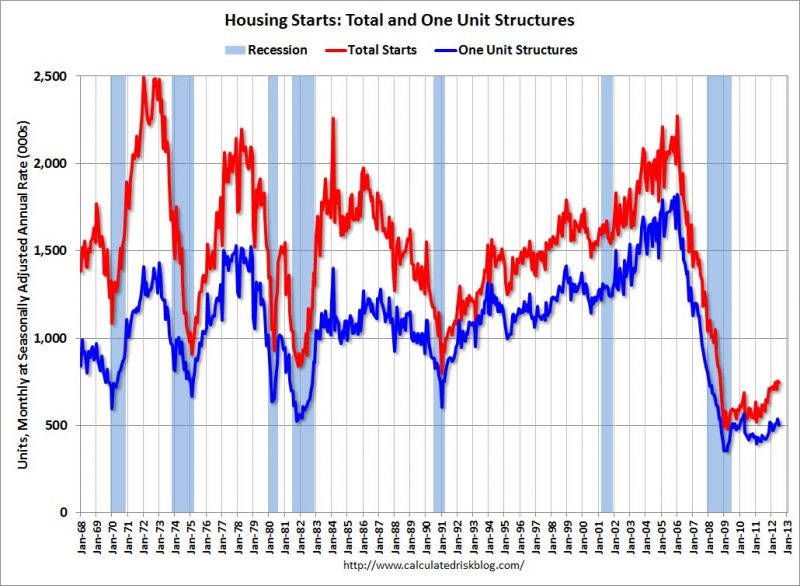 Source: Calculated Risk  
Regionally, the West led the way in July with a 48.1 percent annual jump in housing starts, to 197,000. The Midwest followed with a 28.6 percent increase, to 117,000. The South had the biggest volume of housing starts by far last month, 355,000, up 16.8 percent from a year ago.
The Northeast was the only region to see housing starts decline on a yearly basis, by 10.5 percent to 77,000. 
For single-family housing starts, all regions except the Northeast showed year-over-year increases, led by the West (26.1 percent), then the South (20.9 percent), and Midwest (12 percent). In the Northeast, single-family housing starts fell 14.6 percent.