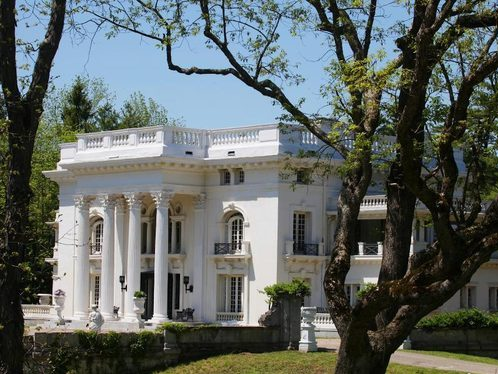 Click here to view the full photo gallery.
Location: Sharon, Conn.
Price: $10,950,000
The Skinny: Given its location in sleepy northwestern Connecticut and the staid architecture, it might be hard to imagine that this columned mansion once hosted wild parties attended by society playboys and Barbizon girls. Completed in 1906 by an heir to the Colgate toothpaste fortune for the modern equivalent of $43 million, the estate known as Filston remained in the Colgate family until, by 1938, it had passed to Romanian expat Edgar Ausnit, who escaped the Nazis and brought his massive fortune (derived from the steel and munitions industries) to this sleepy corner of Connecticut.
Ausnit partied with stars like Cary Grant and many of Manhattan's then-plentiful playboys, but apparently kept the home in good order. After Ausnit's death, the stunning mansion was sold and by 1976 belonged to songwriter Paul Leka. Leka's widow currently has the nine-bedroom, eight-bath mansion on the market for $10.95 million, a price that includes more than 100 acres, eight fireplaces, a six-stall English barn, and unbelievable historic details.
Sources: Sotheby's, Big Old Houses
View the original item at Curbed.com: This Glossy Historic Estate Once Saw Some Wild Parties by Rob Bear.
More from Curbed.com's House of the Day:
Copyright 2012 Curbed.com