Electronic fax company HelloFax Inc. has launched HelloSign, a free digital signature service that allows users to edit, sign, request signatures for and manage documents.
A San Francisco-based startup with fewer than 10 employees, HelloSign is competing with e-signature giants like DocuSign, which claims 20 million users; Adobe EchoSign; and paperless transaction management company DotLoop.
The ability to sign documents electronically can simplify a transaction-heavy industry like real estate immensely, said Joseph Walla, CEO of HelloSign and HelloFax.
HelloFax, which launched in 2010, was inspired to develop a stand-alone e-signature service in order to help agents bypass the tedious print-sign-scan routine that accompanies paper-based transactions, Walla said.
Although consumers have been using e-signatures for years to authorize purchases at grocery stores, shopping malls and other venues, Walla said most don't realize that digital signatures are legally binding under the provisions of the U.S. Electronic Signatures in Global and National Commerce Act of 2000 and the U.S. Uniform Electronic Transactions Act.
"We're trying to get everybody in the world to use e-signatures," Walla said. HelloSign hopes to compete with the more established e-signature companies by appealing to individual users, simplifying the e-signature process, and keeping the core aspects of the service free, Walla said.
HelloSign's service allows users to pull documents in a number of formats, including PDF, Microsoft Word and Microsoft PowerPoint, from their computer's hard drive or from the cloud via Box, Dropbox or Evernote, and then sign, prepare and send them to others to be signed. An audit trail is maintained for each document that shows, among other actions, when it was created and signed.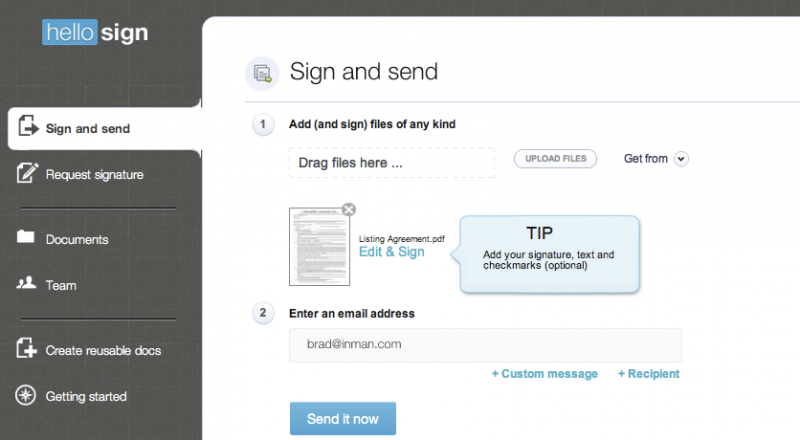 HelloSign screen shot courtesy of HelloSign.
Currently, HelloSign's service — available on the Web and via iPhone and iPad apps — is free. But the company plans to roll out enhanced features like document workflow management and e-signature branding, Walla said, which it will charge for. Signatures, however, will always be free, he said.
DocuSign, Adobe EchoSign and DotLoop also offer free levels of service that allow users to sign and request digital signatures on documents.
DocuSign and Adobe EchoSign have limits on the number of documents users can electronically sign or request signatures for for free; beyond those limits users pay for the service. The first tier of pricing for both services starts at about $15 a month.
DotLoop's free e-signature service, DotLoop Now, which launched in April, has a premium version for $20 per month that allows users to brand the e-signature process and sync it with their email.
Last year, DocuSign launched DocuSign Ink, which allows consumers to sign, send and store documents at no charge via the Web, iPhone, iPad and Android mobile apps.