I recently attended the annual Enterprise Network conference hosted by Active Website. The conference is a private event and this year's theme was cultivating a new breed of agents.
Jennifer Sable Lopez, community manager at SEOmoz, gave an informative presentation about developing a community through blogging, social media and content marketing. The material had some real take-home value for real estate pros.
As the community manager for SEOmoz, Jennifer is often the first point of contact. She understands the importance of leveraging your online community to increase business. SEOmoz is a successful search engine optimization community that provides tools, education, consulting and other resources.
The following is my Q-and-A with Lopez:
Q: Talk about your roll as community manager at SEOmoz
A: As the community manager at SEOmoz, my role is to not only build and nurture the community, but to also understand and be the voice of the community internally. When we are working on building out our software or making any changes to the website, my focus is always on how it will affect the community and how they may react. On the other side, it's my responsibility, and our whole team's responsibility, really, to make sure folks are adhering to our community rules, are getting their questions answered, and are getting great content sent their way.
Q: How does a community manager differ from a social media manager?
A: This question comes up a lot, and a community manager usually looks at the bigger community and not just social media. For example, at SEOmoz we have a blog, Q&A forum, community-created blog and such that are on our site, which is where the community started. Within the community team we have someone whose role is to manage all the social channels. Her job is to ensure that everything's getting done as needed (not necessarily to do all the work herself) and help strategize for growing our social channels specifically. Whereas my role is to look at the whole community, which includes social.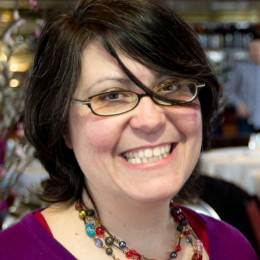 Jennifer Sable Lopez
Q: Can you chat about the importance of community?
A: I could chat about the importance of community all day actually. When you're marketing your website, you want people to find and read your content, take some sort of action on your site (search for homes, for example), and return.
Most people will focus on themselves, by writing relevant content, making their site search engine accessible, optimizing pages, etc. But what they forget is that if you build a community of people who care about your topic/niche, it makes all that other stuff even easier. It's the idea that if you focus on the greater community, and not just yourself, you'll get even more out of it in the long run.
Q: What is content marketing and how can real estate pros leverage the medium?
A: Content marketing isn't necessarily new, but there has been a renewed focus on creating great content. Think of it this way: If you create great, relevant content for your industry/niche/community, then people will share it on social, link back to it from their blogs, etc. Which all will in turn help you rank better, increase brand awareness, and all that other good stuff that you do marketing your site online.
Q: How can content marketing help grow your business?
A: It really can help grow your business because it's good for SEO (search engine optimization) value, social media sharing, and building your brand and community. It's pretty much the centerpiece of marketing at all. Before you can build a community that cares about you, and shares your content, you need the staple, which is good content.
Now, content can come in very different shapes and sizes and it could depend on what your community likes best. It doesn't have to be long blog posts and infographics; perhaps it's daily updates or photos/videos from the neighborhood. It just needs to be useful and something that people will care about and want to know about.
Q: How can Realtors optimize their content?
A: One great way to optimize your content is to specify which neighborhood it's about. One thing that I often see is people will search for homes or activities or restaurants in a specific neighborhood, not just in the city.
For example, in Seattle there are lots of great little neighborhoods that have their own personality and feel. Let's say I'm looking for a home and I know I'm going to be looking in Ballard and Fremont (in Seattle). I'm not only looking at houses, but I'm also looking for information about the neighborhoods. So having content that's specific to the 'hood, as opposed to always about the greater city, can really help get people to the right place on your site. And having niche content like that will make it easier for people to want to share it, which in turn can help more people find it in the search engines.
Q: Give me some tips on how real estate professionals can create content for neighborhoods, communities and other location-based activities.
A: When it comes to actual neighborhoods and local communities there are lots of ways to bring value and create content. There are different angles you could take: for example, being the "go to site/Twitter stream" to learn about what's going on in the neighborhood. You want to become "the place" people look for a certain topic. Whether that's kids activities, arts in the area, city government updates, whatever it is, go beyond mediocre.
My favorite example is my neighborhood here in Seattle: We have @MyBallard and http://www.myballard.com. I always look there first for things going on in our particular neighborhood, and I love that they use Twitter to keep up with even the small things.
Q: What are some great tools available to help Realtors manage content, social, community, etc.?
A: I really think to get started, you can start with the native tools. However, HootSuite really offers a great solution for managing your social profiles for free. There are really a ton of tools out there that can help you with anything from managing your social accounts, to growing your brand and community, to building your blog. I'm a big fan of starting small though, so if you can get off on the right foot in social, using HootSuite or the native apps, you'll be well on your way!
Q: What are the advantages of utilizing native tools?
A: What I like about using the native tools is that you experience the engagement as it was intended/created. Plus, with Facebook and dealing with their algorithm, EdgeRank, it's actually better to post things within Facebook than using other tools. Your posts from within the native Facebook site usually have higher EdgeRank and are therefore seen by more of your "fans."