Editor's note: This story has been updated. 
Just two weeks after its launch, a national agent matching site backed by Google Ventures has hit a bump in the road.
The site, HomeLight, stopped showing recommendations for agents in Central and Western Washington state at the request of the Kirkland, Wash.-based Northwest Multiple Listing Service (NWMLS) this week.
HomeLight is a referral-based site that claims to match homebuyers and sellers with unbiased real estate agent recommendations based on transaction performance data.
The site launched out of beta on Nov. 14 with $1.5 million in funding in hand from Google Ventures (the venture-capital arm of search giant Google), Crosslink Capital, Innovation Endeavors, and several undisclosed angel investors.
NWMLS president and CEO Tom Hurdelbrink said HomeLight does not have a license for NWMLS data and therefore cannot use any of it on its website.
"Anybody who wants to use the MLS data, any member firm, needs to sign a license agreement. They've never done that," Hurdelbrink said.
"That's like taking a car and driving it without having the rights to drive a car. You need a license."
NWMLS contacted HomeLight about the problem last week and HomeLight stopped showing agent results in the MLS's coverage area, including Seattle, on Tuesday, said Drew Uher, HomeLight's CEO and co-founder.
"This is simply an administrative issue. The NWMLS has certain licensing procedures that differ from many MLSs," Uher sad. "We realized that we hadn't submitted the proper paperwork to fully comply with one of their procedures, and as a result we chose to temporarily stop showing agent recommendations in that part of the country until we can submit the proper paperwork."
Uher said HomeLight is "still an active member of the NWMLS and are working with the folks there to get this resolved. We hope to resume showing agent results in Washington within 30-60 days."
HomeLight does not have licensing agreements with any other MLSs, Uher said.
"Given our current vision of only having agent-sourced data online (and not putting MLS data online) we don't really see the need to do a bunch of licensing agreements," he said.
HomeLight plans to submit a licensing application to NWMLS next week.
"We're here as a tool for agents and brokers to acquire new customers and to manage their reputation online," Uher said. "And we're working with the industry to comply with the rules that are in place."
Hurdelbrink estimated it would take days or perhaps a couple of weeks for NWMLS to process HomeLight's application, and he suspects they will come to an agreement.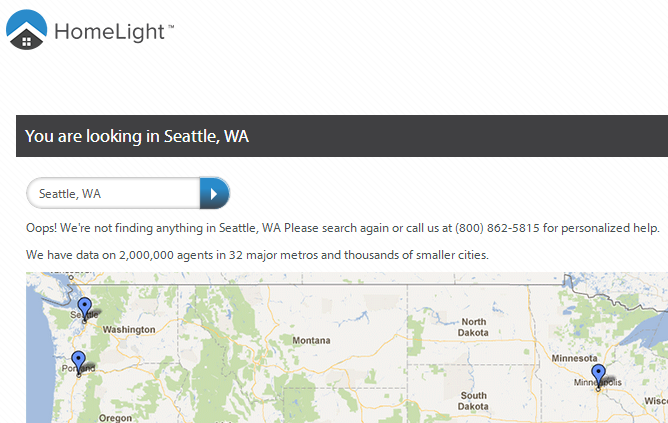 HomeLight screen shot.
HomeLight is still recommending agents in the other 33 metro areas it covers other than Seattle and has not pulled any data from any other MLSs, Uher said.
"Our process is to basically to use a variety of sources, including MLS data, to crunch the numbers and figure out which agents to feature on the site. We then reach out to those agents and we ask them for information about themselves — bio, picture, transaction history, what languages they speak," Uher said.  
Since the launch, one MLS asked HomeLight to "tweak" the way transaction data was being displayed on the site to comply with state law, Uher said. He declined to provide further details beyond saying HomeLight acceded to the request.
Uher said more than 1,000 agents have signed up for HomeLight since its launch.
"Agents have been signing up for HomeLight in droves," Uher said.
He attributed the site's popularity to letting agents control their online identity.
"We're basically saying you can show your profile or not, edit it, change your bio, change your transactions if necessary," Uher said. "The fact that were giving them control makes a big difference. They see us as a tool for them rather than as someone who's out to get them."