Rent.com, the nation's largest online rental search engine, has launched a new website incorporating a responsive design. Rent.com executives say they've seen a steady increase in mobile traffic and they are aiming to deliver the best user experience possible across multiple screen sizes.
Rent.com worked with the Filament Group, a Boston based web development firm specializing in responsive web design. The Filament Group was responsible for the front-end development of the Boston Globe's responsive design that launched last year, a high-profile project that captured the imagination of the design community.
The new website incorporates new features such as a "search nearby" function that pinpoints a users current location and serves up rental listings in the general vicinity. The site also includes more ways to sort and view search results as well as "activity tracking," which enables users to save and favorite property listings to the platforms MyRent feature.
"We opted to move to responsive design because it offers the best user experience on a device without the user having to do anything; the site does all the work for them by arranging the images, text and navigation based on their devices' screen size and feature set," said Alain Avakian, chief technology officer at Rent.com. "Providing a better all-around experience will decrease friction in the user experience, lower abandonment, and increase conversion."
The revamped Rent.com will initially launch with an opt-in beta phase. The organization will maintain both websites during the roll-out period and hope to sunset the old website in early 2013. The new website is available to users through an opt-in link.
In addition to streamlining the user experience across multiple screen sizes, other factors that contributed to the decision to implement a responsive web design include the exponential growth of Internet connected devices and the networks that power them. The largest renter demographic is 25-34 years old — a group that also demonstrates an extremely high adoption rate with smart devices.
Another significant factor is that Rent.com receives 70 percent of its traffic — mobile and desktop — via search engines.
"Most of our traffic comes through search engines," said Amanda McConnell, Head of Product at Rent.com. "With a growing percentage of that traffic on smaller format devices we needed to provide a full-featured, optimized mobile experience and reduce the irritation that can occur when renters browse the traditional site on a smartphone or tablet."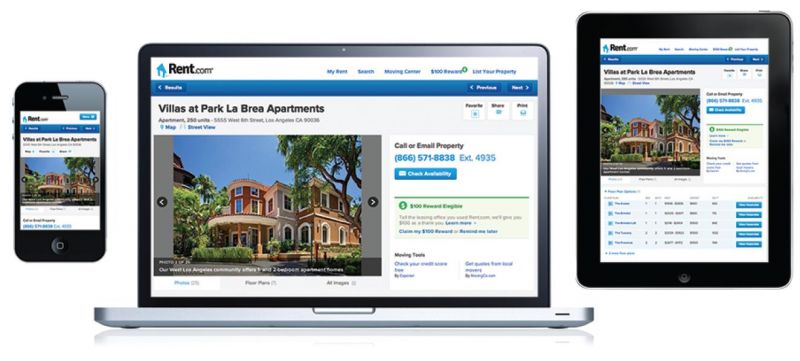 Rent.com's new responsive design website knows whether visitors are using a smartphone, laptop, or tablet computer, and optimizes the display of the site's home page, search results or property detail pages (above) for each device.   
Google recommends responsive design on its Webmaster Central Blog, noting advantages that include keeping desktop and mobile content on a single URL, "which is easier for your users to interact with, share, and link to and for Google's algorithms to assign the indexing properties to your content."
In a recent column, "Real estate should embrace the visual Web," I recommended that websites be responsive, but not at the expense of the design. Rent.com integrates elements of the visual web by accommodating high-resolution photography throughout the website, particularly on the listing detail pages.
The company will continue to support their native mobile apps, which include iPhone, Android and BlackBerry. The combination of responsive web design and native apps is a solid business model.
As Eric Bryn, vice president of digital innovation at Baird & Warner Real Estate wrote in a recent blog post, "Responsive web design or native app?" if you're concerned about developing loyalty with your customers, you need to consider developing a native mobile app that works synchronously with your responsive web mobile platform.
Committing to a responsive web design, Rent.com hopes to reduce IT hassles, improve brand awareness and achieve business goals.