Real estate marketplace Zillow is offering property managers and rental agents free customer-facing websites to market their listings.
Having launched a suite of tools for landlords, Zillow Rentals, in October, the company continues to ramp up its rental offerings after acquiring San Francisco-based RentJuice for $40 million this spring.
The Zillow Property Management websites include personalized domain names and synchronization with rental pros' listing inventory on Zillow. Providing integration with Zillow's customer relationship platform and access to the firm's local data, the websites are also search engine optimized, and have access to Zillow's local school information and Walk Scores.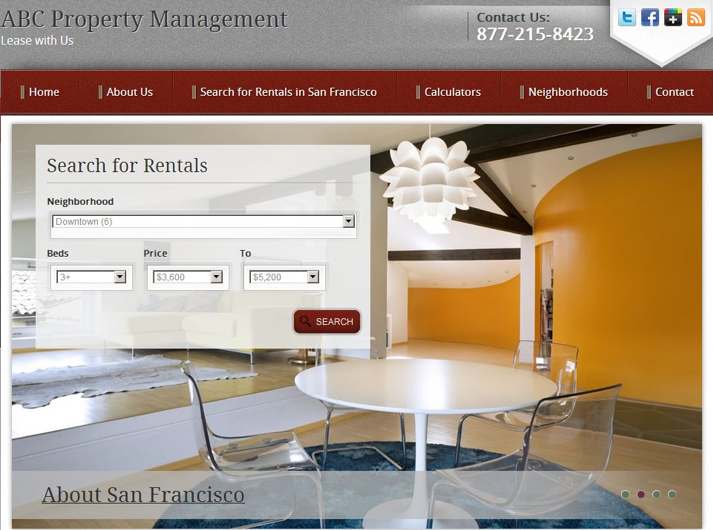 Screen shot of a Zillow Property Management website.
"At Zillow we're focused on giving rental professionals the tools they need to attract and collaborate with prospective tenants," said David Vivero, vice president of Zillow Rentals, in a statement.
Zillow powers for-rent listings at Yahoo Homes, part of its Zillow Rental Network. Zillow claims the network is the largest on the Web, citing comScore data from June 2012.
Zillow Rentals provides free online rental applications and transaction management tools for real estate pros who sign up for the Zillow Rental Network, allowing rental applications to be completed using a Web browser or mobile device during a property tour.
Subscribers to a paid program, Zillow Rental Premier, also get extended listing syndication across 30 consumer websites, an email-marketing platform, and leasing tools including online consumer credit screening.
In May, Zillow began offering its subscribing agents free real estate search websites, complete with capability to handle Internet Data Exchange (IDX) feeds. Those websites cost agents who are not subscribers to Zillow's "Premier Agent" advertising program $10 per month.