Lily Liu, co-founder and CEO of PublicStuff, a New York City-based company that allows people to submit service requests to their local government online, was recently named one of Forbes' top "30 under 30" social entrepreneurs.
Liu, 29, launched PublicStuff in 2011 and the company has raised $6.5 million in funding from Lerer Ventures, First Round Capital, FirstMark Capital, High Peaks Venture Partners, and the Knight Foundation.
In a session titled "The World at Your Fingertips," Liu will take the stage during Real Estate Connect New York City, which runs from Jan. 16-18 at the Grand Hyatt New York hotel. She'll join four other panelists to discuss the impact of having various products and services only a tap away through mobile devices.
Liu responded to a set of questions posed by Inman News:
Describe the idea that launched PublicStuff:
We started this company on the premise of providing tools to both citizen and government users, so they can effectively communicate and influence things that affect the quality of their daily lives.
What inspired your interest in public policy issues?
I have worked for the City of Long Beach, (New York City) Mayor (Michael) Bloomberg's office, and did my master's (degree) in public policy at Harvard. I am inspired by bringing together governments and constituents and making citizens more civic minded as well as making the back-end processes more efficient. The people I have met through school and worked with have inspired me with their stories, companies and visions as well.
Describe the major products/services offered by your company:
PublicStuff offers innovative Web and mobile applications for municipalities to bridge the communication gaps between municipal staff and the constituents they serve.
For larger cities such as Philadelphia, PublicStuff's mobile apps tie directly into 311 and provide a convenient alternative for constituents to interact with the city. For smaller cities that cannot afford complex systems and call centers, PublicStuff acts as a turnkey "311-in-a-box" solution. The best part is that costs are based on a city's population, so it is affordable for cities of all sizes and the system quickly pays for itself in efficiency and staff time savings.
How do local governments traditionally process requests from the public?
With 311 systems and centers that are antiquated, by phone and with long wait times. The centers are usually understaffed with a high degree of manual data processing. There are some cities, however, that are taking steps towards bringing mobile to Main Street and capitalizing on social media, email marketing and other digital platforms.
How many cities is PublicStuff currently in? What happens when a member of the public requests a city on PublicStuff?
PublicStuff is in more than 200 cities across the U.S. When a member requests a city, we contact the relevant city manager and set up a meeting with them where we present demos that have been tailored to that city's needs and residents. We like to get to know our cities and their current system so we can better prepare them for integrations, apps and solutions that are relevant to their citizens and goals.
What is PublicStuff 's core business/business model?
PublicStuff provides a subscription Web-based SaaS service for cities. Big-box enterprise software is built on outdated code and costs hundreds of thousands of dollars. PublicStuff seeks to challenge this status quo by building the tools that cities need in the cloud and spread development cost across many clients. As a result, PublicStuff can offer a flexible solution that is better, faster and stronger than the competition. 
What are PublicStuff's main competitors?
Our main competitors are SeeClickFix and CitySourced, but their models are a bit different than ours.
What are PublicStuff's most popular products/services?
PublicStuff's most popular solution would have to be the mobile apps. The mobile app is actually an app platform. This means that municipalities can customize in real time what "apps" (we call them widgets) are within their official "city app." Gone are the days when cities have to go out and buy an app for each function or an app for each department.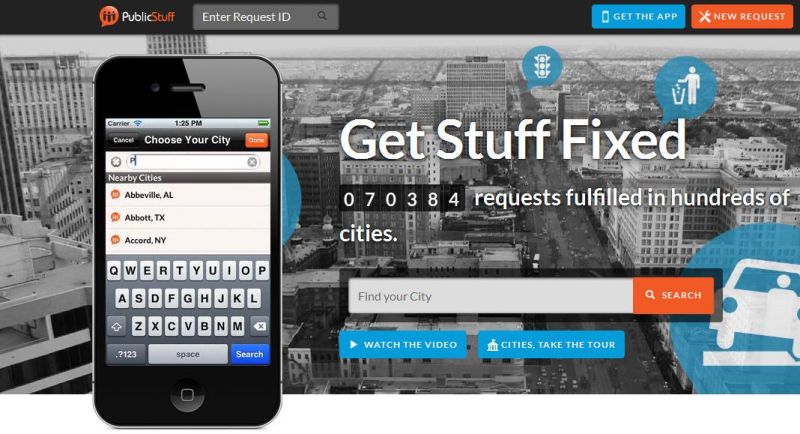 A screen shot of PublicStuff.com's home page shows the company's mobile app in use.
What's the most interesting request a member of the public has submitted?
We believe that all PublicStuff requests are interesting, but certain requests in cities stand out and can vary from water problems to tech to graffiti. We just received one for overgrown bushes in North Miami Beach, Fla. Apparently, it served as a hiding place at night, making the street very unsafe. The city staff took care of the problem within a few days once the request was processed.
What types of requests are most popular?
Mostly infrastructure-related things, potholes, graffiti, litter and safety issues (broken streetlights, abandoned buildings, etc.). These are daily problems that affect citizens, and the more engaged residents we have comment and request these sorts of things to be fixed.
Which ones have you found are most likely to get done quickly? Least likely?
It depends on the city. For example, in Plano, Texas, water-related problems are of utmost importance; in Oceanside, Calif., tech support requests are resolved quickly. In cities in California, there are road closures and uneven streets that seem to pop up consistently. Things that take longer are code violations.
What are PublicStuff's growth plans in the next year?
We have grown in staff numbers this past year and almost doubled in size (to 21 employees)! We plan on building out and training this team to become experts in building, marketing, managing and selling SaaS-based software solutions.
We plan on bringing our technologies to 200 more cities this year and expanding globally as well as we see a need for these types of solutions and increase in civic engagement not just in the U.S. Certain (international) cities have expressed interest and we are exploring opportunities in 2013. We are targeting countries with strong local governments. 
Share a personal experience or anecdote about buying, selling, owning or renting a home:
The process of renting a home in New York City is always tedious. The requirements are pretty stiff, and housing agencies are often hard to communicate with efficiently. There are long waiting times over the phone, email responses that are never made, and often unfriendly staff. It is also hard to get appointments with leasing offices.
Once you navigate these issues, the renting experience is not so bad. The process to get to that point of being a renter is the painful part, and I have experienced this in various locations across the city.
The tedious New York City rental process is mainly due to the lack of easy communication platforms between renting agencies and renters. If there was seamless communication regarding requirements, permits, fees, qualifications, etc., the process could be managed faster. Right now, I think the back-end system may not be as efficient as it should (or could be!)
Which technology trends and market trends are you watching most closely these days?
Currently, I am watching the rise and adoption of mobile technology and how we are utilizing it to change how we interact personally and professionally. This is not only within the public sector but in other industries — e-commerce, finance, etc. The rise of mobile is a fascinating space, and I can't wait to see what innovations 2013 brings as a user!
What's the coolest technology (gadget/gizmo, software, hardware, app, website, etc.) you've discovered this year, and how are you using it?
The Panoramic pictures app has been cool when I go on my outdoor adventures. It really captures the 360-degree view of the moment, which I find fascinating!
What is your favorite non-work-related hobby?
I enjoy outdoor activities where I get my feet moving and my blood pumping. Among my most favorite activities are biking and snowboarding! They offer me a mix of relaxation, fun and push me to try new things every time.
Tell us something we don't already know about you that we can't tell by looking you up on the Internet:
I am a total adrenaline junkie. Anything that gets me in an adventurous mood and having a good time. I like to stay active and spend my time exploring the tri-state area whether through biking, hiking, snowboarding, etc.
Who is your hero, and why?
As clichéd as it may sound, my parents are. They immigrated to this country and built a life that provided me with the opportunity to study in the best institutions and follow my dreams. They have supported me in every endeavor that I have undertaken and especially with PublicStuff, right from its early days.
If you had one superpower, what would it be?
Omniscience. I am curious, and I love to learn, so the ability to be "all knowing" is an attractive prospect!
Lily Liu will be a featured speaker at Real Estate Connect New York City, which takes place Jan. 16-18 at the Grand Hyatt New York.
Follow Real Estate Connect on Facebook, Twitter and LinkedIn: