Whether motivated by concerns about the environment or the desire to save money, many people are driving less or giving up cars altogether.
It might seem that real estate professionals — who rely on their cars to get themselves and their clients to view homes in person — have little leeway to make drastic changes in their mode of transportation.
Shawn Monshaugen, a 33-year-old real estate agent in Austin, Texas, is out to dispel that notion.
Nagged by a desire to reduce his environmental impact, Monshaugen had been thinking about giving up his Jeep Grand Cherokee for about four months, when an unexpected convergence of events helped him pull the trigger.
Last October, a friend sent him a Facebook invitation to a traveling bike-centric event, Tour de Fat, hosted by Fort Collins, Colo.-based New Belgium Brewing Co. The climax of Tour de Fat events involves pledges by participants to go car-less for one year.
Monshaugen sent his story in to the event coordinators. The next day, Oct. 20, he was on the Tour de Fat stage pledging in front of 1,000 people in Austin to live a car-free life for one year. 
Four months later, Monshaugen relates the series of events with a sense of shock in his voice.
"It literally happened in 24 hours," he said.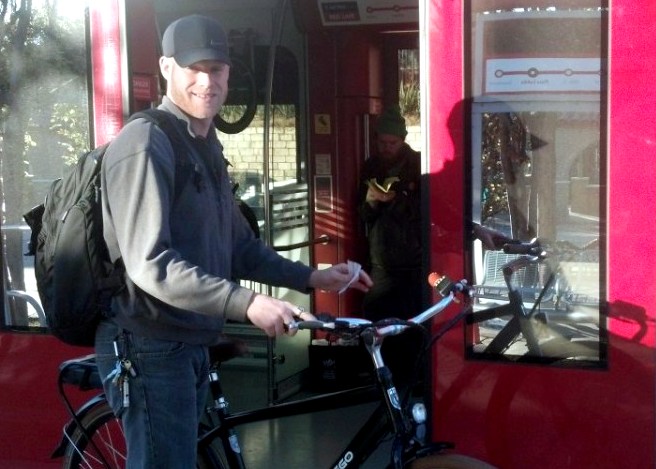 Real estate agent Shawn Monshaugen has given up his car for a year.
Now, Monshaugen has a fold-up bicycle with small wheels and a collapsible frame, and an electric bike that maxes out at 20 miles per hour. He's branded himself as "Austin's first zero-emissions Realtor," offering clients a bike-level view of real estate.
Monshaugen, who goes by "ShawnMon" and blogs about the bike life as "Austin Greengo" (a play on "Gringo"), has fully branded his car-free agency while bringing buyers and sellers along for the car-free ride.
Upon closing a deal, he throws a "pedal party" for interested clients, where he coordinates and pays for the four-hour rental of six electric bikes from a local electric bike dealer he's partnered with.
Buyers and their friends and families can use the electric bikes — which have a top speed of 20 miles per hour, and go 10 to 20 miles on a charge — to tour their new neighborhoods as part of a welcoming party.
Or they can choose to go house-hunting in a neighborhood on the bikes. If buyers aren't into biking, Monshaugen will hop into his clients' car, reimbursing them at the rate of 40 cents per mile. 
Sellers can use the bikes at a going-away celebration — a farewell tour of the 'hood — or can give the pedal party to their buyers and receive two free electric bike rentals.
Monshaugen entered real estate with Keller Williams Realty in 2008 at its largest Austin office where he was named "Rookie of the Year" as the top-selling new agent in the office.
He left Keller Williams in the middle of last year, joining the virtual real estate brokerage Elite Texas Properties and scaling back his business.
"I've gone totally mobile now," Monshaugen said.
Since giving up his car last October, Monshaugen has closed one transaction, which involved a 45-mile round-trip on his electric bike, a train and a bus. He rode his bike to downtown Austin from his South Austin home, took a metro rail car to a northwest Austin suburb, and rode to the title company to close the deal.
"You can't just a grab your tie and jacket and head to the office," Monshaugen said. He works in libraries, coffee shops and the small-business center in downtown Austin — and on his bikes.
The idea to get rid of his car crept up on him. "I'd be sitting at a red light and would see that there's just one person in most cars," Monshaugen said. That bugged him.
The Tour de Fat event provided the impetus for him to do something about it. 
In the five years that New Belgium Brewing Co. has been putting on the event, about 60 people have made one-year, no-car pledges, said Tour de Fat organizer Matt Kowal. Monshaugen was the first real estate agent chosen.
New Belgium Brewing provides $2,250 toward a new bicycle to selected participants who agree to give up their car for a year. Kowal said Monshaugen stood out from other applicants because he might create a ripple of publicity that would inspire others to bike more.
Monshaugen still hasn't decided if he'll focus his business on Central Austin, which is a fairly bikeable region, but he's sure he'll finish the year car-free. Honoring his pledge, he's sold his Jeep and donated the proceeds to a local charity.