SAN FRANCISCO — A Starbucks espresso machine, a stocked kitchen, a shuffleboard table, writeable walls in Zillow blue and many large computer monitors fill Zillow's new office space in downtown San Francisco.
The newly furnished 18,350-square-foot space, which occupies the 11th floor of the Standard Oil Building in the heart of San Francisco's Financial District, brings together under one roof two rentals-focused companies Zillow acquired in 2012 — RentJuice, now rebranded as Zillow Rentals, and HotPads.
"We wanted to come together in one space," said David Vivero, vice president of Zillow Rentals, at the office's grand opening event yesterday evening. Zillow joins Trulia in downtown San Francisco, which is only a half-mile from the new office.
The U-shaped office houses more than 60 employees in an open floor plan. Although the office has numerous conference rooms and a game room, there are no private offices. It's part of the firm's philosophy of operation transparency.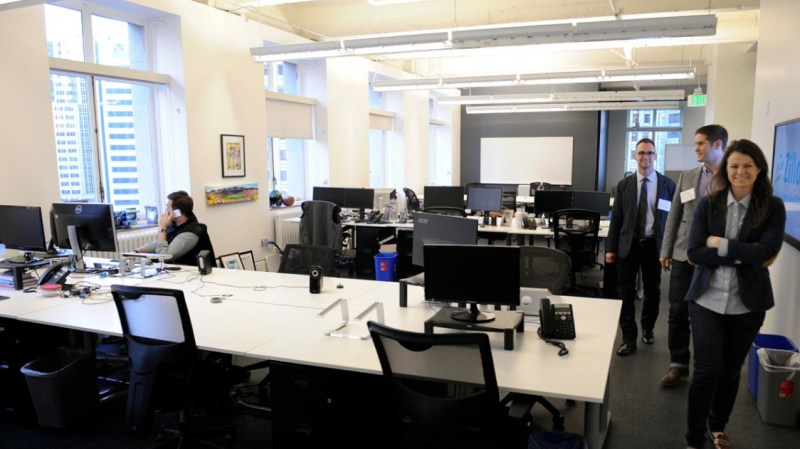 Zillow's San Francisco office space. Photo courtesy of Zillow.
Zillow's wide-open office setup took some getting used to, said Greg Schwartz, Zillow's chief revenue officer, who works out of Zillow's Seattle headquarters. In Seattle, even Zillow CEO Spencer Rascoff has no office.
"It's an adjustment," said Chris Crocker, a former vice president of Realogy's brokerage wing NRT LLC, who Zillow hired in January to deepen relationships with real estate brokerages.
Even though he always imagined he would move into a bigger office of his own as his career advanced, the open layout helps him stay on the same page as coworkers, Crocker said. Now he just calls out across the room if he needs to reach somebody.
That open setup was on full display in Zillow's new space. In one section, engineers, project managers and customer service reps' desks back up to each other.
The mash-up creates a feedback loop, Schwartz said during an informal tour; the engineers can overhear, in an organic way, what customers are looking for in their design.
A company heavy into metrics, Zillow shares that interest with its employees. Schwartz pointed out large monitors on the wall facing Zillow employee workstations. The monitors display real-time performance metrics, he said, which helps the sales and production teams monitor their progress throughout the day.
Zillow has done some measurements, too. It's determined, for example, which music, pumped in from overhead, is best at certain times of the day at enhancing its employee's performances, Schwartz said.
The result? Techno jams in the morning, symphony at lunch time, classic rock in the afternoon and then pumping techno toward the end of the day, Schwartz said.
HotPads has its own section within the open office design.
"We wanted to keep the feeling of their team together," Vivero said.
The HotPads unit bumps up against one of the office's interesting features — write-on walls, painted in Zillow light blue with "Write on me," written in the center.
At Zillow's headquarters in Seattle, some walls weren't clearly identified as writable or not, Vivero said, and ended up getting marked up accidentally.