What started as an app has become a brand for Washington, D.C.-based online real estate brokerage Sawbuck Realty Inc.
Last year, the firm introduced Homesnap, an iPhone app that surfaces detailed property info when users snap a photo of a home. This week, the company rebranded as "Homesnap."
The name change is a move to emphasize the firm's mobile-first take on real estate, said Homesnap co-founder and CEO Guy Wolcott. "It's more than a rebrand," he said. "It's a relaunch."
The app — released last year and available for iPhone, iPad and, in a few weeks, Android devices — reveals multiple listing service-sourced information from the 45 markets where Homesnap is a member of the local MLS, plus tax record data, school boundary info and other third-party-sourced data for 90 million homes throughout the U.S.
With the relaunch, Wolcott said, the company has made the app — which now features a Homesnap-designed social network — the core of its business, relegating its new website to second-class status.
"We invented this iconic mobile feature and made it the center of our business," Wolcott said. "It's not descended from the website."
Wolcott compared the app, and Homesnap's new business operating philosophy, to Instagram and Foursquare.
"Instagram doesn't make much sense on a browser," he said. "It serves the app."
"The real world is on the go and social, and we wanted our company to reflect that," Wolcott said. Every waking hour in the last eight months, he said, was spent turning the Homesnap app — which caught fire last year in the real estate industry and was named "Most innovative mobile app" in the 2012 Inman News Innovator Awards — into the bedrock of the company.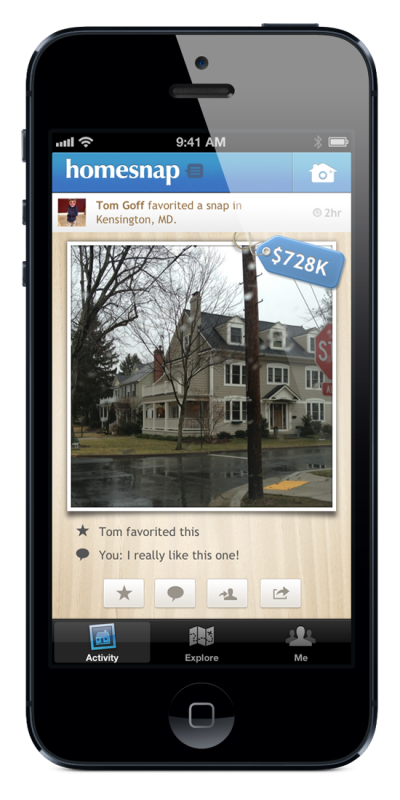 Image of new Homesnap app in action.
Homesnap's new social network features a photo stream that plays up the app's collaborative features. Users can like and share photos and properties with friends in the Homesnap forum. They can also pull in friends from other networks like Facebook, Twitter and email.
"Home shopping is collaborative, and Homesnap is the first app to make that collaboration simple, even fun," Wolcott said.
In January, the Homesnap app rolled out a new "Explore" aerial map tool that lets users see recent "snaps" of homes from around the country on an interactive map. It also allowed agents to exclusively brand the app.
Homesnap focuses on facilitating real estate transactions for real estate agents, Wolcott said, not expanding its limited brokerage service.
"We're not trying to be Redfin," he said.
Homesnap does represent buyers and sellers, Wolcott said, but on a limited basis to stay a legit member of the MLSs it's currently a part of.
Homesnap is a member of MLSs in 45 markets including: Asheville, N.C.; Atlanta; Austin, Texas; Baltimore; Boston; Charlotte; Chicago; Dallas-Fort Worth; Fayetteville, N.C.; Fort Lauderdale, Fla.; Fort Myers, Fla.; Houston; Indianapolis; Jacksonville, Fla.; Kansas City; Maine; Miami; Norfolk-Virginia Beach, Va.; New Hampshire; Orlando; Palm Beach, Fla.; Phoenix; Philadelphia; Phoenix; Portland-Eugene, Ore.; Providence, R.I.; Raleigh-Durham, N.C.; Richmond, Va.; San Antonio; San Diego; San Francisco Bay Area; Seattle-Tacoma, Wash.; Southern California; St. Louis; Tampa; Vermont; Washington, D.C.; and Wilmington, N.C.