Earlier this month, I attended the annual conference of the Council of Multiple Listing Services (CMLS) in Idaho, where I served as a panelist.
As a broker-owner of a real estate firm in the Washington, D.C., market, I gained insights at the conference into issues that are not often discussed outside of MLS executive circles.
For example, I learned about tying arrangements that require Realtor association membership to gain lockbox access — a practice deemed illegal for decades in one part of the country, but which is the norm in my area.
I heard debates on how "core" MLS services should or should not be defined by NAR, and the repercussions and resulting wrath of a miscategorization.
But the biggest story that came out of it was a stern, 10-day warning to MLSs from The Realty Alliance's president and CEO. Those days came and went like a North Korean tirade.
Ironically, even though The Realty Alliance is reserved for behemoth firms, I share some of the group's concerns. For one, it makes me cringe when I'm driving in my car and I hear a radio ad from my local MLS, Metropolitan Regional Information Systems Inc. (MRIS), telling consumers to visit their fancy new home search website … instead of mine.
Oh, and the fact that I was forced to pay for that ad for a website that competes with me? Might as well add a chorus of my baby and toddler crying simultaneously in the back seat.
But I don't control a large chunk of the listings in America, and I feel powerless to do anything about it.
So what ideas could be behind this iron curtain of Realty Alliance members sworn to secrecy? Something so nuclear that it rocks the industry? I have some predictions — what if they came true?
I see two possibilities:
1) Delay active listing from going to the MLSs and public syndication for three to seven days.
2) An underground network of "coming soon" listings across Realty Alliance brokers.
If brokers decided to delay in providing listings to their MLS and for public syndication, new listings would instead appear only on the listing broker's website, or only on websites of The Realty Alliance's members.
The result for homebuyers shopping online? Like a slashed pig on "The Walking Dead," consumers will take note and change course dead in their tracks. They will follow the listings.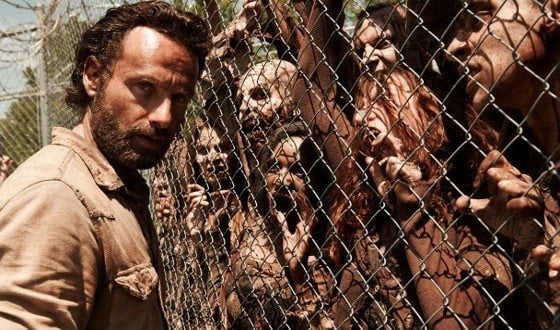 Andrew Lincoln as Rick Grimes in the AMC series "The Walking Dead." Photo Credit: Frank Ockenfels 3/AMC.
Sure the hunt will seem harder at first. But homebuyers still love visiting multiple websites in their search. At least now they might find something new besides looking on Craigslist. The brokers will hope the buyers will stay, register and maybe pick up a pocket listing.
But what might be the broker's pitch to get sellers to agree to this? Would the sellers even need to know, or agree to this change?
Today, most sellers don't know the exact details of where their data goes. Heck, most brokers don't know. One firm might syndicate to 500 websites, while another gets flung to 515 sites, but nobody discloses the 15-site shortfall.
Or maybe the broker might pitch a token commission reduction if they're able to pocket both sides. Oh, and don't leave off the best line many agents use when bluffing about the necessity of an admin fee: "Everyone is doing it."
The second possibility — an underground network of "coming soon" listings across Realty Alliance brokers — would streamline across multiple firms a practice that's commonplace in the Tuesday morning meetings. Unlike a pocket listing (which I define as a deal kept within one brokerage firm, or one agent), a private network of "coming soon" listings would allow off-market listings to be marketed to other brokers within The Realty Alliance.
Proponents of such a system might argue that the benefit of a private network is control. Control of syndication or, better yet, no syndication allowed.
At CMLS 2013, I learned that some MLSs are considering allowing a "coming soon" listing status. However, they didn't seem to have figured out how to control the syndication from member brokers to the public.
One approach would be to block "coming soon" listings from being marketed on the Internet. Sure, that's easy. Just make a rule that no public website can showcase a "coming soon" listing.
But is email the Internet? Could MLSs ban a brokerage operating a password-protected virtual office website (VOW) from syndicating or forwarding these coming soons to actual signed clients — or worse, a massive number of nonclients that are merely "signed in" consumers?
If the agent thought the "coming soon" listing was ready to be public, it would be on the MLS.
If The Realty Alliance chooses to create a "coming soon" network outside of the MLS, it could better control those variables. Or would it be deemed an MLS itself in the eyes of antitrust regulators?
Where is the consumer in all of this? I've said that my fiduciary duty is to my immediate client, and not to the MLS or Realtor association. I focus vigorously on what nets my client the most money, or other goals they might have, within the limits of the law and current rules of engagement.
However, I could see an argument where The Realty Alliance might claim that if MLSs continue down a path of allowing data to be everywhere, the unintended consequences might be detrimental to sellers.
Ultimately, the consumer pays, through higher commissions, when an agent has to pay higher dues to an MLS the agent competes with.
If the agent pays for "enhanced" treatment of their listing on a popular third-party website, or promotes themselves next to other agents' listings in order to remain competitive, those expenses also get passed on to the consumer.
Unless there is a revolt. It won't happen in 10 days, but what if it did come to that?
Frank LLosa owns Frankly Real Estate Inc., which serves clients in the Virginia, Washington, D.C., and Maryland markets, and he is an attorney in New Jersey. LLosa, the winner of the 2009 Inman Innovator of the Year award, runs a free Facebook-driven service called PreMLS.com, which is helping 4,000 agents share local "coming soon" listings.