The latest version of a mobile app offered by Realogy's title insurance and settlement services subsidiary, Title Resource Group, lets real estate agents generate closing cost estimates for multiple price scenarios they can save and share with buyers and sellers.
The Title!Snap mobile app, available for Apple and Android-powered smartphones and tablets, accesses TRG's rates and fees for accurate estimates of closing fees, title insurance premiums, recording fees and government transfer fees.
A title rates and fees calculator can be used to help buyers submitting offers, and a seller net sheet calculator lets sellers know what to expect at the closing table.
Title!Snap was released in the summer of 2012 for the Houston and Austin, Texas, markets. With the recent addition of markets in Florida and Massachusetts, the app covers 30 major U.S. metros including Baltimore, Boston, Chicago, Dallas, Denver, Los Angeles, Miami, Minneapolis, New Orleans, New York, Orlando, Philadelphia, Pittsburgh, Tampa, San Diego, San Francisco and Washington, D.C.
The latest version of Title!Snap lets agents save three quotes for working up offers, and provides additional fee options for agents including flexible label fields for specific offer contingencies and costs at the deal level. Versions of the app optimized for Android tablets, Apple's iPad and the iPad mini allow agents to rotate the device for use with keyboard.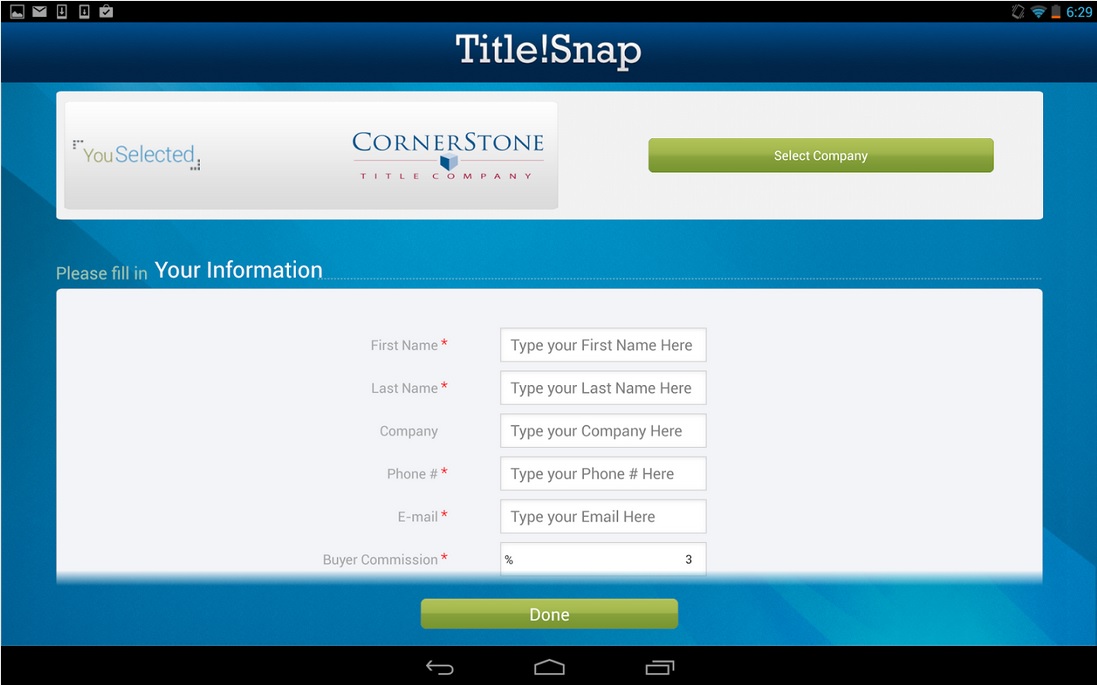 Screen shot of Title!Snap app for Android devices rotated in horizontal mode for use with keyboard.
According to Realogy's most recent annual report to investors, TRG has about 340 offices around the country, of which 195 are co-located within NRT-owned brokerage offices.
Last year, TRG had a role in about 192,000 transactions, including 60,000 involving buyers or sellers represented by NRT agents — a "capture rate" of business generated by company-owned brokerage operations of approximately 42 percent.
TRG provides title, closing and escrow services to real estate companies and financial institutions in 42 states where it's licensed as a title agent. The company is also a licensed title insurance underwriter in 27 states.
TRG is making Title!Snap available in markets where it provides title insurance directly through more than 70 different brands, and also in markets where independent title agents sell policies underwritten by TRG. In each market, the Title!Snap app is branded to the local company or companies servicing that market.