More than half of the nation's Realtors say their brokerages don't have safety procedures in place to help protect them from the dangers of meeting strangers in empty houses — or that if they do have such procedures, they don't know what they are.
That's according to a survey by the National Association of Realtors that found only 46 percent of agents said their brokerage has safety procedures in place.
The percentage of brokerages that have safety procedures may actually be higher. But if so, those procedures may be somewhat meaningless. More than 1 in 4 surveyed — 27 percent — said they don't know whether their brokerage has safety procedures or not — meaning that if there are procedures in place, some agents may not be following them.
Concerns about agent safety were heightened last fall by the death of Arkansas Realtor Beverly Carter. Prosecutors say Carter was kidnapped and murdered after showing a home to a stranger.
Carter's death prompted calls for real estate associations, multiple listing services or real estate brokerages to adopt uniform, mandatory safety procedures.
Requiring real estate agents to vet potential clients before meeting them for the first time, for example, could reduce incidents where agents are set up by criminals.
If safety procedures are voluntary, proponents say, some agents will ignore them or take risks to gain a competitive advantage.
NAR is developing a written policy for agent safety that will not be mandatory.
In releasing the results of the survey, NAR President Chris Polychron said the survey is a first step in understanding "the scope of the problem to help us develop smarter resources, programs and technologies." A "one-size-fits-all approach will not work," he said.
About 1 in 5 survey respondents said they'd participated in a Realtor safety course, and the "typical member meets 50 percent of their prospective buyers that they do not know in a real estate office (or) a neutral location before first viewing a home," NAR said.
A little more than 1 in 10 (13 percent) said they use a smartphone safety app to track their whereabouts and alert colleagues in the event of an emergency. Commonly used apps included Life360, Find My iPhone, bSafe, Guardly and Google's Family Locator.
The survey of 2,804 Realtors found that the vast majority of Realtors have never been victims of a crime, violent or otherwise, while on the job. But 4 in 10 real estate professionals have experienced a situation that made them fear for their personal safety — or "the safety of their personal information."
Women were far more likely than men to report such incidents. While 1 in 4 men said they've feared for their personal safety or the safety of their personal information in situations including open houses, vacant homes and unsecured properties, nearly half of women — 48 percent — reported such fears.
Realtors working in the suburbs were more likely to report having experienced a dicey situation (42 percent) than those working in metro areas (40 percent), rural areas (40 percent) or small towns (37 percent).
Feared for personal safety, or safety of personal information

Source: National Association of Realtors, 2015 Member Safety Report.
While the survey found men and women were equally likely to carry weapons for self-defense, women preferred pepper spray and men were more likely to carry a gun. Although 17 percent of Realtors said they carried pepper spray and 12 percent said they packed a firearm, only 4 percent of men carried pepper spray while 19 percent carried a gun.
Self-defense weapons carried by gender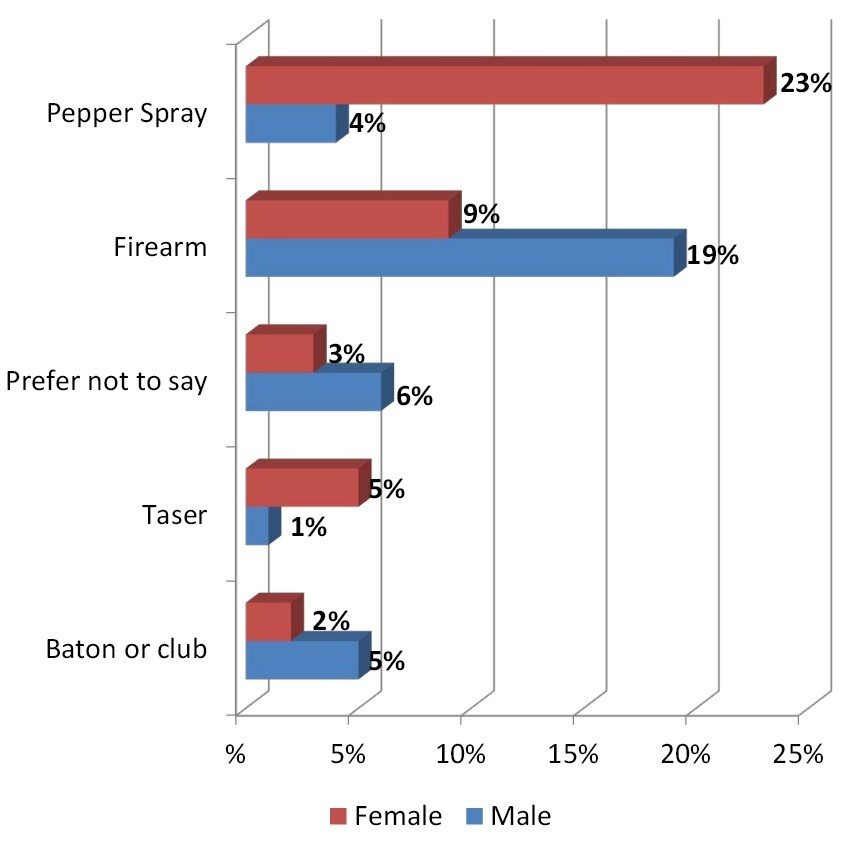 Source: National Association of Realtors, 2015 Member Safety Report.
Of the 4 percent of Realtors who said they've been victimized on the job, 2 percent said they'd been robbed, 1 percent said they'd been assaulted, and 1 percent said they were victims of identity theft.
According to records compiled by the Bureau of Labor statistics, there are an average of 17 workplace homicides a year in the real estate real estate industry.
But that category includes landlords, real estate agents and brokers and others who work in brokerage offices, and those who conduct activities related to real estate, such as property managers and appraisers.
Property managers and landlords appear to be at far greater risk than real estate agents. Of the 16 workplace homicides in the real estate industry in 2013, only one involved "offices of real estate agents and brokers." Nine homicides were associated with "lessors of residential buildings and dwellings" and six were associated with "real estate property managers."