It's looking like there won't be a tidal wave of new real estate agent websites incorporating the ".realtor" domain extension after all.
The National Association of Realtors has offered to give 500,000 .realtor domain names away to members, and had registered more than 75,000 names by the time they officially became available on Oct. 23.
But .realtor domain name registrations appear to have plateaued at around 95,000, with new registrations averaging less than 60 a day so far this year, according to ntldstats.com. At that rate, it would take 18 years for .realtor registrations to hit the 500,000 mark.


Registrations of .realtor domain extensions have plateaued this year. Source: ntldstats.com.
NAR spokeswoman Sara Wiskerchen said the trade group is "pleased with the number of .realtor registrations, which are going well and higher than expected."
Racking up nearly 100,000 registrations in just six months is an impressive rate of adoption — very few top-level domains have been as successful, she said. Many Realtor associations have signed up for a program that will integrate .realtor marketing into their future member outreach.
"We anticipated continued and steady growth after the initial rush of registrations, and believe that ongoing education and launching association and brokerage domains in the near future will keep .realtor front and center."
Those who register a .realtor domain can build their own custom website at that address, and NAR has partnered with website developer Placester to give members with a .realtor domain six months of free hosting and a free website design.
NAR also makes it easy for members who register a .realtor domain to have it point to their realtor.com profile page, which is free.
Wiskerchen provided examples of .realtor websites that NAR holds out as creative uses of the domain name: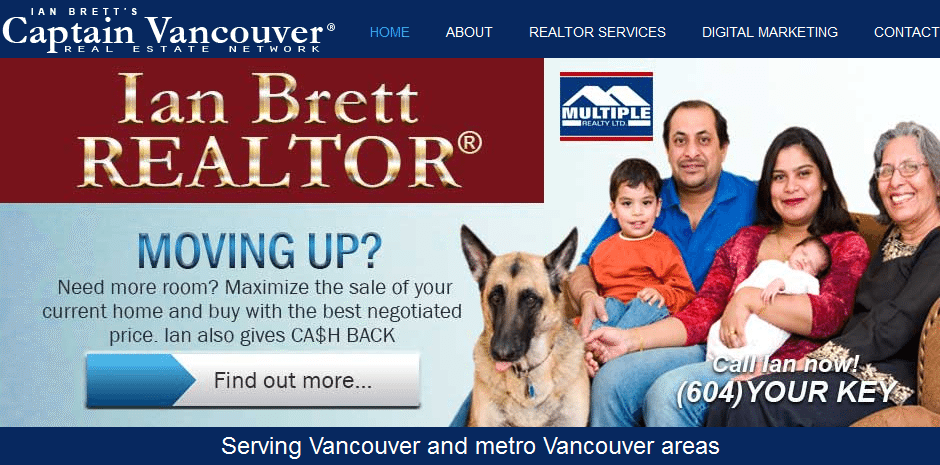 Screenshot showing detail of ianbrett.realtor home page.
Considering the the low barrier to entry, however, it's somewhat surprising that NAR still has so many domains to give away. Last summer, more than 8 out of 10 Inman readers said they planned to apply for a ".realtor" domain — suggesting that a tidal wave of 800,000 new real estate agent websites might be forming if NAR's 1 million members felt the same way.
One reason for the relative lack of interest could be the business rules drawn up by NAR governing the use of the domains — including a requirement that members' first, last or full names must be part of the domain (SueSmith.realtor, for example).
Those restrictions — and the lack of appeal of a website address tied to an agent's name, rather than a .com address attached to a geographic location — prompted St. Paul, Minnesota, broker and Inman columnist Teresa Boardman to pass.
"I think I'll just stick with my .com domains," Boardman wrote last fall. "I can have domain names like StPaulRealEstateBlog.com and StPaulCondolife.com and StPaulPhotos.com and several others that don't include my name, or the words sell or sold. The domain names are more about real estate, not about me."
NAR has also been involved in an uncharacteristic legal dispute with longtime ally Move Inc., operator of realtor.com, over the licensing of .realtor domain names outside of the United States. Filings in the lawsuit suggest that NAR may have agreed to impose restrictions on .realtor domain names at Move's request.
Move "was concerned that so-called 'geographical' domains, such as 'Chicago.Realtor' or 'California.Realtor,' could affect realtor.com's placement in search results from search engines" and ding traffic to realtor.com, attorneys for NAR said.