At Planwise, we did some research on prospective homebuyers about six weeks ago. We surveyed more than 1,200 people and initially asked this qualifying question:
Are you planning to buy a home within the next three years?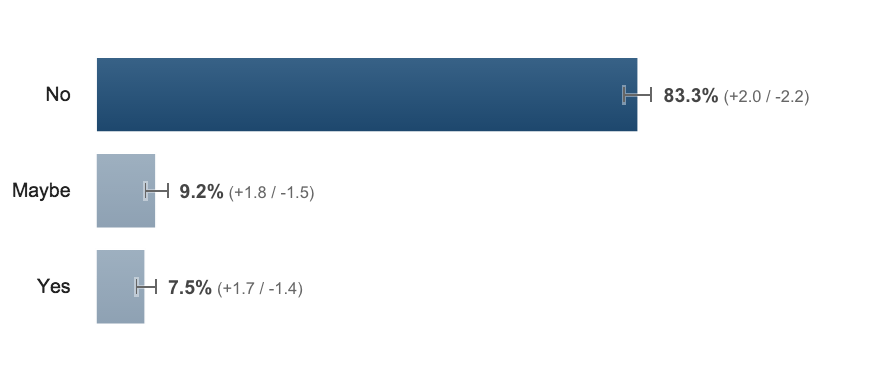 Not surprisingly, the majority of people are not planning to buy a home anytime soon — not even "maybe." Our focus, as should be the focus for agents, is people who are planning to buy within a reasonable time frame. Of the 151 people who were a "yes" or "maybe," we then asked this question:
How soon are you planning to buy a home?
Breakdown of the 151 was: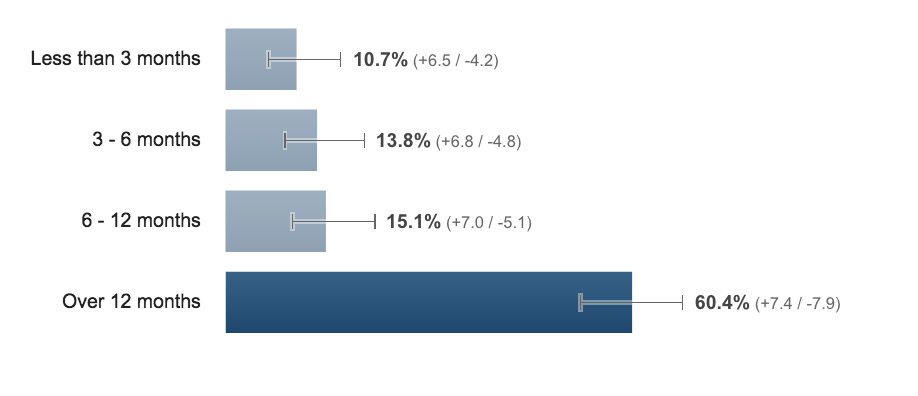 Nothing out of the ordinary here. As expected, the "maybes" were skewed to "over 12 months," while the "yes" group fell into responses within 12 months.
We then asked the following question:
Which technology do you use to search for properties online?
The results are surprising. "With a browser on my computer" was No. 1 by a clear and statistically significant margin.

With close to three-quarters of people who are planning to buy a home indicating that a browser is part of their home search, it seems hard to ignore. The tablet number is interesting also; presumed a laptop killer for a lot of consumers, the tablet has no doubt become a replacement device in some households. However, indications are that laptops are not going anywhere anytime soon.
So what is this really about?
This not really about tablets, PCs, laptops or smartphones — it's browsers versus apps.
The major portals and brands have invested heavily in apps, as there is an opportunity to create a wonderful, simple and seamless user experience. However, there is a significant advantage to the portal/brands, commonly known as a walled garden. When a consumer is using an app, there is a limited opportunity to interact with other apps. You can engage (trap?) the consumer in your experience.
Apps are not designed for channel switching — unfortunately, our attention spans are limited. In fact, our attention spans are now under nine seconds in 2015 according to research from the National Center for Biotechnology.
Browsers have tabs, which enable you to attend to multiple things at once. An informal survey here showed 80 percent of people having six or more tabs open at any one time. We didn't rerun that to get more recent data, but I can hardly imagine it's changed much. For interest, I have 15 tabs open right now while writing this article.
Browsers are also typically installed and used on laptops and devices with keyboards where the ubiquitous "Alt-Tab" to switch windows makes it even easier to lose your attention to something else. Interestingly the majority of non-Apple tablets come with keyboards and full browsers, looking more like a laptop with a touch screen than simply a tablet.
We decided to push further into the question of what these homebuyers use as their primary tool for buying a home with the following question:
 
Which do you use the most?
As expected, a "Browser on computer."

The results were statistically significant, and we're starting to get closer to reflecting the typically quoted picture, which is that "mobile" traffic (smartphone and tablet) is starting to overtake laptop/PC traffic as highlighted previously in this article on Inman.
But even more clear is the insight that this is clearly apps versus browsers. As someone who has been building consumer-facing technology in real estate and mortgages for more than 15 years, I can comfortably say that in terms of experience the advantage native apps have had over browser-based applications is being eroded.
In the coming years it will be a battle of closed systems (walled garden, native apps, iOS) versus open systems (browsers, Android, etc). In terms of pure adoption, open systems have continually proven to outrank closed systems. In the '90s, when computer operating systems mattered, Windows (based on MS-DOS, a readily available/open platform) was over 90 percent of users. Now with the battle between iOS (closed) and Android (open) for smartphones globally, this is being won by Android at around 80 percent — and even here in the U.S., most recent figures suggest Android is at 56 percent.
People like open because people like to be able to do what they want.
 
What does this mean for agents and brokers?
In the end it comes down to what the client wants to do. People searching for home like to:
Visit multiple places (sites/brands/apps) to look for homes (we have a whole bunch of research on this which I'll publish in a future post).
Have multiple applications open at once.
Use the largest screen possible for their situation.
Easily reach the people they trust to answer their questions when their self-serve options run out.
Have an overall easy and fast experience.
Agents and brokers should align themselves with the technology that empowers their clients to have the experience above. This will likely mean building a lot less and either using or even just recommending sites, apps or technology that align to these behaviors.
We at Planwise (the startup I run) believe the future is in applications (apps or browser) that interact with each other and can be tweaked by the consumer to suit their needs, that provide connectivity back to their agent of choice, and work across laptops, tablets and smartphones.
Welcome to the brave new (confusing) world.
If you want to dive deeper into this and other research data we have commissioned, it is available here.
Vincent Turner is the CEO of Planwise. You can find him on Twitter or LinkedIn.