Have suggestions for products that you'd like to see reviewed by our real estate technology expert? Email Craig Rowe.
The pitch
I noticed in the comments below our Special Report Survey on CRMs that a few readers seem concerned about their data being stored in the cloud.
There's nothing wrong with wanting to be sure that your data remains your data, and whether through hacking or some dubiously worded line of text in a user agreement, your database doesn't fall into someone else's possession. Also, let's not pretend those holding technological sway in the real estate industry boast of having any more than a shred of respect for who owns what information. It's all for sale, right?
Yet, sometimes we're our own worst enemies when it comes to protecting prospect data. We lose mobile phones. Forget laptops in the airport. And leave SalesForce open while we stand in line for another latte.
Maybe it's time you consider regular backups of your data.
The sale
External storage devices are everywhere. Trade show vendors hand out logo-emblazoned USB drives like Jolly Ranchers while SD cards of various capacities, scattered in drawers and pinched in office chair cushions, hold albums worth of property photos and listing presentations.
When it comes to your contact database, and the months of transaction documentation, emails, pictures, notes, events, and marketing materials on which your family's well-being is based, it's probably worth investing in a mode of backup not as easily brushed off as disposable.
Maybe one of these devices can help.
The sale
Seagate Backup Plus Fast Portable Drive
Export every contact record you have, then export every contact they have, and you still won't dent the capacity of this virtual warehouse. The Seagate Backup Plus comes with up to 4 terabytes of emptiness that you won't fill until your retirement party and a fast USB 3.0 connection. Mac and Windows users alike will be able to connect and move files easily using the built-in software. Even though it says "portable," this isn't something you should carry around in your purse or carry-all (male purse); instead, the point is to have your backup data secure in one place, one on drive.
Western Digital Elements Portable
Simple and quick define this base level backup buddy from the storage industry stalwart Western Digital. It comes formatted for Windows but can be reformatted for Mac users. This drive is fixed with USB 3.0 connectivity and is backward compatible with 2.0 ports. There are a number of storage capacity options in this line of drives and should you want it, it also comes with a trial version of WD's SmartWare Pro backup management software. I would just drag over the files you need copied once a week or so and leave it at that.
Verbatim Acclaim
Here's one that has some flair. The Acclaim comes in a bunch of vibrant colors, so if having something heavy and colorful on your desk is important, maybe this option is for you. The Acclaim is about the size of an iPhone 6 and knows no USB connectivity limitations, which is another advantage. It comes with the company's Nero BackItUp & Burn Essentials application for regulating your backups.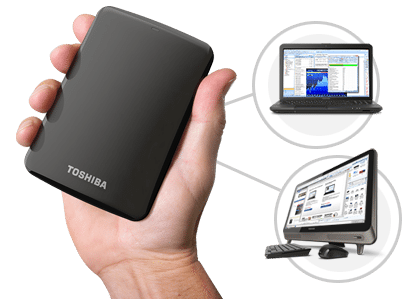 Toshiba Canvio Connect Portable HDD
This tiny drive also comes in cool colors with a number of volume options up to 3 TB. Not much larger than the palm of your hand, the Canvio is USB 2.0 and 3.0 ready and doesn't need to be reformatted between Mac and PC connections because the Mac drivers are built in. It can go from device to device without hassle or setup. Toshiba sends along some Windows only cloud storage, too.
The close
You should be backing up your business content at least once a week; for example, your presentations, contacts, documents, flyers, videos, pictures and anything else that you created to help your clients.
Everything you do from listing to close for every sale and buyer represents business intelligence, and its value grows ever more critical in today's rapid-share, easily-duplicated online business environment. Even if you use cloud sources like Google Drive, Box.net or Apple's Time Capsule, a physical backup is well worth the few minutes every week.
Any CRM worth its weight in email addresses has a record export feature. Use it to get all of your content in one place, on one drive, and then store that drive somewhere cool, dry, and safe.
Do you use one of these data backup products? What do you think? Leave a comment and let us know!
Do you have a product for our tech expert to review? Email Craig Rowe.