While recent reports' home price appreciation data and methodology differs, various sources agree that overall values are rising — with markets in the West leading the way.
According to Zillow, U.S. home values rose 3 percent year over year in May 2015 to $179,200. While this figure is nearly 9 percent below values seen at the peak of housing bubble, some of the nation's hottest markets — Denver, San Jose and San Francisco — are seeing double-digit price appreciation.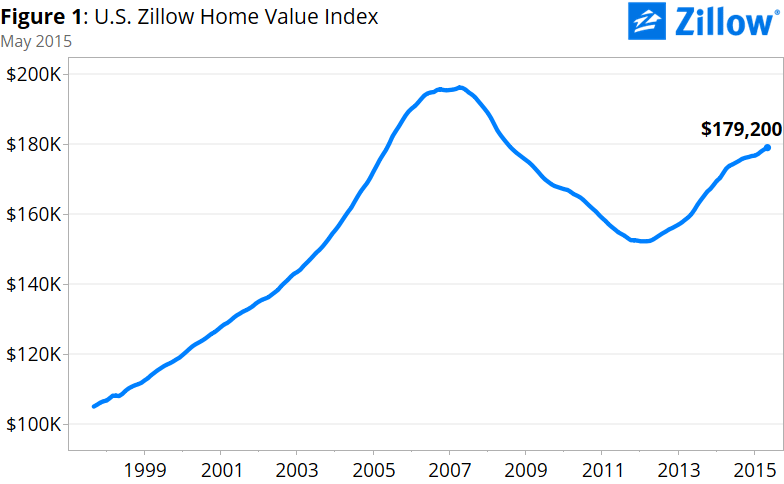 Homes.com points to the West as the top-performing region during the past three months. During that span, home values rose by 1.19 percent.
As of April, home prices in the West, along with the South, have appreciated much faster than in the Northwest and Midwest, FNC's Residential Price Index shows.
In the San Francisco Bay Area, San Jose and San Francisco saw home values grow by 11.9 percent and 10.7 percent, respectively, spanning May 2014 to May 2015.
Zillow attributes this growth to low interest rates and inventory coupled with high job growth and bidding wars. The median home price in San Francisco stands at $746,600, slightly less than San Jose's median of $883,200.
During the last three months, Homes.com cites the San Francisco-Oakland-Hayward metro as the strongest for appreciation, with a 1.19 increase.
In Denver, home values grew by 14.7 percent during the last 12 months to a median of nearly $300,000. Zillow reports that values have never been higher in the Mile High City.
During the last three months the Denver-Aurora-Lakewood metro experienced a 1.08 percent rise in home values. Spanning the last 12 months, the metro has witnessed a change of 7.3 percent.
According to Zillow, other metros that experienced noticeable year-to-year home value growth include:
Dallas-Fort Worth (11.7 percent)
Houston (7.7 percent)
Seattle (7.5 percent)
A group of markets almost saw a 1 percent rise in values during the last three months, according to Homes.com:
San Diego (0.95 percent)
Minneapolis (0.91 percent)
Seattle (0.89 percent)
Chicago (0.89 percent)
Detroit (0.88 percent)
Except for Baltimore, Orlando and San Antonio, FNC reports that the top 30 metros all posted March 2015 to April 2015 gains in home values — led by Portland, Oregon, at 3.5 percent.
Instead of experiencing noticeable upticks in value, Zillow reports some markets are seeing rents rise rapidly while home values appreciate slowly.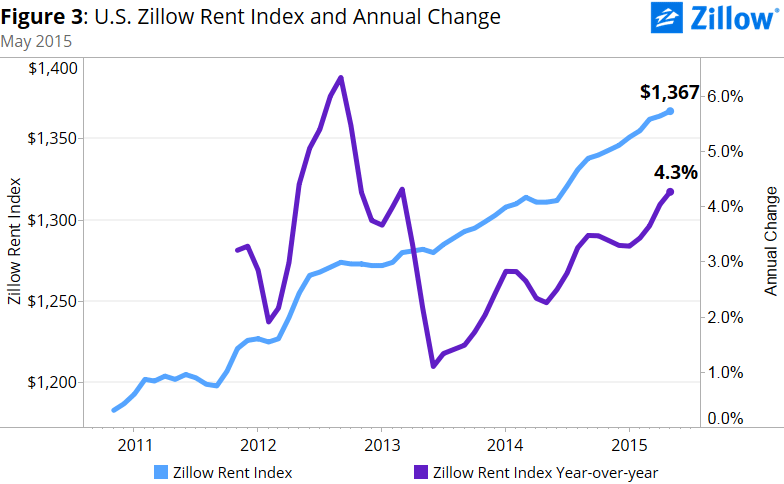 Entering June, rents were outpacing home value growth in 20 of the 35 largest U.S. housing markets. In May, overall national rents rose by 4.3 percent.
Kansas City's median home values were essentially flat, rising 0.2 percent during the past year; however, rents were up by more than 10 percent during that period.
In Florida, Tampa, Miami-Fort Lauderdale and Orlando remained more than 30 percent under their peak. In all three markets, home values are growing at around half the pace they were a year ago, Zillow reports.
Similarly, Las Vegas remained 38.6 percent below the peak set in 2006, even though it's seen a 6.3 percent year-to-year growth in values.
Other markets that saw minimal gains in home values spanning the past year include:
Washington, D.C. (0.4 percent)
Philadelphia (0.3 percent)
Boston (0.2 percent)
Baltimore and New York/Northern New Jersey saw 0.1 percent and 0.3 percent declines in home values.
FNC cites Chicago, Cincinnati, Boston, New York, Cleveland, St. Louis, San Antonio and Detroit as lagging markets for home value appreciation. During the past year, values have declined by 1.4 percent in San Antonio and by 2.2 percent in Detroit.
It's no surprise that the West — the region that witnessed the most significant year-to-year appreciation in values — also experienced a rise in transactions during the past 12 months.
According to the U.S. Census Bureau, sales volume rose 25.5 percent in the West, only outdone by the South, which saw an increase of 33 percent. The Midwest and Northeast saw sales volumes dip by 12 percent and 21 percent, respectively.
In total, 546,000 homes sold spanning May 2014 to May 2015, with 206,000 of those residences selling during 2015. The estimated volume of supply stands at 4.5 months.
---
Inman Connect San Francisco is right around the corner — register now and save $200!