Pending home sales activity hit a nine-year high during May, according to the National Association of Realtors.
Sales volume increased by 0.9 percent in May when compared to April and by 10.4 percent when compared to May 2014. Activity has now increased on a year-to-year basis for nine straight months, with month-to-month increases occurring each of the last five months.
Jonathan Smoke, chief economist at realtor.com, says this data suggests that further increases in new- and existing-home sales will occur during June and the rest of the summer.
"We're finally beginning to see an uptick in supply as sellers become more confident about home prices," Smoke said. As supply expands, Smoke predicts an increase in the number of first time homebuyers – a larger percentage of whom will be millennials.
Lawrence Yun, NAR's chief economist, warns that this year's stronger sales, amidst similar housing supply levels from a year ago, have caused home prices to rise to an unhealthy and unsustainable pace.
"Housing affordability remains a pressing issue with home price growth increasing around four times the pace of wages," Yun said. "Without meaningful gains in new and existing supply, there's no question the goalpost will move further away for many renters wanting to become homeowners."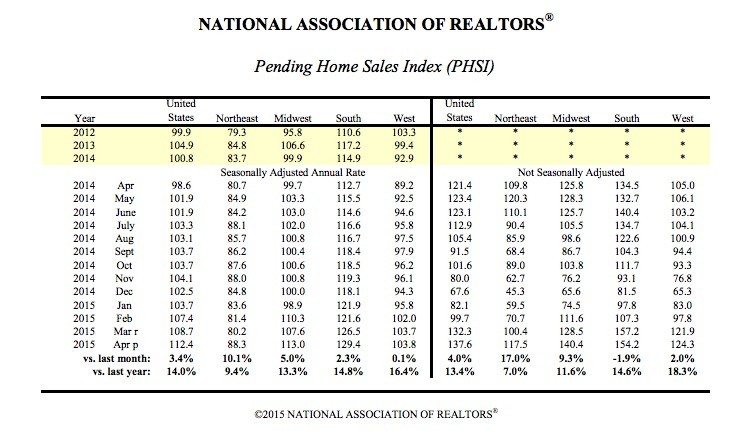 The uptick in activity from April to May is attributable to gains in the Northeast and West. Pending sales volume rose 2.2 percent in the West during May and by 13 percent when compared to the same time last year. In the Northeast, volume rose by 6.3 percent spanning April to May and by 10.6 percent during the past 12 months.
While April to May sales volumes were down in the South and Midwest, by 0.8 percent and 0.6 percent, respectively, each region has experienced notable year-to-year growth. Activity in the South has spiked 10.6 percent during that period, with the Midwest seeing a 7.8 percent bump.
"It's very encouraging to now see a broad-based recovery with all four major regions showing solid gains from a year ago and new-home sales also coming alive," Yun said.
According to realtor.com, the top 10 markets in the country, according to number of views per listing on its website, are:
San Francisco-Oakland
Vallejo-Fairfield, California
Denver
Santa Rosa, California
Dallas-Fort Worth
San Jose, California
Ann Arbor, Michigan
Boston
Detroit
Santa Cruz, California
Seven of the top 12 markets for views are located in California, with Sacramento and San Diego ranking 10th and 11th, respectively.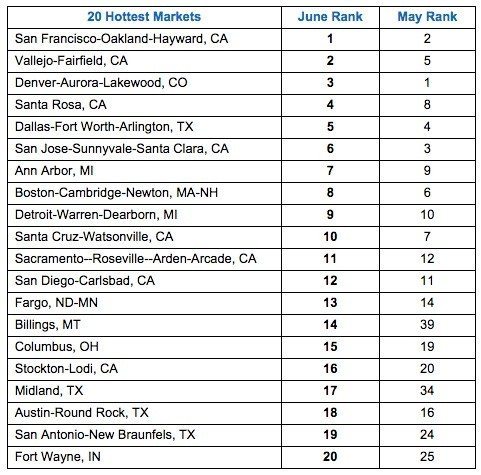 ---
Inman Connect San Francisco is right around the corner — register now and save $200!