Home prices are up modestly this spring, according to the latest housing market data released by Black Knight Financial Services Inc.
The mortgage industry technology, data and analytics provider released its Home Price Index (HPI) for April this week. The HPI represents the price of nondistressed sales by taking into account price discounts for REO and short sales.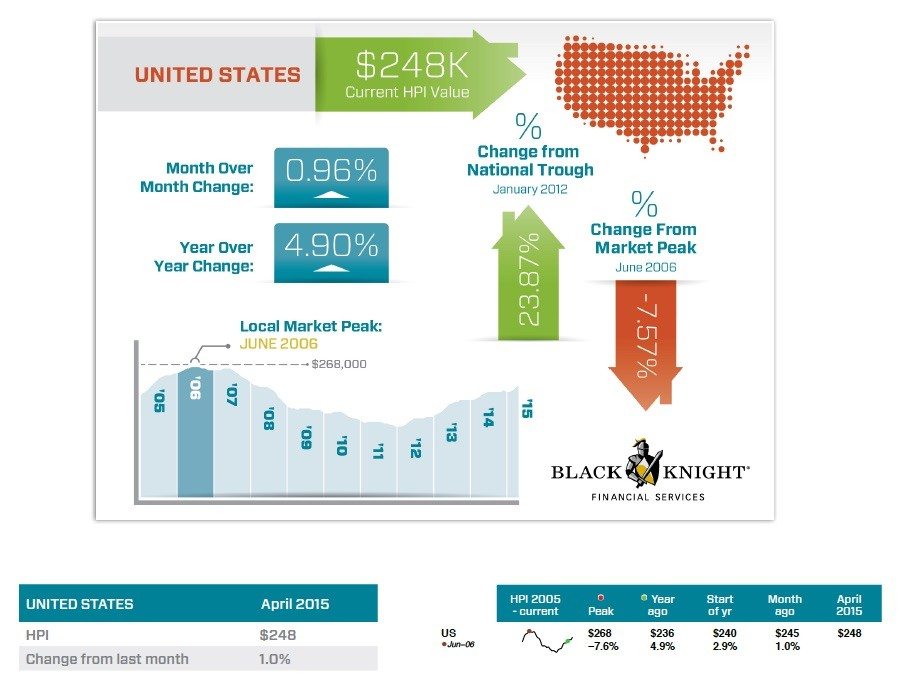 According to the company's latest HPI, home prices were up 1 percent in April, an increase of 4.9 percent over the same period last year. At $248,000, the national level HPI is just 7.6 percent off its June 2006 peak of $268,000.
Diving into its state-level data, Black Knight said Washington saw the best gains, reporting a 2 percent increase in appreciation since March. Seattle led the state's metro areas with 2.2 percent growth since March.
Overall, the nation's best-performing metro areas were Detroit; San Jose, California; and Fort Collins, Colorado, which each saw home prices rise 2 percent.
Of the nation's 40 largest metro areas, 10 hit new peaks:
Austin, Texas
Columbus, Ohio
Dallas
Denver
Honolulu, Hawaii
Houston
Nashville
San Antonio, Texas
San Francisco
San Jose, California
Both Boston and Portland, Oregon, are within 0.75 percent of reaching new peaks.
States seeing the lowest price gains were:
Ohio, Hawaii, Arizona and Nevada, which all saw gains of 0.7 percent.
Missouri and Georgia, which saw gains of 0.6 percent.
Virginia and North Carolina, which saw gains of 0.5 percent; Florida, which saw a gain of 0.4 percent.
Arkansas, which saw a gain of 0.2 percent.
The index combines the company's property and loan-level databases to produce a repeat sales analysis of home prices as of their transaction dates every month for more than 18,000 ZIP codes.
---
Inman Connect San Francisco is right around the corner — register now and save $200!