Financial market meltdowns in Greece and China have investors fleeing to the safety of U.S. Treasurys, pushing average fixed-rate mortgage rates lower and bolstering buyer activity as the busy spring homebuying season comes to a close.
According to Freddie Mac's most recent Primary Mortgage Market Survey, the rate on 30-year fixed-rate mortgages averaged 4.04 percent for the week ending today, down from last week when it averaged 4.08 percent. A year ago at this time, this rate averaged 4.15 percent.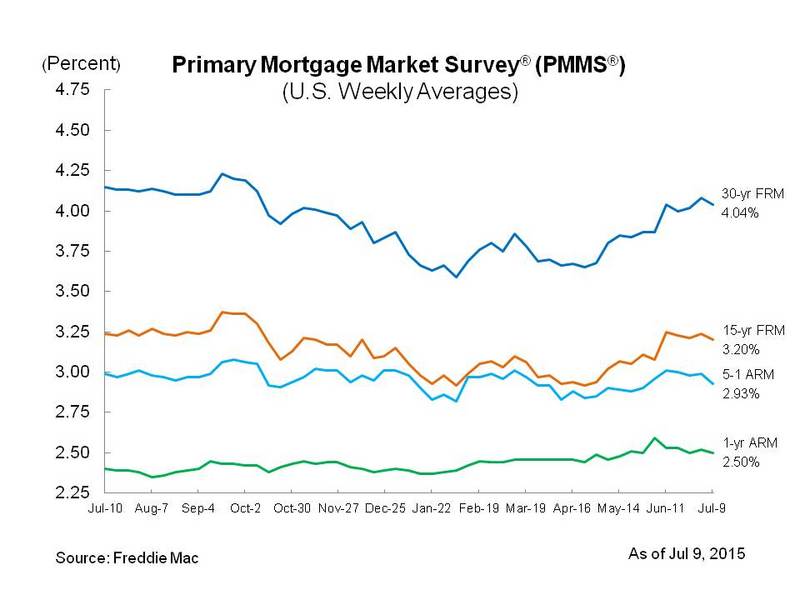 The rate on 15-year, fixed-rate mortgages averaged 3.2 percent, down from last week when it averaged 3.24 percent. Last year at this time, this rate averaged 3.24 percent.
Rates on five-year, Treasury-indexed, hybrid adjustable-rate mortgages (ARMs) averaged 2.93 percent this week, down from last week when they averaged 2.99 percent. A year ago, this rate averaged 2.99 percent.
And the one-year, Treasury-indexed ARM averaged 2.5 percent this week, down from last week when it averaged 2.52 percent. At this time last year, this year averaged 2.4 percent.
Freddie Mac noted that yields on U.S. Treasury securities declined this week in response to investor concerns about economic troubles in Greece and China.
Greece's problems began after the Wall Street implosion in 2008, when the company announced that it had been understating its deficit for years. This caused many financial markets to yank credit away from the country, which then faced the possibility of bankruptcy. To stave off that crisis, the International Monetary Fund, the European Central Bank and the European Commission issued two international bailouts for Greece, which was required to overhaul its economy.
But earlier this week, Greece failed to make a scheduled debt repayment of about €1.5 billion, or $1.7 billion, to the International Monetary Fund. European leaders gave the country a deadline to reach a bailout agreement, but Greece's government failed to offer a substantive proposal to resolve the default. Greece has requested a three-year loan from the eurozone's bailout fund, but if it doesn't make its debt repayment, it may have to exit the eurozone.
While many analysts have been focused on Greece, some economists are suggesting that the real financial crisis is happening in China, where the stock market has been on a roller-coaster ride since mid-June. Despite China's government stepping in to try to settle the negative effects of a bear market, the country's sheer size and place in the global economy could pose a greater threat than what is happening in Greece.
"Overseas volatility is likely to persist for some time, providing some restraint on potential U.S. rate increases," said Fannie Mae Chief Economist Sean Becketti.
Although many have been reluctantly anticipating the Federal Reserve's mortgage rate hike, Becketti said he thinks the Fed will proceed cautiously.
---
Inman Connect San Francisco is right around the corner — register now and save $200!