David Eraker believes agent commissions are bloated.
In November, the former Redfin CEO launched Surefield, a seller-focused brokerage designed to slice agent fees using cutting-edge, 3-D virtual tour technology.
Read the full survey findings of our hybrid brokerage report — or download the PDF.
The full-service Seattle-based firm charges sellers a 1.5 percent commission (with a minimum fee of $7,500) and caps buyer's agents' compensation at $2,000.
The brokerage is betting that the ubiquity of listings online and the virtual 3-D models it produces for all its listings can free sellers from "prepaying" a buyer's agent's commission.
Surefield has 25 listings and wouldn't disclose how many deals it has closed. All of its agents are salaried.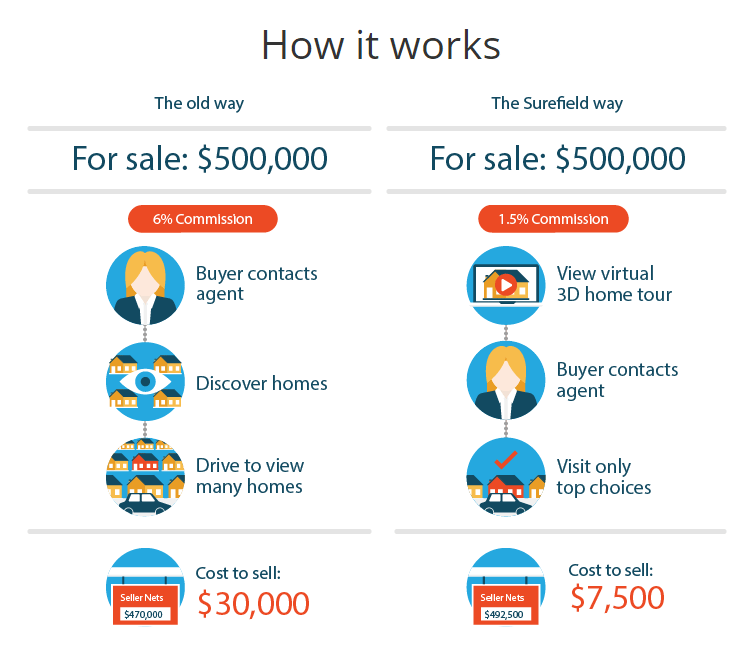 Surefield's home tour technology allows buyers to virtually walk through a home, giving them a realistic look of the space without having to visit in person. The digital models also include drone-like, aerial 3-D views outside the home.
Surefield asks prospective buyers to view the models before deciding whether to visit a home in person, which should reduce the number of home-visit requests.
Eraker co-founded Redfin in 2002 and ran the firm as CEO until 2006, when he left to pursue work outside of real estate. Surefield's co-founder and chief operating officer, Rob McGarty, worked as a Redfin agent and a director of its lender program from 2006 to 2010.
Surefield points to the real estate commission model in developed countries outside the U.S. and Canada — where sellers pay between 1 and 2.5 percent to agents to sell their home — as evidence that its model has a chance here.
"For the first time, sellers don't have to automatically pay for the services of buyer's agents; buyers can realistically tour homes 24/7, and home prices won't be artificially inflated to compensate commissions," Surefield said.
See a comparison chart explaining what each hybrid brokerage model does — and does not — include.
What should you do about hybrid brokerages? Here are 10 suggestions.
San Diego discount broker iPayOne lived large and then sputtered.
---
Inman Connect San Francisco is right around the corner — register now and save $200!
Start Inman Connect SF off right! Choose from three powerful events on Aug. 4. Reserve your spot now for Agent Connect, Broker Connect and Tech Connect.