Are you set up for success in 2016? Join 2,500 real estate industry leaders Aug. 4-7, 2015, at Inman Connect in San Francisco. Get Connected with the people and ideas that will inspire you and take your business to new heights. Register today and save $100 with code Readers.
---
Takeaways:
U.S. rents increased $5 from June to a new record of $1,155 in July.
Western markets, particularly those fueled by the tech industry, stood out among the rest for growth.
Only three cities in the top 30 markets posted below the national long-term average of 2.8 percent growth.
Rental prices throughout the nation rose 6.5 percent year over year in July to $1,155, which is $5 more than June, according to Yardi's Matrix Monthly report for July 2015. The record high price for rent was an increase of 20 basis points over the previous month, showing that the rental market doesn't seem to be cooling off anytime soon.
The survey by Yardi Matrix covered 101 markets. Looking at the top 30 metros, only three reported growth lower than the 2.8 percent eight-year average: Baltimore, Washington, D.C., and Richmond, Virginia.
National rent growth was reported at its highest pace in the current market cycle, led by metro markets with a robust technology sector.
The highest rates of growth in rent were in:
Portland – 14.6 percent
Denver – 13 percent
San Francisco – 12.7 percent
On a trailing 12-month basis, which averages the past 12 months and compares that number to the same time frame in the previous year, rents grew nationally at a 5.1 percent rate.
San Diego, Orlando and Tampa showed substantial rental gains at 9.1 percent, 8.4 percent and 8.1 percent, respectively.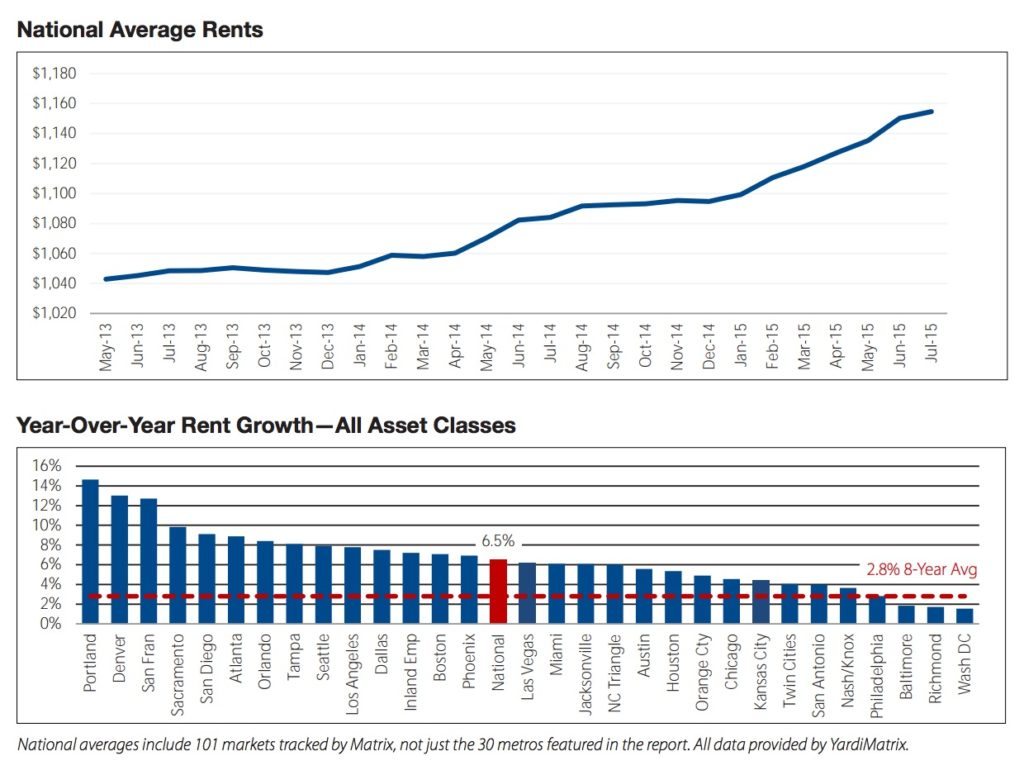 Those same three metro areas jumped into the top 10 in year-over-year growth, bumping out Dallas, Phoenix and Jacksonville, Florida.
Rents in the Twin Cities (which now replaces San Fernando in the top 30 markets) rose 4 percent through July following a steady flow of supply in the years prior.
Markets in the South and West continue to produce impressive figures compared to the Midwest, Northeast and Mid-Atlantic, where growth is still present but not nearly as intense.
Portland, San Francisco and Denver all reigned supreme in the report for rental growth, and all the cities posted fairly strong employment growth.
However, the strongest reported year-over-year job growth was in:
The Inland Empire – 4.1 percent growth
Orlando – 4 percent growth
San Francisco – 3.9 percent growth
In some of the smaller markets reported, year-over-year growth was the strongest in Southwest Florida at 10.3 percent, San Fernando at 9 percent and Central Valley at 7 percent.
Some of the worst-performing markets were:
El Paso – 0.3 percent growth
Tucson – 1.7 percent growth
Bridgeport-New Haven – 2.2 percent growth
Job growth was reported at its lowest in Richmond, Philadelphia, Chicago, Baltimore and Twin Cities.
By the end of 2015, Yardi Matrix forecasts that rent growth will be at 11 percent in Portland, 10.5 percent in San Francisco and 9.3 percent in Denver. Other predicted strong markets include Sacramento, Seattle, Atlanta and the Inland Empire.