Takeaways:
Ferguson hasn't seen more than seven monthly home closings in the past year.
The annual income of a Ferguson resident is $39,377, and there are roughly 836 households and 21,129 residents.
The median annual price of a home in Ferguson increased from $60,000 in July 2014 to $62,500 in July 2015.
After Michael Brown was fatally shot by a police officer on Aug. 9, 2014, Ferguson, Missouri, changed forever. The small city of just over 21,000 people gained a national spotlight — and the story broadcast to the public is typically a negative one.
According to a recent analysis released by RealtyTrac, the city and state saw an increase in foreclosure filings compared to the rest of the country in the first half of 2015. In Ferguson in particular, there was a 15.79 percent increase in foreclosures year over year in the first half of 2015, and a 72.55 percent increase in the first half of 2015 compared with the last half of 2014.
"You sometimes want to get an uptick in foreclosures because it means that you're getting those homes back into productive society," said John Sebree with Missouri Realtors. "These homes might be sitting abandoned, so they're not doing anyone any good."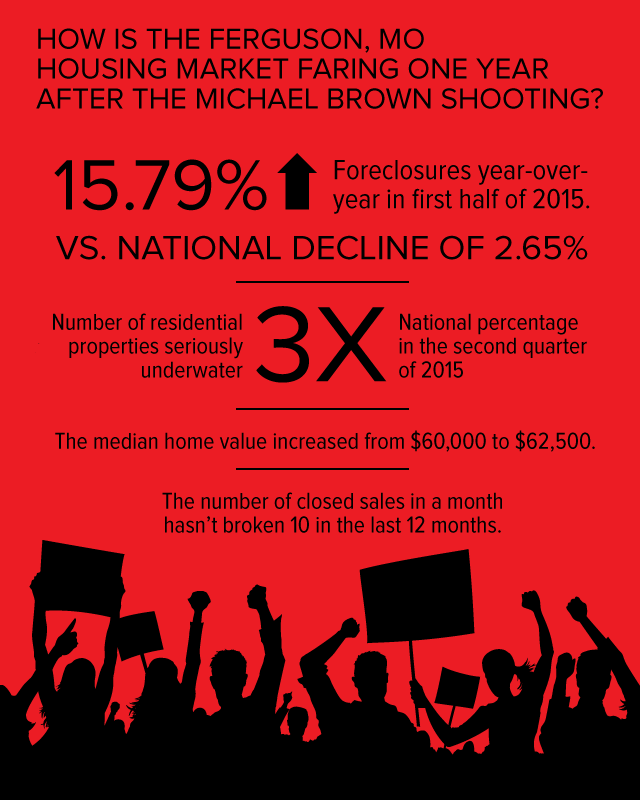 Data provided by the St. Louis Association of Realtors has shown some improvements in the region in which local real estate agents are fighting for a bright future. In March of this year the association launched a fair housing campaign to encourage revitalization in the community and rid the negative perception.
On a year-over-year basis in July, the annual median home value increased from $60,000 to $62,500. The median monthly price of a home sale during July increased from $71,000 to $85,000, with four sales in 2014.
Home sales are still low, as the number of closed sales in a month hasn't broken 10 — the highest was seven in August 2014 — in the past year. In February of both 2014 and 2015 there was only one home sale.
With the annual income of $39,377 and roughly 836 households, supply is a notable issue here. Last July, there was a four-month supply of homes, and it has increased to a seven-month supply in July of this year.
However, days on market in the past 12 months has also fallen from 119 last year to 75 in the year ending July 2015, showing that demand has increased slightly.
One ray of light in this housing market was that in the second quarter of 2015, 7.5 percent of Ferguson homes were reported equity-rich — that's still a lower number than the statewide and national figures, but it represents an increase of 1 percent over the previous year.