Takeaways:
Price patterns for the top markets have been consistent for the past year.
The West Coast and South are home to most of the top-performing markets.
Some later-recovering markets, like Las Vegas, are bouncing back.
Twelve major markets saw home price gains that exceeded 5 percent spanning June 2014 to June 2015.
According to S&P/Case-Shiller's Home Price Index, the average year-to-year appreciation for the largest 20 metros nationally was 5 percent.
Denver, San Francisco and Dallas reported the highest year-over-year gains with price increases of 10.2 percent, 9.5 percent and 8.2 percent, respectively.
Other better-than-average cities cited were Portland (7.8 percent), Miami (7.7 percent) and Seattle (7.4 percent).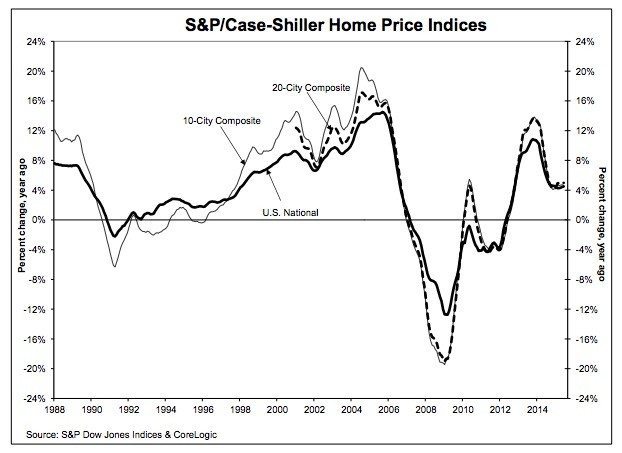 Markets that saw gains of 5 to 6 percent during the 12-month period include:
Los Angeles (6.3 percent)
Las Vegas (6.1 percent)
Detroit (5.7 percent)
Atlanta (5.4 percent)
Tampa (5.4 percent)
Charlotte (5.2 percent)
The worst-performing major markets, in terms of price gains, were Chicago (1.4 percent), D.C. (1.6 percent), New York (2.8 percent) and Cleveland (2.8 percent).
"The city-to-city price patterns are little changed in the last year," said David Blitzer, managing director and chairman of the index committee.
Since the March 2012 lows, the 20-city composite index has recovered by 34.9 percent.
Nationally, the home price index rose by 4.5 percent year over year.
"The missing piece in the housing picture has been housing starts and sales. These have changed for the better in the last few months," Blitzer said, adding that two clouds on the horizon are a possible Fed rate increase and volatility in the stock market.