Check Inman every day for the daily version of this market roundup.
Friday, September 4, 2015
September Denver Metro Real Estate Market Trends Report
Available homes for sale in Denver were reported at 7,587 at the end of August, a 1.6 percent increase in inventory month-over-month.
6,416 new listings came on the market in August, while 5,383 homes were placed under contract and 5,088 homes closed.
Sold listings decreased 15 percent and total sales volume dropped 15 percent to $1.86 billion from July.
Northwest Multiple Listing Service housing activity in August:
Pending sales outpaced the number of new listings added to inventory for the fifth month this year with a reported 10,603 mutually accepted transactions and 9,921 new listings.
Total inventory dipped at the end of August with 20,749 total active listings in the MLS database, which is a slight drop from 21,069 in July and a 23.3 percent decline from a year ago.
When considering supply, or months of inventory, August saw a slight uptick over July from 2.24 months to 2.38 months of inventory.
Thursday, September 3, 2015
Freddie Mac's Primary Mortgage Market Survey results
The 30-year fixed-rate mortgage increased slightly over last week's 3.84 percent to 3.89 percent, which is a slight decrease over last year's 4.10 percent.
The 15-year fixed-rate mortgage was reported at 3.09 percent, up slightly from 3.06 percent last week and down from last year's 3.24 percent.
The five-year adjustable rate mortgage averaged 2.93 percent this week, up from 2.9 percent last week and down slightly from 2.97 percent last year.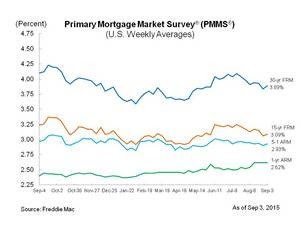 Zillow Negative Equity Report for Q2 2015
The negative equity rate in the U.S. dropped below 15 percent in the second quarter of 2015.
Nearly 20 percent of condo owners were underwater, most notably in cities such as Chicago, Orlando and Las Vegas.
7.4 million homeowners were underwater at the end of the second quarter of 2015, down from when figures were at their worst at 15 million.
RealtyTrac's released its second annual U.S. Natural Disaster Housing Risk Report:
43 percent of U.S. homes and condos, or an estimated market value of $6.6 trillion in property, are in counties with a high risk or very high risk for at least one type of natural disaster.
California, Florida, New York, New Jersey and North Carolina have the most homes in high to very high risk counties for overall natural disasters.
The 10-year home price growth is stronger in areas of low natural disaster risk, but home values are higher in counties with high risk.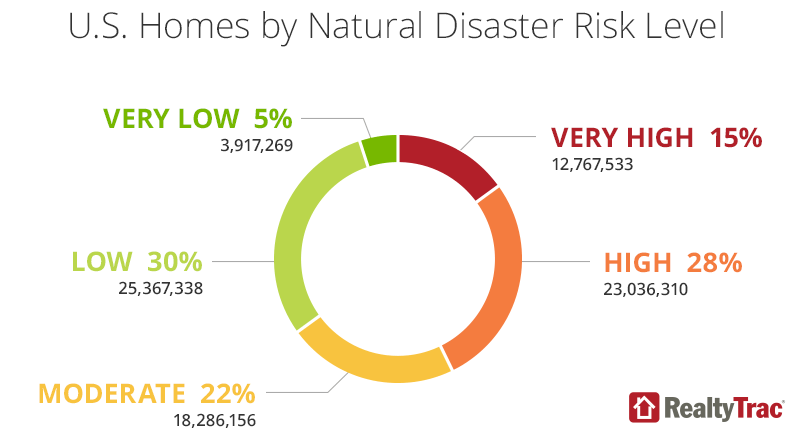 Wednesday, September 2, 2015
The U.S. Census Bureau of the Department of Commerce Residential Construction:
Residential construction spending increased on a monthly basis by 1.1 percent bringing it to a seasonally adjusted annual rate of $380.8 billion in July.
Residential construction spending increased in July 2015 by 15.8 percent over July 2014.
New residential multifamily construction decreased on a monthly basis by 2.2 percent but increased annually in July by 21.2 percent.
30-year fixed mortgages according to Zillow Mortgage Rate Ticker:
The 30-year fixed mortgage rate is currently up eight basis points from last week to 3.75 percent.
The 15-year fixed home loan is currently 2.92 percent.
The biggest change in mortgage rates was 10 basis points in Florida bringing the current 30-year fixed rate to 3.81 percent.
Tuesday, September 1, 2015
Freddie Mac released its August Insight & Outlook report
2015 mortgage originations estimates have been increased to $1.45 trillion and 2016 originations to $1.3 trillion.
2015 is expected to be the best year yet with an increase home sales projection of 5.73 million units.
The cash-out share rose in the second quarter of 2015 to 34 percent from 27 percent in the first quarter of the year.
Auction.com released its latest Real Estate Nowcast
August home sales are projected to fall between seasonally adjusted annual rates of 5.46 and 5.86 million units.
This projected rate puts August home sales 1 percent above July 2015 rates and 12.9 percent above July 2014.
The median sales price is expected to drop to $230,666 nationwide.
" target="_blank">CoreLogic Home Price Index (HPI) for July 2015
Nationwide home prices including distressed sales, increased by 6.9 percent in July 2015 on a year-over-year basis.
Colorado, Florida, Hawaii, Nevada, New York, Oregon, South Carolina, South Dakota, Texas and Washington saw its growth match or surpass the nation's annual price growth, which was 6.9 percent.
Home prices nationwide increased by 1.7 percent in July 2015 over the June 2015 numbers.
Metrostudy's survey of the San Francisco Bay Area real estate market:
In the second quarter of 2015, both quarterly new-home starts and the number of closings increased by 11 percent over the same quarter of 2014.
25 percent of new-home starts were in the $1 million or higher range, causing 61 percent more people to rent now than in 2010.
Annualized new-home starts are down by 4 percent compared to the second quarter of 2014.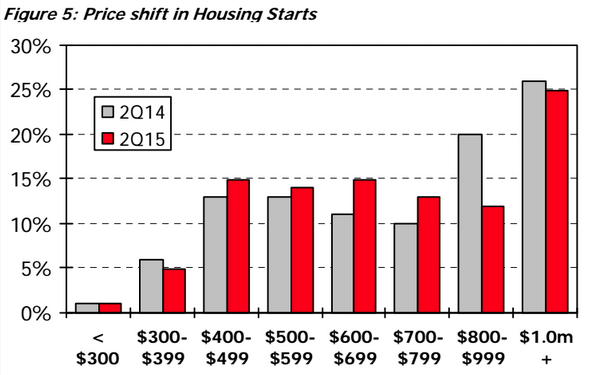 Monday, August 31, 2015
Homes.com's June 2015 Local Market Index:
47 percent (142 of 300 markets) achieved full pricing recovery, which is three more than what was reported in May.
In June, 99 out of 100 markets increased their three-month averages, but for the first time in six months one market saw a decline for the metric.
The West dominated in annual gains with all 10 markets showing improvements. The South dominated in recovery and the Midwest came in second for recovery.
Email market updates to press@inman.com.