Takeaways:
Robert Slack says Zillow leads account for 90 percent of his business.
Kevin Markarian says realtor.com leads account for 60 percent of his business.
Both portal-based brokers opened up their playbooks, noting that maintaining profiles and quick follow-up are key.
In May 2013, Florida real estate agent Robert Slack decided to dip his toe in Zillow waters with a $160-per-month spend on buyer agent ads.
By January, he was running a team of five agents; a year and a half later, he launched his own firm, Robert Slack Fine Homes, which now has 30 agents and is on track to do 300 sides this year thanks predominantly to the more than $15,000 each month on Zillow ads.
Slack attributes this real estate breakout to Zillow, whose leads account for 90 percent of his business. His Zillow spend generates an approximate fivefold return, he said.
San Francisco broker Kevin Markarian has a similar tale, but he's riding the realtor.com beast.
The site accounts for close to 60 percent of his 18-agent brokerage's business. In late 2013, he upped his realtor.com ad spend by tenfold; he soon hired a team, and by April 2014, he had launched his own brokerage. He credits realtor.com.
Slack and Markarian's portal-based broker business models represent a new and big opportunity for agents and brokers who want to expand their business.
Both brokers opened up their portal playbooks to Inman.
Zillow and realtor.com ads
Slack and Markarian have different reasons for choosing Zillow v. realtor.com, including personal preference, the specifics of their market and poor experiences with the other portal.
They buy impressions or leads from the portals' two chief — and most lucrative — advertising products: agent contact forms that show up on the sites' listing detail pages.
In Zillow's "Premier Agent" program, agents pay for a certain number of "impressions" each month. In realtor.com's product, Connection for Co-Brokerage, agents buy a certain number of leads each month. Both are sold on a ZIP-code basis.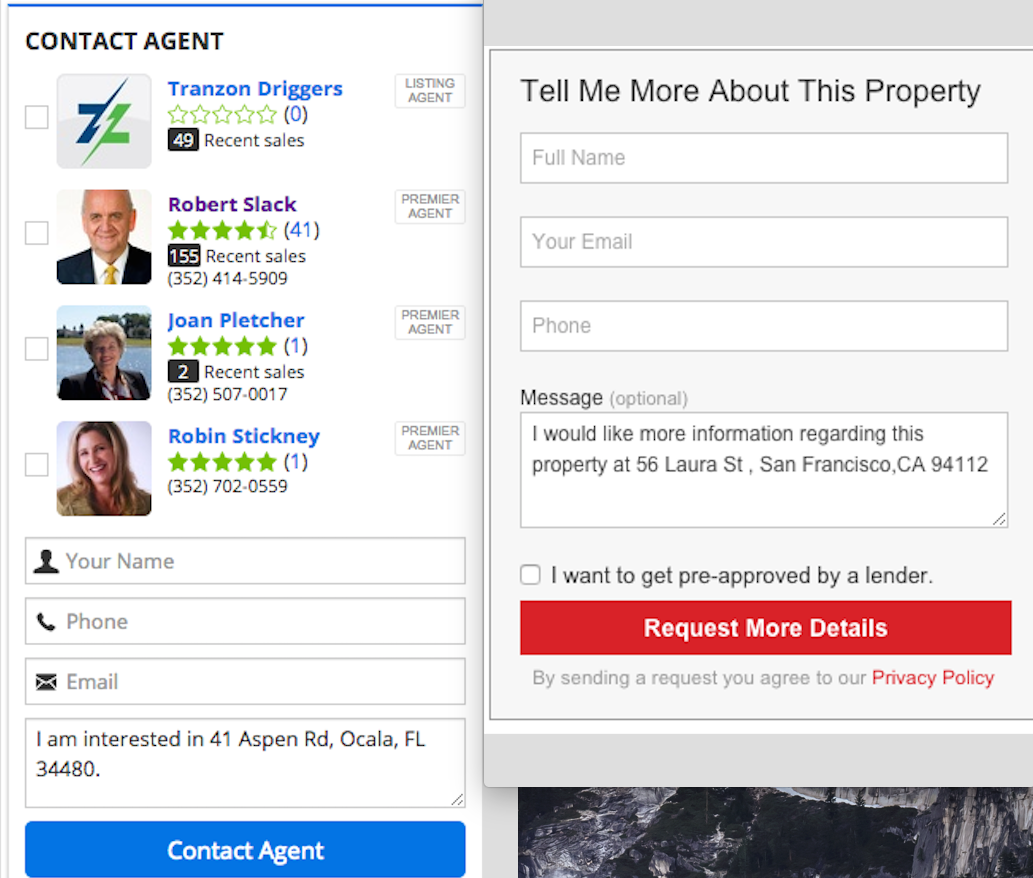 Zillow "Premier agent" ads (left) are branded to agents; up to four agents show up on each contact form. On realtor.com's Connection for Co-Brokerage ads (right), agents pay for leads from an unbranded contact form; consumer inquiries go to one or more agent. 
By the end of September, all Zillow impressions that agents pay for will be shared with those that its sister site (Trulia) tallies, and vice versa.
Slack and Markarian both convert their portal leads into clients at about the same rate: 3.5 percent. That may sound low, but it's close to industry standard.
Broker-tested portal playbooks
Because portal leads are such a big part of their businesses, Slack and Markarian have crafted detailed systems to process them.
Slack's firm's Zillow lead-followup flow:
Leads receive an immediate text message from his customer relationship management platform, Follow Up Boss. The CRM is one of the many that plugs into Zillow through the portal's "Tech Connect" platform.
Slack assigns his agents to certain ZIP codes; Follow Up Boss automatically distributes leads to agents based on the ZIP code they come in from.
Agents are coached to call consumers within five minutes. If there's no answer, the agent tries again that day. If they still don't reach the person, agents call a third time and leave a message.
Agents call once a day for a week until they reach the lead. If no contact, then they reach out twice a week for a month.
If still unresponsive after a month, the lead's put on a drip-email campaign and a virtual assistant takes over the phone calls.
If consumers ask the team to stop contact, they're removed from the follow-up process.
Markarian's firm's realtor.com lead-followup flow:
Each lead gets an instant email or text message. Markarian uses the lead-followup software FiveStreet, which realtor.com operator Move Inc. bought in 2013.
Either Markarian or his sales manager calls the lead within five minutes, if not sooner.
If they get the lead on the phone, they determine how hot it is and then distribute it to one of their agents, keeping detailed notes in the firm's CRM, Top Producer.
For leads that don't respond or are not as close to buying or selling, Markarian puts them on a drip-email campaign and hands off to one of his two virtual assistants, who follow up periodically with phone and email.
If a virtual assistant or the drip-email campaign resurrects a lead, the firm uses FiveStreet to distribute it to one of its 18 agents.
Slack and Markarian also maintain well-groomed Zillow agent profiles, because, as Markarian said, leads are "Googling you as you talk to them."
Markarian focuses more on cultivating his Zillow profile than his on realtor.com one, because, like many agents may, he feels it gets more exposure. (But that may be changing; his realtor.com profile showed up fourth in Google search results for his name — just behind his Zillow profile).
Lead-conversion takeaways:
Have a consistent, detailed lead-followup process.
Respond quickly, if not immediately with software help.
Delegate to a team.
Use a CRM.
Use virtual assistants.
Don't give up.
Here's how Markarian and Slack's expenditures and return-on-investment breaks down:
| | Kevin Markarian, realtor.com | Robert Slack, Zillow |
| --- | --- | --- |
| Monthly spend | $15,000 | Over $15,000 |
| No. of leads per month | 300 | 1,200 |
| % of business through portal | 59% | 90% |
| No. of ZIP codes | 18 | 90 |
| No. of agents | 18 | 30 |
| ROI | 5X | 5X |
| Approximate lead-conversion rate | 3.5% | 3.5% |
Sources: Kevin Markarian, Robert Slack