Takeaways:
Parents and students should not rely on universities to provide accurate housing cost figures.
More students will have to share a room in order to live affordably.
Developers/owners of off-campus student housing are likely to offer cheaper options than universities.
When estimating off-campus housing costs for an academic year — nine months — parents and students should do their own homework and not rely on estimates provided by universities.
According to recent analysis from Trulia, schools often underestimate the cost of off-campus housing by thousands of dollars.
Trulia recently looked up the estimated housing costs provided by 20 large universities across the country and then calculated the median rent for apartments in the nearest ZIP codes based on its rental listings.
The listings site found that schools are not updating their estimated housing costs frequently enough, especially for neighborhoods with fast-rising housing costs. As a result, the costs listed on their websites do not accurately represent the local rental markets, setting parents and students up for a financial surprise.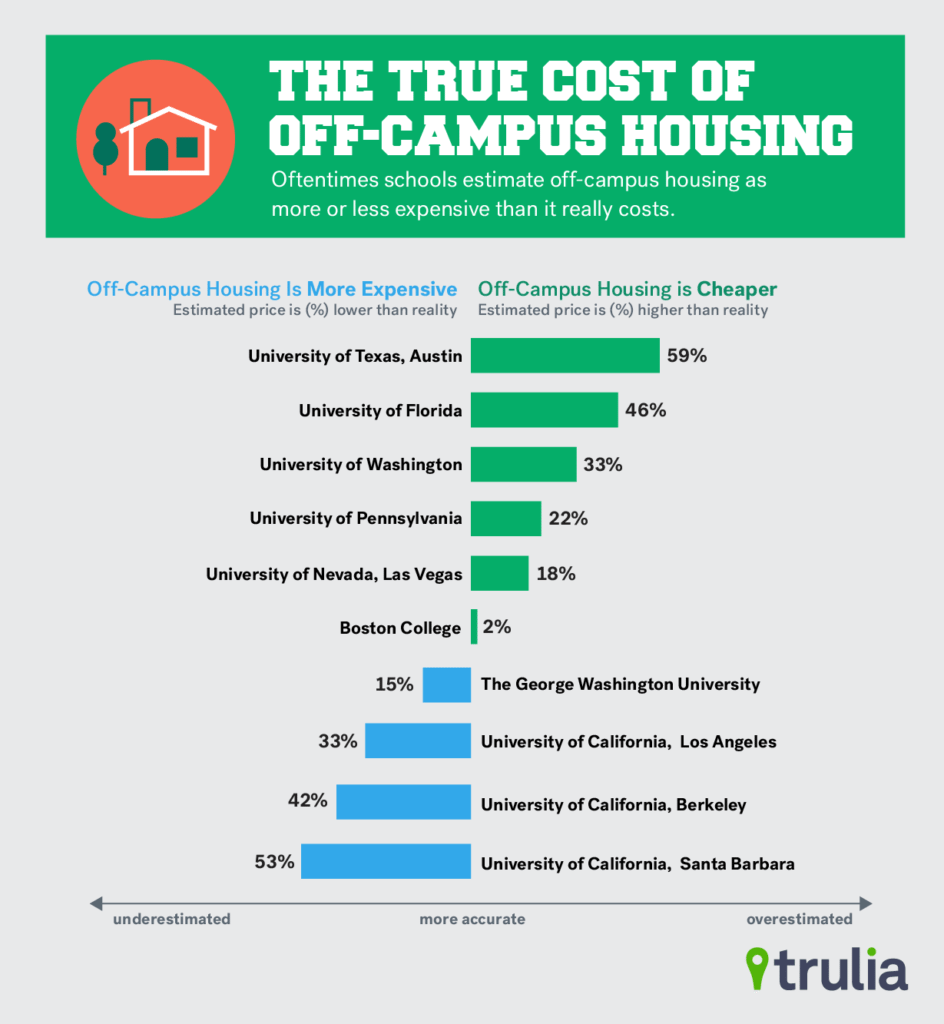 The biggest disparities in estimated off-campus rents versus Trulia's calculations occurred at coastal California schools. Three schools in the University of California system — Santa Barbara, Berkeley and Los Angeles — feature off-campus housing that is 33 to 53 percent more expensive than estimated.
To pay a monthly rent cheaper than the cost being estimated by these schools, two students would have to share the cost of a one-bedroom apartment, or three people would have to split the cost of a two-bedroom.
Despite most colleges doing a subpar job when it comes to assessing off-campus housing costs, Trulia did find that at 15 of 20 universities analyzed, it is cheaper to rent off-campus than to utilize university housing.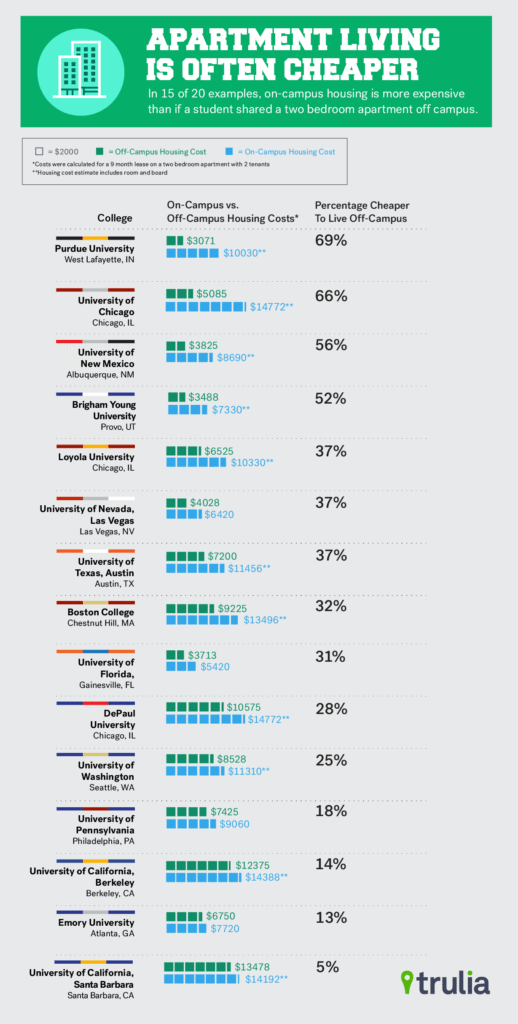 In some cases, on-campus living was significantly more expensive. At Purdue University, off-campus living is 69 percent cheaper, while at the University of Chicago, it is 66 percent less expensive.
Living off-campus is 56 percent and 52 percent more affordable at the University of New Mexico and Brigham Young University, respectively.
If students have to pay for a 12-month lease or rent in a high-priced market, this may make on-campus housing a more affordable option. At Stanford University, it is 50 percent cheaper for a student to share a two-bedroom apartment on-campus versus off-campus.