Takeaways:
New website geared toward sellers rather than prospective buyers.
Brokerage focuses on specific county and markets within the county.
New site appears to focus on listings valued at more than $1 million.
With a focus on generating seller leads in Los Angeles County, Partners Trust — a local independent brokerage — has partnered with The Enterprise Network to build an "exclusive" mobile/Web experience that will create a "competitive moat" for the brokerage.
As part of a four-year deal, Partners Trust joins a group of other brokerages running on the "Be Original or Jealous" Booj platform, which delivers customized iOS and Android mobile apps, a CRM and email system, and a new website that provides fast and accurate "proximity searches."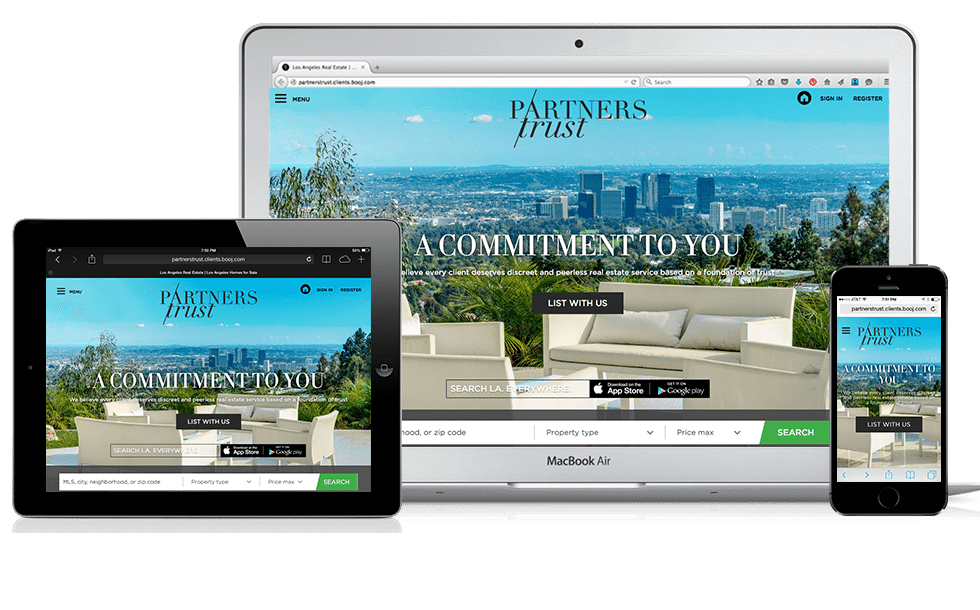 In designing the website, Booj and Partners Trust focused on leading with a "list with us" landing page that outlines the steps each associate takes when preparing to bring a property to market.
"When we work with clients, we thoughtfully explain everything we are going to do, taking time to walk through the nuances of each transaction," said Nick Segal, president of Partners Trust. "The website is crafted to showcase our straightforward and direct approach."
Additionally, proximity searches completed through the site can be saved and generated — with consumers connected directly to agents.
The new site and apps are now live. Apps can be found via the App Store or Google Play.
Since recently going live, the site generated a listing presentation for a $1 million home from a consumer using the "list with us" feature. Additionally, Partners has executed a written offer on a property valued at more than $1 million, with the consumer coming through the website and being routed to an associate.
The Enterprise Network is a union of independent brokerages across the country that shares information, strategy and a unified real estate technology platform.