First American Financial Corp. announced this week that it is now licensing its entire suite of property data to companies in the real estate, mortgage finance and other related industries.
The company's collection of assessor, county recorder, property valuation, foreclosure and other derived data spans 99.9 percent of all U.S. housing stock and includes more than 5.5 billion recorded document images, all derived from public records, publicly available sources and confidential agreements with third-party data providers.
First American also matches public record information against multiple independent sources, including its own public record databases, and gives all matched data a "Verified Record" marking.
Data, recorded documents and property reports can be delivered via FTP, XML and a "match and append" service, where First American appends property data to files provided by clients to their custom specifications.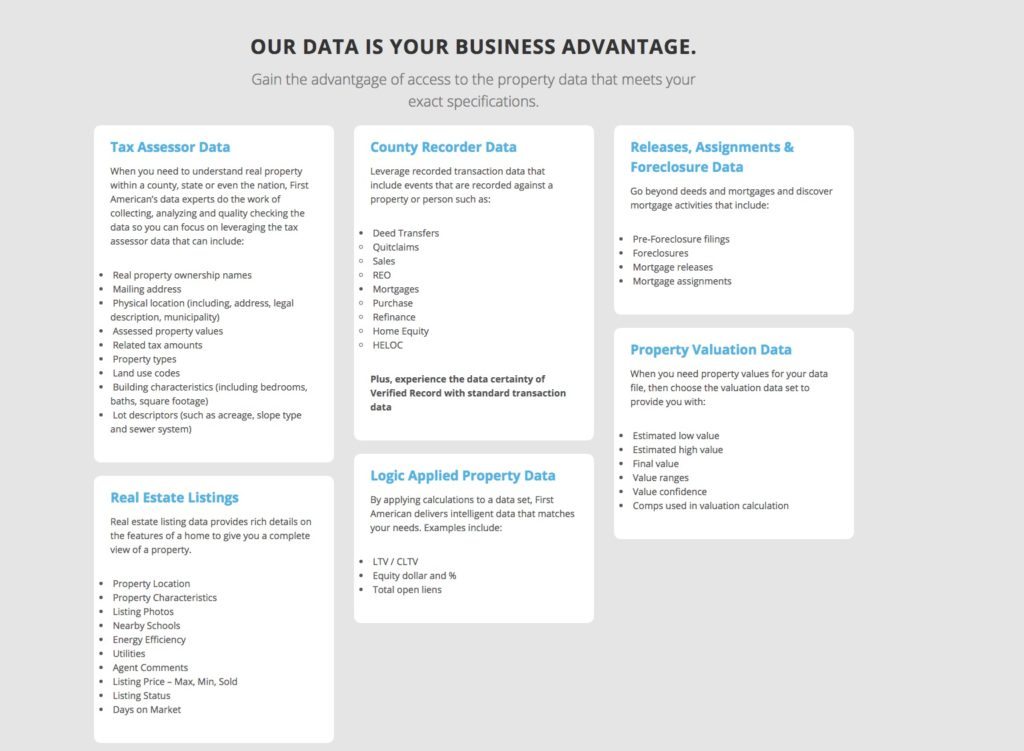 The 6 features your luxury seller should upgrade
Getting a luxury home into selling shape is all in the details
READ MORE
Another feature, FlexSearch, enables users to conduct nationwide searches for any name or phrase contained within billions of record land documents, including information that was previously unsearchable.
Yet another option, DataTree Mobile, available in Apple's App Store, gives subscribers access to First American's data on their mobile phones and tablets.
Customers can now license First American's entire real estate database or certain subsets, such as property characteristics data, which includes bedrooms, baths and square footage, or county recorder data, which includes deeds, mortgages, mortgage releases and assignments data. First American Database Solutions President Robert Karraa said the licensing options should be attractive to companies and organizations in the title and settlement-service space.
"Lenders, among other things, may use First American's property database to validate or refresh the property value, identify previously undisclosed liens, confirm lien position and verify ownership." – First American Database Solutions President Robert Karraa
In addition, "First American's property database may be used by lenders in a variety of ways," Karraa said.
"Lenders, among other things, may use First American's property database to validate or refresh the property value, identify previously undisclosed liens, confirm lien position and verify ownership. Property data may also be used for account management strategies, as well as existing portfolio monitoring."