November 2015 was the slowest period in 19 months for existing-home sales.
"It's possible the longer timeframes pushed a latter portion of would-be November transactions into December," said NAR's chief economist, Lawrence Yun.
If you think it's taking much longer than usual to close on a house this time of year, you aren't alone — and what's more, those extended closing dates could be affecting home sales data.
The National Association of Realtors (NAR) reported this morning that its November 2015 existing-home sales data show that November was the slowest in 19 months of transactions.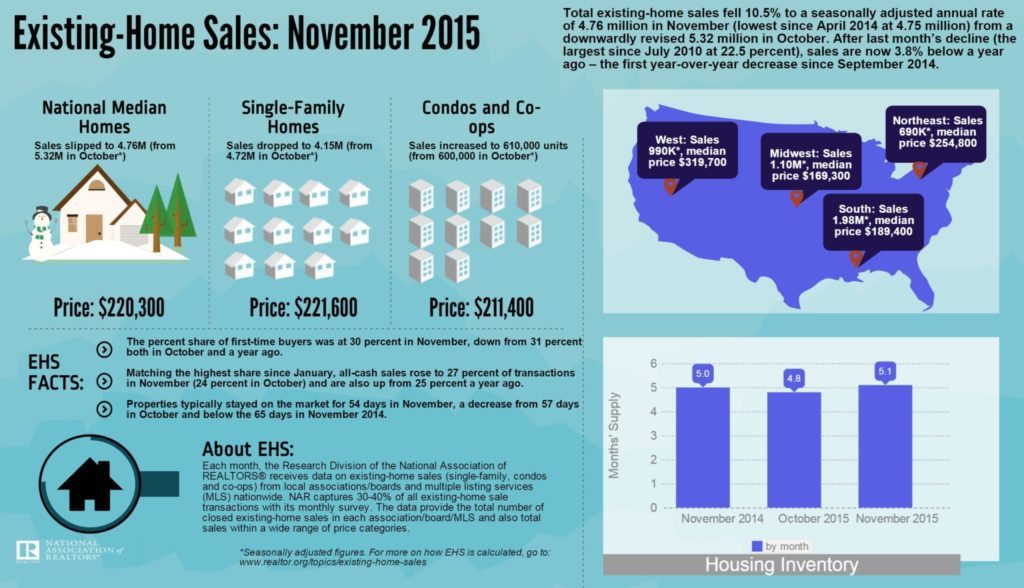 And in its news release, NAR stated that "some of the decrease was likely because of an apparent rise in closing timeframes that may have pushed some transactions into December."
This "rise in closing timeframes" can be attributed to TRID (TILA-RESPA Integrated Disclosure), a new set of regulations imposed on the real estate industry in early October.
November home sales were down 10.5 percent month-over-month and 3.8 percent year-over-year. This is the first year-over-year increase since September 2014.
"Sparse inventory and affordability issues continue to impede a large pool of buyers' ability to buy, which is holding back sales," said Lawrence Yun, NAR's chief economist, in a statement. "However, signed contracts have remained mostly steady in recent months, and properties sold faster in November. Therefore it's highly possible the stark sales decline wasn't because of sudden, withering demand."
Yun also cited NAR's Realtors Confidence Index, in which 47 percent of November respondents stated that they are experiencing longer closing times than in November 2014.
"It's possible the longer timeframes pushed a latter portion of would-be November transactions into December," said Yun. "As long as closing timeframes don't rise even further, it's likely more sales will register to this month's total, and November's large dip will be more of an outlier."
"Realtors worked hard to prepare for Know Before You Owe [TRID], and we knew there would be some near-term challenges as the industry continues to adapt," said NAR President Tom Salomone, broker-owner of Real Estate II Inc. in Coral Springs, Florida, in a statement. "Nonetheless, an early trend of longer lead times to closings is cause for concern."
Other data from the NAR release:
The median existing-home sales price was $220,300, up 6.3 percent year-over-year.
Total housing inventory decreased 3.3 percent month-over-month in November.
Unsold inventory is at a 5.1-month supply.
Properties stayed on the market for an average of 54 days.
First-time homebuyers comprised 30 percent of all homebuyers.