The National Association of Realtors' Center for Realtor Technology team members competed as part of ChicagoHacksBig and won second place for their data visualization.
The visualization was made by tracking 10,000 people across 16 cities as they went to 4,500 venues with sensor technology.
The team hopes their research can help Realtors better understand the health and growth of their neighborhoods.
A team from the National Association of Realtors' Center for Realtor Technology beat out more than a 1,000 competitors with a dazzling data visualization project to take second place in Koding's global virtual hackathon.
NAR's CRT staff members — Chad Curry, Chris Cote, Dave Conroy and Joe Sullivan — competed as part of the ChicagoHacksBig team, which includes members from Gimbal Inc. and DotStuff Media.
The team wanted to get a deeper and more accurate look into how residents live and interact within cities, so they used an advanced sensing technology tool called "beacons" to anonymously track 10,000 people across 16 cities as they traveled to 4,500 music venues over the course of one night.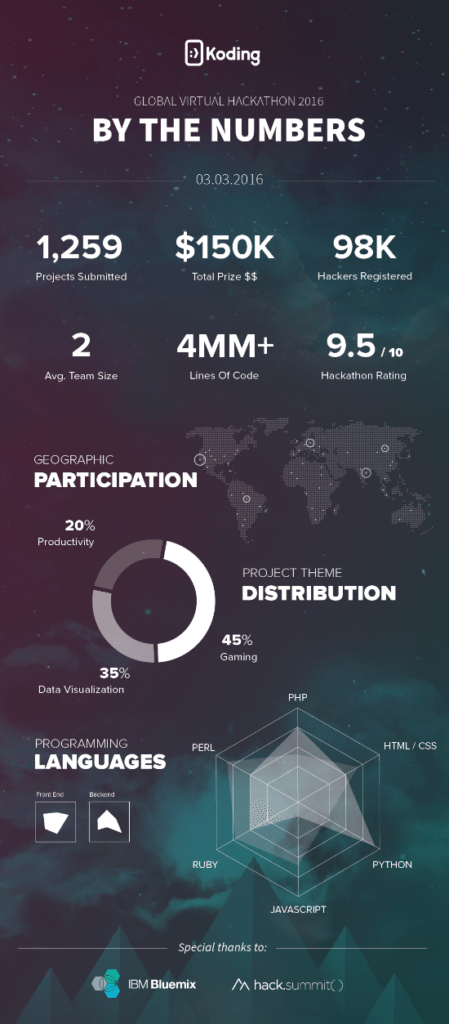 Above and beyond the bar graph
Chad Curry, NAR's managing director for the Center for Realtor Technology, said beacons are commonly used by other companies such as Apple to track the movements of customers as they come into stores.
For example, if you walk into an Apple store and you have the Apple Store app on your phone, Apple's beacons, which are stored within the app, will pick up on where you are within the store. If you walk over to the iPad section and browse the various models for even a few seconds, Apple can use that information to push information about iPads to you through a message or email.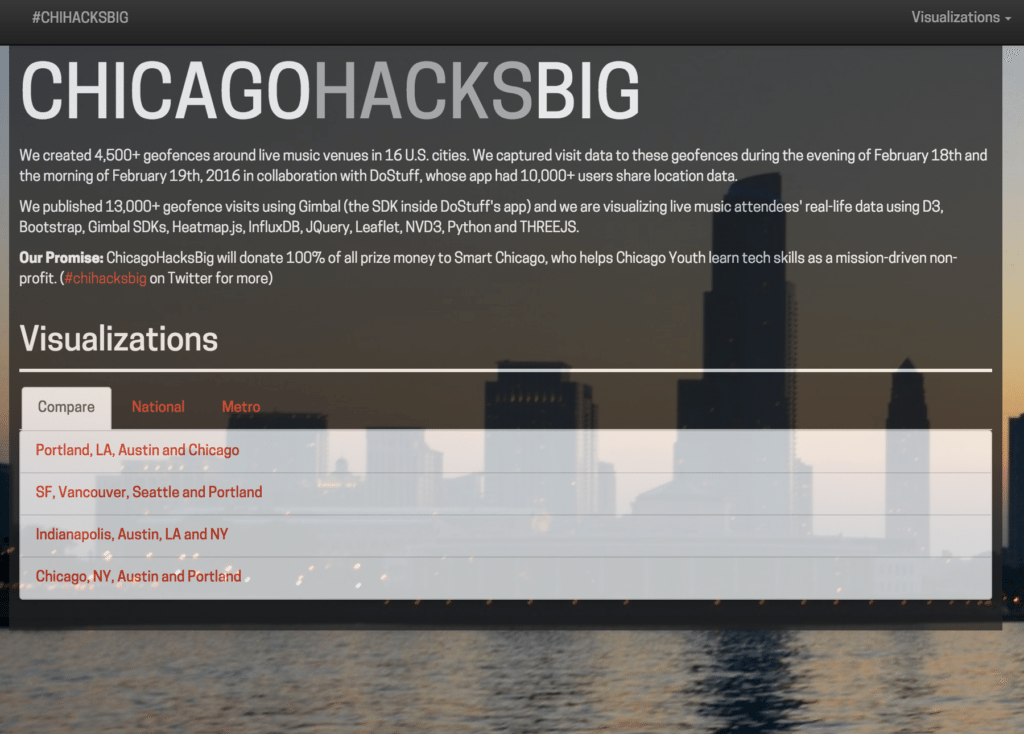 The team partnered with DoStuff, an app that notifies people of events in their cities, and used the app's beacons to track which music venues users were going to and how long they were staying there.
They also created geofences with the longitude and latitude of each venue, and each time an app user walked into the geofence, a "ping" was released.
The results of those "pings" were put into a variety of stunning visualizations that included heat maps, stream graphs (which looked like abstract paintings) and a rotating circle graph that resembled a record player.
"Data doesn't have to be shown with bar graphs," said Curry. "It can be shown in a beautiful  and interesting way."
Implications for the industry
NAR hopes ChicagoHacksBig's data visualization can be expanded and used by commercial and residential Realtors across the nation who want a better understanding of and more accurate look at the health and growth of their neighborhoods.
Curry expanded on NAR's hopes and provided a specific example of how everyday Realtors could use beacon technology.
"Imagine if there was a beacon embedded in the Realtor app, and each time a buyer walked into an open house, you could directly push information about the house through a text message," he says.
He also suggests that Realtors could send follow-up messages about the house, such as "What was your favorite part of the home?" as a way to help make the homebuying process more efficient not only for agents, but for clients as well.
"Embracing new technologies is an essential part of how Realtors conduct business, and over the years, NAR has invested a lot of time and millions of dollars in developing and building online real estate tools," said NAR president, Tom Salomone, in a statement about the win. "We are so excited to be on the cutting edge of this new technology, demonstrating our organization's commitment to continuously provide Realtors with the latest and greatest tools available in the industry."
The team took home a $30,000 prize, and all funds will be donated to Smart Chicago Collaborative, a civic group that aims to improve the lives of Chicagoans through internet access and technology training.
Moreover, Curry says the code for the visualization is available for free on Github so others can perform experiments of their own.