Real Trends recently recognized real estate's best in its 2016 America's Best Real Estate Agents list, breaking down each state and metro's best performing agents and teams by closed transaction sides and closed sales volume.
More than 12,000 real estate agents from all 50 states were chosen, and each one had at least $20 million in closed sales volume or closed at 50-plus transactions.
"Less than 1 percent of the agents and teams in America account for 5 percent of all sales," Real Trends President Steve Murray said in a statement.
Wondering if a friend or rival made the list? Here's the top 10 agents in the Los Angeles-Long Beach-Anaheim metro for closed transaction sides and closed sales volume.
Two Los Angeles luxury brokerages, Hilton & Hyland and Westside Estate Agency, told The Real Deal that they refused to submit their numbers because of discrepancies over Real Trends' method of vetting sales data and agents who are "stacking' sales from within the office." Real Trends President Steve Murray has since acknowledged flaws in the ranking system to The Real Deal.

Why you should never buy an email list
This seemingly easy fix is actually risky and hard to repair. Here's why.
READ MORE
Closed transaction sides
 
Closed sales volume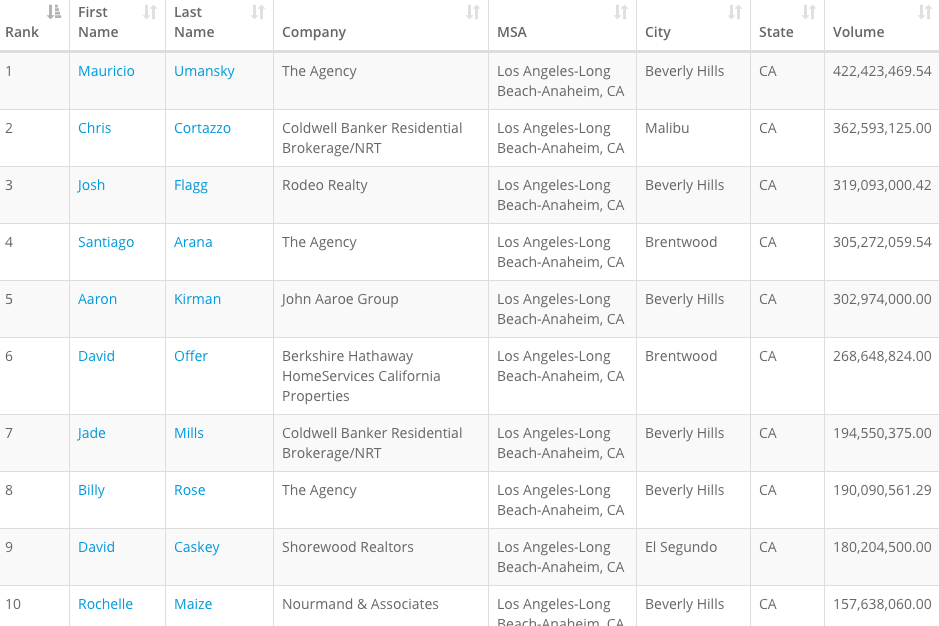 Real Trends also released lists of top real estate agents in the entire state of California and metros such as San Diego.