Homeowner confidence in the housing market is increasing while renter confidence in buying and affordability goes down, Zillow says.
The widest gap between owner/renter confidence is in San Francisco, where 71 percent of owners think it's a good time to sell and just 13 percent of renters think it's a good time to buy.
Chicago has the smallest gap in differing feelings among owners and renters about the housing market.
It's a good time to own a home, according to Zillow. Values are up, people want to buy, and homes are selling quickly. However, renters are struggling with confidence as they look to the future, the real estate research team says.
Zillow and Pulsenomics, LLC conducted a semi-annual survey over the year to determine confidence among homeowners and potential homeowners across the U.S. The Zillow Housing Confidence Index (ZHCI) bases results off 10,000 surveyed renters and homeowners.
The ZHCI at this point in the year is 67.3, up 0.4 from January and 0.8 from the same time last year.
The ZHCI is made up of three other sub-indexes that include market conditions, housing expectations and homeownership aspirations. Each sub-index rose from the year prior, which ultimately pushed overall confidence up.
Homeowners, renters view the future differently
Homeowner confidence rose to 71.3 in July, up 1 point from January and 1.7 points from the previous year. Renter confidence dropped 0.3 points, to 61.2, signaling a difference in opinion about the future of the housing market.
According to Zillow, the 10.1 points between renter confidence and homeowner confidence is the highest difference since Zillow began conducting the survey at the beginning of 2014.
The index showed Miami had the smallest gap between homeowner and renter opinions about buying and selling a home.
Seattle, on the other hand, had the largest difference in opinions. Rent in Seattle has increased higher than any other metro in the country in the last year, while home values increased 11 percent.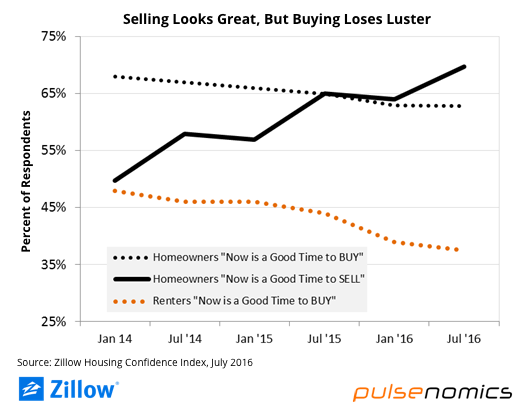 When Zillow began monitoring national homeowner and renter thoughts on the market in 2014, 50 percent of owners said it was a good time to sell, and 48 percent of renters thought it was a good time to buy. Now, however, 70 percent of owners think it's a good time sell, and 38 percent of renters think it's a good time to buy.
Confidence among those who don't own a home has waned
San Francisco has the widest gap of any metro in the country when it comes to owner and renter confidence, with 73 percent of homeowners thinking it's a good time to sell and 13 percent of renters saying it's a good time buy. Zillow's records for San Francisco show a median home price of $1.1 million and median rent of $4,450.
On the flip-side of that massive difference is Chicago. The Windy City has the smallest difference between opinions about selling and buying, separated by just 5 percent. In Chicago, 52 percent of owners say it's a good time to sell, while 47 percent of renters think it's a good time to buy.
Both San Francisco and New York share a 50/50 split of renter opinions about being able to afford a home.
Zillow concludes that this puts owners and renters in a funny situation: Homeowners know it's a good time to sell because the demand is so high, but that also means having to find a new home, which is difficult. Renters are struggling to afford what homes are available, and with dropping new construction, inventory shrinks.