DisclosureSave launched a mobile app aimed at unveiling the natural hazard risk of properties throughout California.
The app is used to determine if a property is in an area prone to floods, dam inundation, fire risk, earthquakes, landslides and more.
ListingCheck can be updated to integrate Natural Hazard Disclosure reports, which include state, local and supplemental hazards.
For homebuyers in California, it's especially important to understand a home's risk factor against natural disasters such as earthquakes, landslides, floods and fires. DisclosureSave has been a Natural Hazard Disclosure (NHD) provider since 1999, and in attempt to make the product more accessible to agents and buyers, it's now available via a mobile app.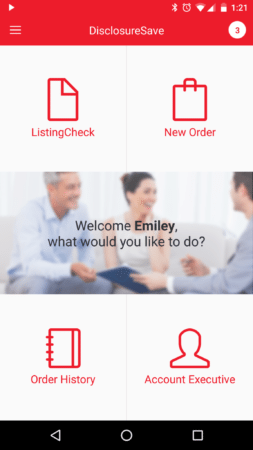 ListingCheck provides on-the-spot access to pertinent hazard information, helping buyers make a purchasing decision. The app features all seven state-level natural hazard disclosures, including risk of fire, landslide or earthquake. Real-time geolocation is used to collect data on a specific area.
ListingCheck pulls preliminary results in just moments, and more detailed information is available at an added cost. The preliminary results are in line with the California Civil Code 1103, which requires sellers to identify if their home is located in a hazard zone.
DisclosureSave also offers Silver, Gold and Platinum packages ranging in price from $63 to $95, which include local disclosures, supplemental taxes and environmental concerns.
Agents are prompted to enter the address of the property, confirm its location and then determine the desired report.
Each hazard has the option to dive deeper to explore the potential impact on the property owner.
"We are all about innovation! The mobile app and ListingCheck provides groundbreaking efficiencies to listing and buyer agents. We are always looking to add more value to better meet the end need of our customers," Emiley Parker, marketing manager of DisclosureSave, said in a statement.
In addition to the natural disaster reports, DisclosureSave also offers home warranty plans through a partnership with Home Warranty of America. The plans range from $35 to $375 and include coverage of sellers, energy efficient appliances, garage doors, plumbing and more.
The app is available for free through Google Play and the Apple App Store.