We'll add more market news briefs throughout the day. Check back to read the latest.
First American Financial Corporation Q3 2016 Real Estate Sentiment Index:
Title agent market production increased 7.6 percent this past quarter as compared with a year ago.
Title agents are forecasting residential price growth of 5 percent for the year ahead.
Title agents surveyed remain optimistic about transaction volumes, with a 7.2 percent increase in optimism over a year ago.
Campbell/Inside Mortgage Finance HousingPulse Tracking Survey for September 2016:
The three-month average for non-distressed properties dropped to $302,600 in September from $310,100 in August.
The three-month moving average sales-to-list-price ratio was 98.0 percent in September, down from 98.6 percent in August.
The first-time homebuyer share of purchases in September was 34.8 percent.
Mortgage rates:
Home equity rates:
Most recent market news:
National Association of Realtors' Existing-Home Sales Data for September 2016:
Existing-home sales were up 3.2 percent in September month-over-month.
This was propelled by a 34-percent share of first-time buyers.
The median existing-home price for all housing types in September was $234,200.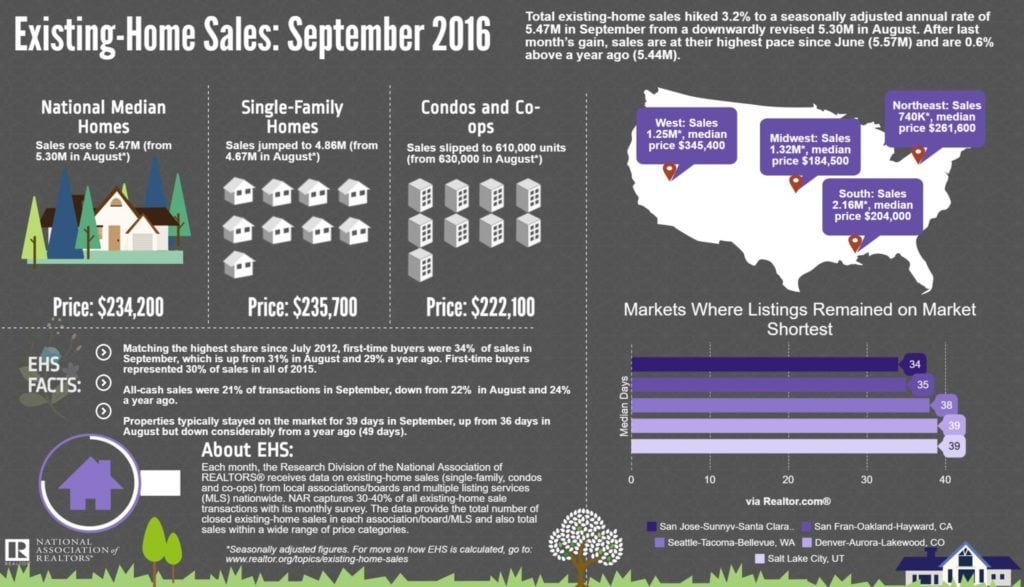 Sell the lifestyle by being part of your community
Top producer Teddy Errico on how loving where you live can lead to sales
READ MORE
Email market reports to press@inman.com.