Existing-home sales have declined for the second consecutive month, thanks to continued inventory woes and lack of access to affordable housing.
The National Association of Realtors' (NAR) existing-home sales dipped 1.3 percent to a seasonally adjusted annual rate (SAAR) of 5.44 million in July — down from 5.51 million in June.
This month's sales pace is 2.1 percentage points above July 2016 and is the lowest SAAR sales pace of 2017.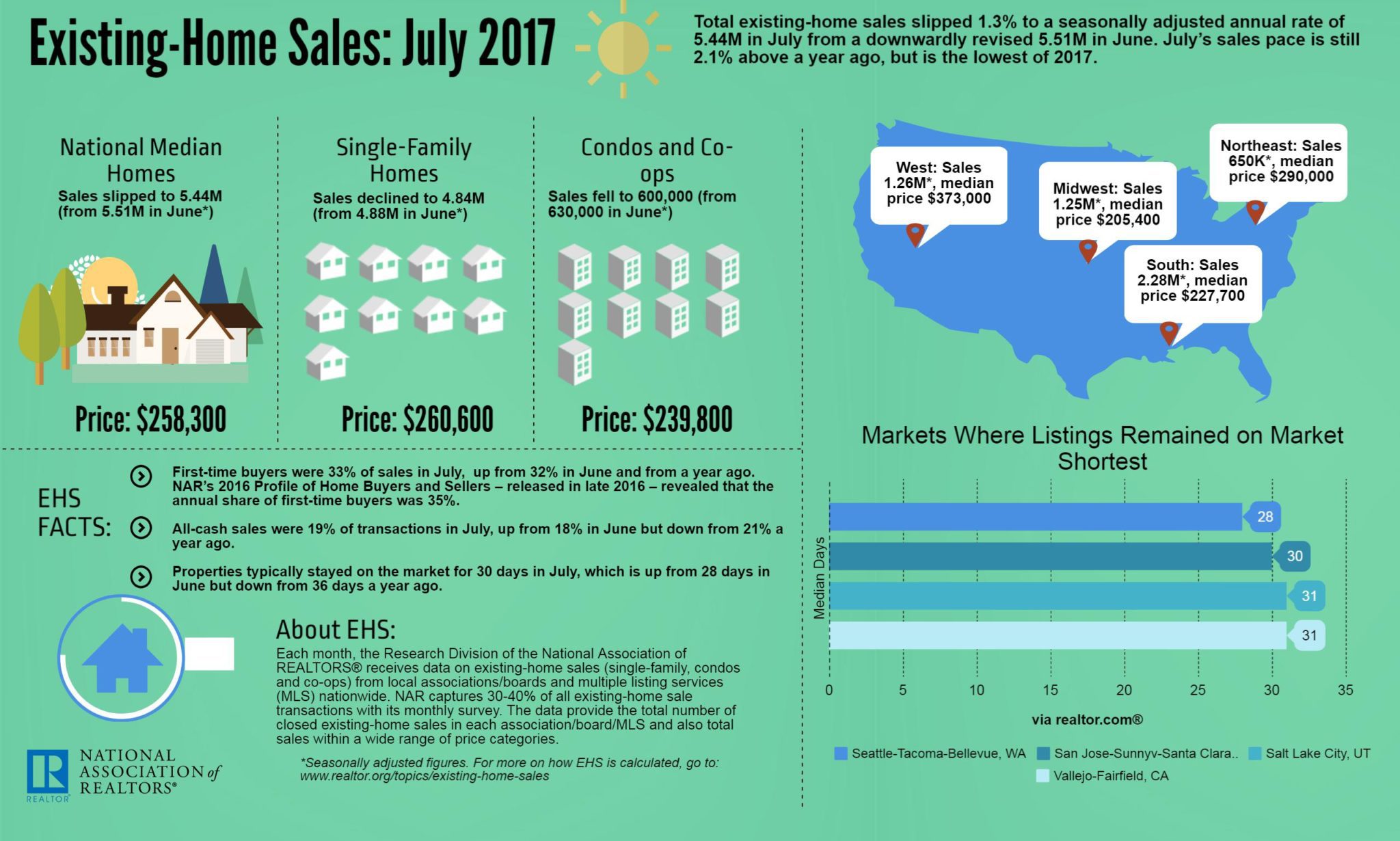 June's numbers stifled by low inventory
The median existing-home price for all housing types in July rose 6.2 percentage points to $258,300, which marks the 65th consecutive month of year-over-year gains.
Total housing inventory dropped 1 percentage point month-over-month to 1.92 million homes for sale. Year-over-year inventory declined 9 percentage points and is in its 26th consecutive month of year-over-year declines. Unsold inventory is at a 4.2-month supply, a 0.6 percent year-over-year decline.

Millennial homebuyers are coming: they're just five years behind
What to know about — and how to cater to — the shifting priorities of this emerging affluent demographic
READ MORE
NAR Chief Economist Lawrence Yun says the month's existing-home sales is due to low inventory and dearth of affordable housing.
"Buyer interest in most of the country has held up strongly this summer and homes are selling fast, but the negative effect of not enough inventory to choose from and its pressure on overall affordability put the brakes on what should've been a higher sales pace," Yun said.
"Contract activity has mostly trended downward since February and ultimately put a large dent on closings last month."
"Home prices are still rising above incomes, and way too fast in many markets," Yun added. "Realtors continue to say prospective buyers are frustrated by how quickly prices are rising for the minimal selection of homes that fit buyers' budget and wish list."
Distressed sales, which include foreclosures and short sales, were at 5 percent — a 1 percentage point increase from June and unchanged from July 2016. Four percent of July sales were foreclosures, and 1 percent were short sales.
Single-family home sales were at a SAAR of 4.84 million — a 0.8 percentage point month-over-month decrease and a 1.7 percentage point year-over-year increase. The sales price for single-family homes increased by 6.3 percentage points to $260,600.
Existing condominium and co-op sales fell 4.8 percentage points to a SAAR of 600,000 units, 5.3 percentage points higher than a year ago. The median existing condo price in July was $239,800 — up 5.3 percentage points from 2016.
How did buying patterns vary across the country?
In the Northeast, existing-home sales dropped 14.5 percent to an annual rate of 650,000, down 1.5 percent from a year ago.
Median price: $290,000, a 4.1 percent year-over-year increase.
In the Midwest, existing-home sales fell 5.3 percent to an annual rate of 1.25 million.
Median price: $205,000, a 5.9 percent year-over-year increase.
In the South, existing-home sales rose 2.2 percent to an annual rate of 2.28 million.
Median price: $227,700, a 6.7 percent year-over-year increase.
In the West, existing-home sales increased 5.0 percent to an annual rate of 1.26 million.
Median price: $373,000, a 7.6 percent year-over-year increase.
Existing-home sales are based on transaction closings from MLSs and include single-family homes, town homes, condominiums and co-ops.
Seasonally adjusted annual rates are used in reporting monthly data to help accommodate for seasonal variation; the annual rate for any given month represents what the total number of actual sales for a year would be if the pace for that month were maintained for a whole year.