We'll add more market news briefs throughout the day. Check back to read the latest.
Most recent market news
Monday, November 20
First American Financial Corporation October 2017 Potential Home Sales
Potential existing-home sales increased to a 5.89 million seasonally adjusted, annualized rate (SAAR), a 0.4 percent month-over-month increase.
This represents a 95.7 percent increase from the market potential low point reached in December 2008.
In October, the market potential for existing-home sales decreased by 4.3 percent compared with a year ago, a loss of 262,000 (SAAR) sales.
Currently, potential existing-home sales is 481,000 (SAAR), or 8.2 percent, below the pre-recession peak of market potential, which occurred in July 2005.
The market for existing-home sales is underperforming its potential by 7.7 percent or an estimated 455,000 (SAAR) sales.
Market potential increased by an estimated 26,000 (SAAR) sales between September 2017 and October 2017.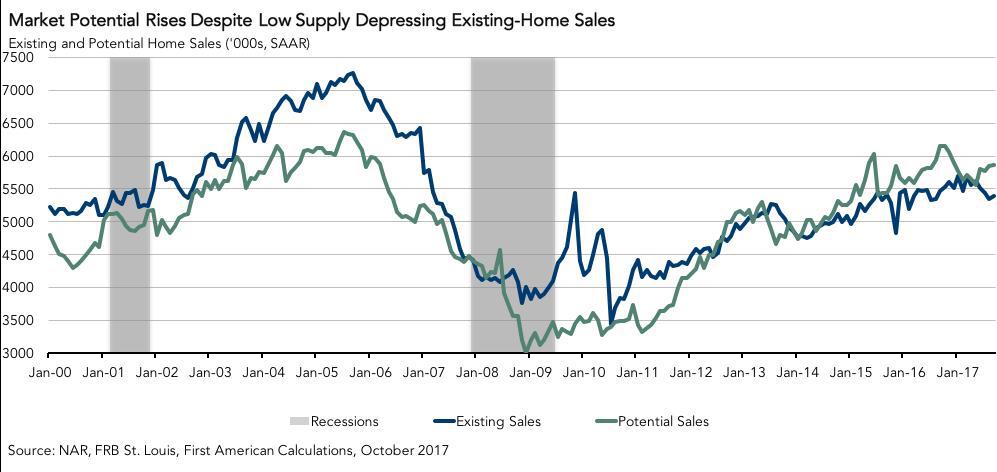 "Tight supply and strong first-time home buyer demand continue to be the dominant factors driving the current state of the housing market," said Mark Fleming, chief economist at First American. "Existing homeowners remain reluctant to list their homes for sale for fear of not being able to find a home to buy, keeping supply levels low.
"At the same time, a healthy number of potential home buyers continue to enter the market, so house prices are increasing and affordability is declining.
"Historically low rates offer some relief in the form of strong borrowing power, however rates are expected to rise in the months to come, so if you are renting and thinking of buying, now is the time."
Freddie Mac November 2017 Outlook
Modest economic growth, robust job gains, and low interest rates make for a favorable economic environment for housing and mortgage markets. But despite the favorable environment, housing markets have stalled a bit through summer and into fall. A lack of available for-sale inventory is helping to contribute to an acceleration in home prices.
The lack of inventory has been a storyline throughout the summer and fall after a good start to the year. We now anticipate 1.2 million housing starts and 6.13 million home sales for 2017.
Despite the disappointing latter half of the year, both numbers are still on track for the best year in a decade. We also expect starts and sales to increase in 2018 and 2019 — thanks to housing construction gradually picking up and helping to supply more homes to inventory-starved markets.
Strong demand, low mortgage rates and a lack of for-sale inventory has contributed to accelerating house prices. Nationally, home prices increased at a 6.4 percent annualized rate over the quarter ending September 2017.
"It's unlikely the economic environment will be much more favorable for housing and mortgage markets in 2018 and 2019," said Sean Becketti, Chief Economist at Freddie Mac. "We forecast that interest rates will remain low by historical standards, but gradually creep higher over the next two years.
"We also forecast that housing construction will gradually pick up, helping to supply more homes to inventory-starved markets. More housing supply and modestly higher rates will lead to a moderation in house price growth.
"Refinance activity will drop to very low levels and the mortgage market will be dominated by purchase activity."
Email market reports to press@inman.com.