I had the pleasure of speaking to Marnie Blanco, Vice President, eBusiness at RE/MAX. I first heard Marnie speak at Real Estate Connect NYC a few months back and was really impressed by what she had to say about social media and what RE/MAX was doing on a corporate level – but also to support their agents in the fast-changing social media world.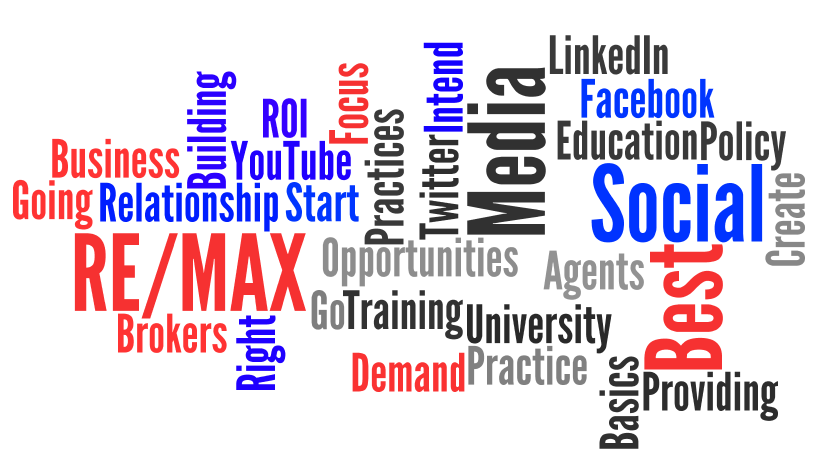 Best Practice Over Policy
When asked about policy around social media, Marnie says that they focus more on "best practice" over policy. She says,
"We can always do more. We offer a lot of education to our agents and brokers about Facebook business pages, Twitter, the ROI of social media, rules and regulations and best practices. RE/MAX is an extremely entrepreneurial brokerage, so we encourage everyone to get involved in social media and then we give them the tools to make the best possible decisions.
I asked Marnie about what she says when agents ask her "where to start." Many agents get overwhelmed with the number of options and seemingly never-ending stream of new technology. Marnie advises: "Start as you intend to go." RE/MAX encourages their agents and brokers to get educated first about the different mediums and then decide the role they'd like to play.
Social Media Education
Social Media superstar, Gary Vaynerchuk was a recent keynote speaker just a few weeks ago at RE/MAX's convention. Marnie said that Gary talked about how he felt like right now there is a four-year window in social media – right now everyone is on it – but everyone can really capitalize on it in the next four years.
The social media education that RE/MAX provides includes training agents on the separating some of the personal and business that happens on social media and the importance of relationship building – not just promoting their listings. They recommend LinkedIn as a great starting point, because an agent is not expected to be on LinkedIn 24/7 – there is a low barrier to entry and an easy starting point.
I asked Marnie about Twitter and she said they don't do as much Twitter training as they do with Facebook. She says that Twitter is a great listening tool. "On Twitter it is important to hear what is being said, interject when you can, and then tie it back to you when it is appropriate." But, she said, it is not for everyone.
In addition to conventions, RE/MAX also offers a number of webinars as their ongoing social media education with agents and brokers. At their conventions, they strive to have speakers that are really on the cutting edge of social media like Gary Vaynerchuk and Nicole Nicolay (Nicole is also one of our emcees at the Agent Reboot evenst that are happening nationwide)
Providing Opportunities
They have social media tracks at their conventions and at their last convention – they had a "Twitter Lover's Lounge" where people could meet "in real life" and do some great face to face networking. Also at many conventions, they provide camera crews onsite who are available to film a short professional message for agents on a one-on-one basis. These videos could then be published on the agent's web site or blog. Marnie says that RE/MAX feels it's very important to assist their agents in creating content for their social sites. In addition, agents are encouraged and trained to start a YouTube Channel of their own and then link their channel to our RE/MAX dedicated channel in which can share content across.  It creates a bigger reach for the agents at a local and national level.
Training on Demand
RE/MAX also offers "RE/MAX University" which Marnie calls "Training on Demand." At their headquarters in Colorado, they have a full television production area where they are able to create "Quick Hit" 3-5 minute training videos that can then be passed onto the brokerage level. She also said they like to take their training on the road, and will travel to various offices, and get very hands-on with agents and their computers.
Agents and Brokers Doing it Right
Here are 5 RE/MAX Facebook pages that are doing a really nice job of providing local content, building a community and engaging their audience:
How is This Going to Create More Business?
Marnie says at the end of the day, you have to ask yourself "How is this going to create more business?" With social media it is not always that tangible. What I like about RE/MAX's approach is they are putting a creative focus on the basics of the tried and true approaches, are embracing change and new technologies and arming their agents with the tools and education to succeed.
You can find RE/MAX on Facebook here and on Twitter here.
What type of social media training is your brokerage doing? Are you an agent or broker with RE/MAX?  I'd love to get your thoughts and opinions – leave me a comment below!
Written by: Katie Lance, Social Media Director, Inman News, @katielance