Note: I've asked several people to share their thoughts and experiences about what Real Estate Connect has meant to them with our FOREM readers. Look for these special "Connect Stories" here on FOREM leading up to Real Estate Connect San Francisco, July 27-29, 2011. Our seventh Connect guest post is from our friend Krisstina Wise, Principal, The GoodLife Team (@krisstinawise on Twitter). Thank you Krisstina! – Katie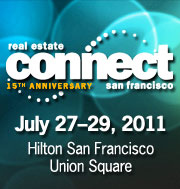 @InmanConnect #ICSF
If I could only choose one real estate conference to attend, it would be Inman Connect.
Why?
Well, if you haven't noticed, the marketplace as we've known it has shifted. And, that means the real estate industry, too, is changing. The future does not look like the past as far as our careers are concerned — which means we must prepare for a different future.
Connect is the ONLY conference I know that brings the future to the present
As agents and brokers, there are countless conferences and educational events we can attend. Yet, out of all of them, Connect is the ONLY conference I know of that looks into the future and then brings it back to our industry so that we can prepare for the future of real estate NOW!  Since it's imperative to our future success to know of the imminent changes quickly approaching our industry and careers,  I can't imagine another conference that is as important to attend than Connect.
The GoodLife Team's secret is: Inman Connect
The GoodLife Team is known to be technologically advanced for the industry and is also recognized as being an early-adopter and innovator. People ask how we continue to do this? Here is our secret … we attend Connect!
Inman Connect offers us a glimpse into the future by bringing together the most advanced and brightest thought leaders from around the globe that bring first to the industry the emerging tools, technologies, and trends that are on the horizon. The entire conference is oriented around what the future of the marketplace looks like, what changes are coming and what we, as real estate agents and brokers, need to know in terms of technologies, tools and people in order to prepare ourselves and our businesses for the future of real estate. At The GoodLife Team, we take full advantage of this opportunity to foresee what's forthcoming and then put the competitive knowledge into practice by innovating, adopting and/or reinventing our operations in order to be on the cutting-edge of real estate brokerage.
Connect is Unconventional, Untraditional and Unstereotypical
It goes without saying that Connect is uncommon, untraditional and unstereotypical. Those characteristics are a given for any conference delivering the future to us now. But, what really makes Connect unique, and my favorite conference, is the people!
I love Connect because it attracts and brings together the most innovative, passionate and knowledgeable thought leaders and actors in real estate! From the great keynote speakers from companies like Google and The New York Times, to each and every session speaker and panelist — you will meet and learn from the true leaders of change. Combine these people with the  entrepreneurs you'll meet at Start-up Alley and you have the BEST line up you will find at any conference. You will meet the most inspiring, passionate and knowledgeable innovators, entrepreneurs and practitioners who, no doubt, become new friends and colleagues.
The New Reality of Realty
So, sign up for Connect today and I look forward to seeing you there. Please drop by my session on the 28th at 9:25 where we will be discussing the new Realities of Realty.
Do you have a Connect Story you'd like to share? Did coming to Connect profoundly change you, your outlook, your team or your business? All of the above? If so, I want to hear from you and possibly feature you here on FOREM. Leave me a comment below or email me katie (at) inman (dot) com.
Join the Connect conversation on Facebook and Twitter (#ICSF)