This is Part One of a two-part post – click here to continue reading part two!
An author, a pastor, a news parody digital director, a rock star, and a news anchor walk into an auditorium… Sort of sounds like the beginning of a long (and possibly confusing) joke, doesn't it? Instead, it was the panel of speakers at a fascinating social media discussion in Atlanta last week.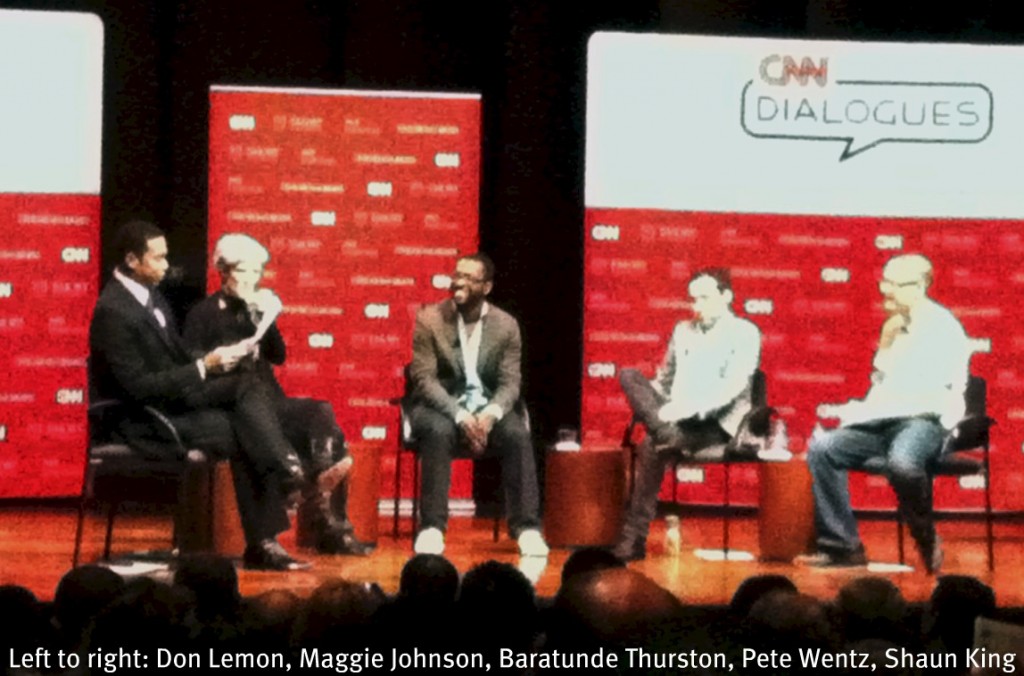 I was lucky enough to score a press pass to the second installment of CNN Dialogues, "a series of community forums featuring prominent figures debating the major issues that define our times." (CNN Dialogues is presented in partnership by CNN, the James Weldon Johnson Institute for the Study of Race and Difference at Emory University, and the National Center for Civil and Human Rights – the panels are presented live at educational institutions in Atlanta, Georgia.) This second CNN Diaogues was "Living in the Age of Social Media: The Good, the Bad, and the Surprising", and featured,
(Randi Zuckerberg, founder and CEO of R to Z Media and formerly of Facebook, was scheduled to also be on the panel but had to cancel because of a family emergency.)
So what can this unlikely band of experts teach us REALTORS® about social media? A lot.
Social media is not about technology. (Tweet This)
In his initial remarks, Don Lemon began the evening by pointing out that our interactions online are more about sociology and psychology and less about technology. Why else would social media appeal to the masses and not just to those who are particularly tech-savvy? It's about being social, forging relationships, acting and conversing online the way you would act and talk in person.
What this means for you: It's no secret that you don't have to be a tech geek to engage with social media. You don't have to be able to write code, know how to build your own website, or even be on the cutting edge with new platforms and apps. You just have to know how to hold a conversation. It may take you awhile to learn the vernacular (Twitter, for example, has a language all its own with hashtags, RTs, HTs, and other confusing idiosyncrasies which, once learned, make you sort of feel like you just learned a new language), but once you have a grasp on it, it's really just about jumping in, engaging, and being present, much like a conversation at a cocktail hour or a dinner party. And similar rules apply: you don't shove your business card in people's faces at a social event (at least, I hope you don't) so you don't shove your advertising message onto others' Facebook pages. It's a simple matter of manners, just with a computer or smart phone thrown into the mix.
Social media has made our world smaller. (Tweet This)
Shaun King gave just one example (from countless possible ways) of how social media has made our world smaller: during the earthquakes in Haiti, he reported learning about the disaster from friends on Twitter before he saw it on the news. He was able to communicate with online friends who were in the middle of affected areas and even communicate GPS location information to help direct aid efforts to those who were in crisis. "It allows us to connect with people who used to feel worlds away…and it's FREE!"
What this means for you: Many of us recognize that a beneficial part of our business is related to giving back to our communities, whether in large or small ways, and social media can play a large part. You may not be directing humanitarian aid, but you may be spreading the word about your coat drive, or like me, my annual Trick or Treat for the Troops, during which we collect items for care packages for deployed U.S. servicemen and –women. The use of social media (#Treats4Troops) in my annual campaign has enabled me to broaden the scope of the project – inviting the general public (or at least, via Twitter followers and through Facebook shares) to our events, encouraging them to donate and help spread the word, and even gaining support from other REALTORS® across the country. What better way to tell your community about something great you're doing – by encouraging others to participate – than via social media?
Social media levels the playing field. (Tweet This)
Pete Wentz (perhaps best known as bassist and lyricist for the Grammy-nominated band Fall Out Boy, is also credited with having one of the first-ever musical artist blogs and one of the largest social media footprints in 2010) spoke about how social media has leveled the playing field in the music business. A kid in Arkansas, he pointed out, can now get the same attention as a kid in Los Angeles (referring to starting a music career on YouTube). Justin Bieber started his music career on YouTube, was discovered by Usher, and is now a teenage heartthrob and Grammy-nominated, Platinum-selling pop sensation. A decade ago, that may not have been possible.
What this means for you: It used to be that the veteran REALTOR®, regardless of how good he was at the job, got the business because he was the veteran. He had the numbers to back him and numbers were king; they demonstrated competence and competence led to success and perhaps even trustworthiness, deserved or not. Now, with blogging and social media as a means to gain trust and forge relationships (which are, as Shaun King pointed out, as real – if not more so – online than off), REALTORS® who are newer to the business and may not have years and years of sales behind them now have a vehicle to demonstrate competence, provide information, and be just as visible to the consumer as the veterans. Consumers are looking for information and a way to get to know us anonymously before reaching out and making contact, and those who have a firm grasp of social media and a consistent presence are finding they have the upper hand.
Social media is not the holy grail. (Tweet This)
Maggie Johnson was the voice of dissent during much of the conversation, and though her comments could be construed as negative, she made points that many of us need to remember. While I don't necessarily know that social media is leading us into a "dark age," I did agree with her on a number of points: social media is washing into our moments of togetherness. "Kids used to hide their parents' cigarettes in an effort to get them to stop smoking; kids these days are hiding their parents' Blackberries in an effort to regain their attention," she stated. Similarly, she theorized that social media is changing the way younger generations communicate for the worse: negatively impacting their ability to hold conversations and make eye contact. "We need to return ourselves to thinking of these things as tools…not the hoy grail."
What this means for you: As REALTORS®, we have been told that social media is the next big thing for our businesses. We're told we need a Facebook Business Page, a Twitter account, videos on YouTube, a presence on Google+, a LinkedIn profile…and we spend so much time garnering fans and likes and connections and logging time in front of (and behind) our video cameras and smartphones that we lose touch with, well, people. As Pete Wentz pointed out, at some point, you have to get out and play in front of an audience. You have to reach out and touch someone – face to face, in person. Even picking up the phone and letting the customer hear your voice is a good alternative, if you can't be there in person. Acknowledge the idea that social media is not a replacement for person-to-person contact and your business will be all the better for it.
Don't forget…this is Part One of a two-part post. click here to continue reading!