From the halls of RE Boot Camps to major real estate conferences to the myriad of blogs, podcasts and how-to webinars from self-proclaimed tech and Social Media gurus, a great debate continues over the level of quality — a.k.a., "production value" — real estate professionals should apply to the various digital assets (videos, images, websites, blogs, etc.) that every day are becoming more and more fundamental to the job of selling real estate.
To which school of thought do you subscribe?
Two Schools of Thought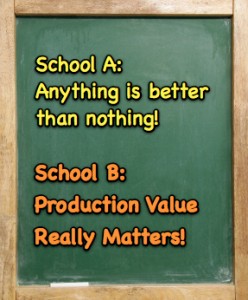 The first school, espoused by many pundits within our industry, educates agents on the benefits of a "low budget, DIY" kind of curriculum. They subscribe to a something is better than nothing ethos, even if the results are somewhat Blair Witch Project-esque: low resolution, poor lighting, shaky camera work, bad sound, etc.
In support of their argument, they cite the many affordable and tangible tools now available to anyone to create and upload videos to YouTube, which receives over a billion streams a day. Look at how easy this is…anyone can do it, right?
The public's cumulative exposure to low resolution/amateur video, the argument continues, have lowered our collective expectations, and these lowered expectations have released agents from the burden of having to develop the skill and or invest the dollars to create something more polished and more professional.
In a recent Inman News article, CEO of RealEstateCoach.com Bernice Ross wrote: "If you were shooting a video five years ago, most people expected commercial quality. With the advent of YouTube, this is no longer the case. YouTube has made amateur videos shot with a cell phone or a Flip camera acceptable."
Bernice is far from alone in having that perspective. Many others believe that all that truly matters is the content – content is king, remember! — not necessarily the packaging in which that content is presented and delivered to the masses. These people are enthusiastic about agents just getting out there and using these tools without worrying about creating a cinematic masterpiece.
The Second School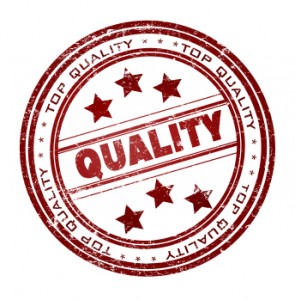 At the other end of the spectrum, we have the "production value is paramount" camp. These are of the more academic variety and hold fast to the belief that all real estate marketing efforts should receive greater attention to quality and detail.
They preach the benefits of producing higher resolution everything, and advise investing additional dollars into creating gorgeous images, HD video, professionally produced virtual tours, etc. Their philosophy is based on the belief that professionals should aspire to a higher standard than the throngs of amateurs on YouTube shooting skateboard videos on their Flipcams.
"When it comes to production value, I think it makes or breaks the long-term perception of your services" said Mathew Shadbolt, the Director of Interactive Product and Marketing for Corcoran Group, Manhattan's largest residential real estate brokerage. "Unfortunately for many in real estate, low-end production on things such as video breaks that perception more than it makes it."
Shadbolt and others from this school believe that digital assets should posses a certain level of uniformity, and that, just because simple tools (like affordable HD video cameras) are available to the masses, that does not necessarily mean that we all should be creating our own digital assets. This argument includes the thought that quality on all levels – not just the content itself – is still crucial for success in marketing.
Two schools. Which one would you attend?
Consistency
This is a critical debate for any professional who ventures down the road of creating visual props as part of their marketing efforts (and don't we all, these days, in real estate?). The question of quality boils down to this: When digitally marketing a home, to what lengths are you willing to go to best showcase that home — and your brand — to the world?
This post, so far, has been about "production value," but, in realty, it's really more about marketing, image, branding and the value proposition we seek to provide and be known for than it is about the fascination we have for the tools available to us.
It is also about consistency.
Should the decisions you make regarding production values be based on what "the masses" suggest is acceptable…or on what you believe personally?
In other words, if you present yourself as a high-end agent based on other tangible means – e.g., the clothes you wear, the car you drive or the iPad you use in your listing presentations, etc. – are you willing to lower your standard to create, for example, low quality video?
If so, do you then risk sending a confusing message to your audience?
Perception Equals Reality
Keep in mind, these digital assets are often the most tangible evidence a client will ever have of what you do for them as their real estate professional. What judgments will your clients make based upon the photos and videos you are creating for them?
And remember that their families and friends — not to mention every potential future client who may stumble upon these things while surfing the 'net — will make similar assessments of you based on the digital assets that bear your name and logo.
In other words, everything you put online is a "digital breadcrumb" back to you. They all contribute to the perception of who you are, what you stand for and how you attend to the various aspects of your profession. They are how you will be perceived.
Does your typical production value line up with your overall branding strategy?
The hallmark of a solid branding strategy
Do a BMW 535, an Armani suit, a MacBook Pro and and low res video shot on your Droid that uses unlicensed music belong in the same branding recipe?
Some believe yes. Others believe no.
What do you believe?