I don't suppose any of you are in any Fantasy Football leagues, are you?   Nah, I didn't think so… NOT!  From reading updates both on Twitter and (more so) Facebook, I would say that it is dominating the evening hours and weekend days for many of you.
So what would you think of a Fantasy House league app?  Ok, it may not have the same action packed plays or the heart-stopping, nail-biting anticipation, but it does have what your home buyers WANT and NEED.
House Hunter is the real estate version of Fantasy Football, in that it is a unique tool to help buyers track, evaluate and compare homes via a scorecard type application.  It helps buyers create a prioritized list of features, communicate those features to their agent and then track and compare homes all while on the go.  It does this through a scoring system (hence the "Fantasy House League" connotation) that uses the prioritized features to create a weighted scorecard. Now buyers can compare homes and use the scorecard to determine which home best meets their needs and/or requirements, or in Football terms, which one will be the ultimate winner!
Top Features For The Home Buyer
1.    Track & compare homes based upon a unique scoring system.
2.    Enable and prioritize a feature list which has over 80 different features to choose from
3.    Score each house based upon the features enabled by the home buyer
4.    Take, store and compare photos from each property
5.    Single page view of all info, notes, pictures captured on the property.  This is a nice way to view each property as a whole.
Top Features For You The Realtor®
1.    See a detailed view into buyer wants/needs via an email with the all the features listed, feature description and priority.
2.    Get a detailed breakdown into each property score, seeing what they liked, thought was adequate and things they did not like via email.
The importance of the first feature to you, the Realtor®, is that it allows you to track your buyers search criteria for homes that best match their wants and needs.  For example, if they indicate that larger bedrooms with big closets are really important (like an 8 on 1-10 scale) while a big back yard is only a 4 on that scale, then you can focus your search to homes that have large rooms with good closet space and a small yard.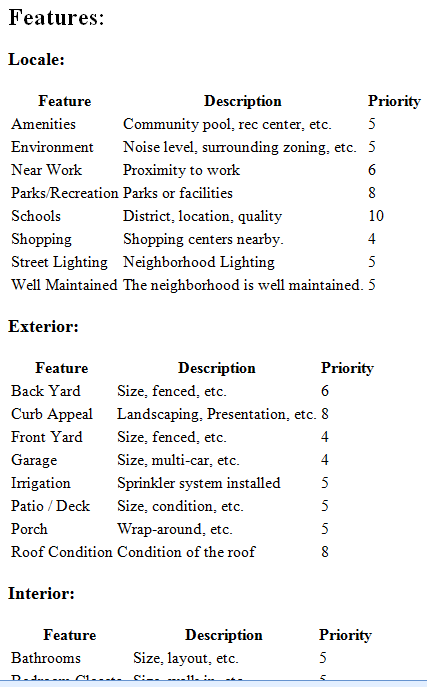 The other feature is important because it provides a view into the buyers thought process.  The better you understand how your client views things, the better you can help them find the right home.  It also is beneficial because when the client does settle on a house, these scores can be used in the negotiation process to help get the client the best deal possible.
LATEST APP UPDATE INCLUDES:
New layout for Full screen photo view.  When in full screen mode, photos can be viewed full screen. Tapping the full screen photo will bring up a film strip view so other pictures can be viewed easily via full screen too.
Full resolution photos in full screen photo view. Previously only the thumbnails were enlarged due to memory and performance issues.  They have since worked it out that full res photos can be viewed without performance degradation or memory issues.
Ability to delete photos (missing from 1.0)
Ability to assign default photo for address (not available in 1.0)
Features are automatically enabled once the slider for priority is adjusted.
Applied Bold Formatting to "Must Have" features in the scorecard and feature list emails to agent so agents can quickly spot the must have items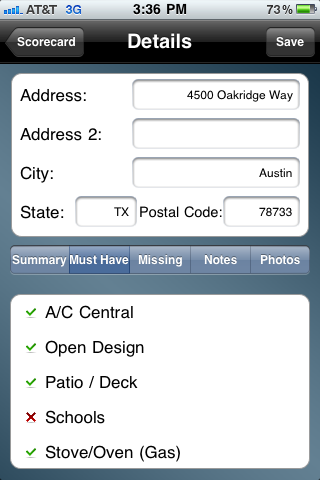 So, do you wanna take this for a test drive?  House Hunter has a generous offer for InmanNext™ readers.  Here's the scoop:
1.   "Throw it around" with their newly released trial version of the app called House Hunter Lite.  You can try it risk free.
2.  Full version is on sale until October 31st, 2011.  Once you have tried the free version, you can get 25% off the Full version (or just skip the Lite version altogether and go for the home run!)  At just $2.99 this may be a great app to "gift" to your new purchasing client.  What a way to start your new relationship by providing a techie tool!