Sometimes we don't know what we need until we have it handed to us.

Voxer Review: Making Twitter Feel Really 2011 – Video 
Voxer, a free walkie talkie app for the iPhone and Android, allows for group and individual text, picture text and most importantly audio text.
Voxer is the number one app right now in iTunes for social networking.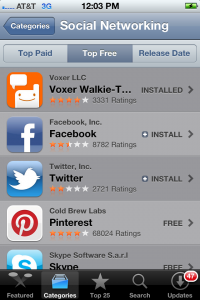 This is a big deal for two reasons.
First, Facebook (you may be familiar with them) was the number one app that Voxer dethroned.
Second, this is a walkie talkie app (think Sprint/Nextell circa 1998) that on the surface is a utility or communcation app not a social networking app.
In my Voxer video review I cover the following:
The potential for Voxer to become mass adopted very quickly (your Grandma will love it).
The business uses for Voxer right now.
How I see Voxer becoming a disruptive technology for sites like Twitter and Facebook (once you experience Voxer you wish it was that easy to leave audio remarks everywhere).
How the concept behind tools like Siri and Dragon Dictation are completely wrong (words are powerful, quit transcribing them).
My first impression of Voxer after having spent a week now with the app is simply wow.
Voxer allows you to enter a world that you didn't even know you needed.
Voxer sucks you in because the core focus of the technology, as opposed to many of the shiny objects we see, is connecting real people to real people using their real voice.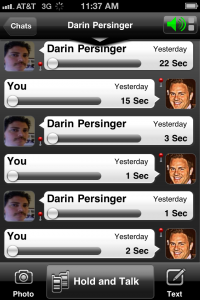 After spending time in Voxer it becomes clear that Twitter, Facebook and regular texting feel really 2011.
Every now and then a technology emerges that changes the way we communicate as a species.
Facebook did it.
Twitter did it.
YouTube did it.
Voxer is doing it.
You can download Voxer for free for either the iPhone or Android.
By sharing this on Facebook and Twitter right now you will be exposing thousands of new people to this amazing technology.
Let me know in the comments below what your initial reaction to Voxer is and how you see it being a major player in the mobile and social spaces for years to come.