By AMANDA AND JARED CHRISTIANSEN
My neighbor asked me this the other day. It was 3 p.m. and I was checking the mail.
He came over and said, "Busy day today, I see. Are we lounging this afternoon again? It must be nice to sell a few houses and make the big bucks and then lounge from home all day."
I smiled and changed the subject. There's no need to try to convince him otherwise.  
Then he said, "What do you really do all day? There are some days that I don't even see your Jeep leave the driveway. Seriously … what do you do all day?"
I smiled again and explained that I spend a lot of time in front of the computer, on the phone and answering texts. I found myself trying too hard to convince him that I really do work hard, and I work a lot of hours. I ended the conversation and went back inside. No harm, no foul.
His question really got me thinking.
What do Realtors really do all day?  
Time to break out my calendar and explain what I do all day.
Monday: I met with a lender at my office in the morning. She was explaining what products she had to offer. That was followed by a lunch with a title rep, a listing appointment that afternoon, and a few showings that evening.
Tuesday: I was sick on the couch (that's rare!), but I was still able to get up and around by the evening to show lake properties. I had to cancel a pretty big real estate podcast that day, though. Bummer.
Wednesday: I blogged a lot and spent a good part of the afternoon working on real estate videos. That evening I showed a home to some seller/buyers, and then showed homes to another buyer. We found the one and will be writing an offer today.
Thursday: Right now it's 9:17 a.m. I just finished my shake, got this blog idea, and then I'm going to work out. Then I need to schedule three closings for next week followed by another listing appointment tonight. I may try to squeeze nine holes of golf in before my listing tonight.
Friday: More videos during the morning followed by an afternoon of phone calls to past clients. Friday night will consist of me showing a few more homes to yet another buyer client.
Saturday: There's a possibility that we'll have a listing appointment followed by dinner with past clients. (See, we work our sphere of influence and past client base to not only say hello and catch up, but to ask for referrals to grow our business.)
Sunday: We have yet another new listing appointment that afternoon. Hopefully, that will end the work week and I can watch the Cowboys lose after that.
Don't forget all of the phone calls, texts, and all of the emails we receive throughout the day and evening. Oh, and don't forget about the interaction on Facebook and all of the other social media sites that bring in business. I do most of that in the evenings.
Oh, and don't forget that we also touch base with each and every seller on a weekly basis, and our monthly newsletter that we take time to prepare, and our mail marketing that we work on weekly, and …
Are you catching my drift here?  
Being two full-time Realtors with a thriving and growing business is more than a full-time job. We don't clock out as much as we should. We live and breathe real estate almost every day and almost every evening.
Sure, it may look like we have it easy, and to be honest, sometimes I think we do. Doing what you love rarely feels like work.
But it is work.  
Time for me to log off, go push some weights and hit the cardio, and then get back to my life of leisure, fun in the sun, and my daily massages and mojitos.
Or something …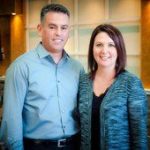 This post by Amanda and Jared Christiansen was originally published on ActiveRain. The Christiansens specialize in Fort Wayne, Ind., real estate for Century 21. Contact them on Twitter @FtWayneRealtors.