[php function=1] Technology has made many things simple.
It's much easier and quicker to communicate, to find information and share content today.  Technology also adds an element of distraction and complication to your life also. It's a Yin Yang Effect.  

The key to using technology for productivity is to stay aware of how you are using technology.

  Have you ever gone online to search for something, then immediately forgot what you are looking for?
  Have you ever got stuck in the death wheel of distraction?  Check your analytics.  Check your blog. Check your email.  Check your Facebook. Check your Twitter.  Go back and check your analytics and do it all over again.
Stay Aware Of Where You Spend Your Time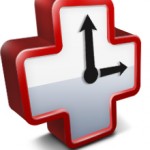 A great tool for helping you stay aware of where you are spending your time and how much time you are spending there is an application called Rescue Time.
Rescue Time has the tagline "When you are serious about Productivity…" And I'm betting you are serious about productivity as business owner and independent contractor. You want to get more done in less time right?

 And not just MORE busy, urgent work, but MORE productive work that has an impact, right?
Rescue Time touts that the average user recovers 3 hours and 54 minutes of productive time per week!  

That's pretty amazing. Almost four hours. Basically half a work day. 

Leave a comment below and let me know what would you do with an extra four hours a week?
Can't view the video, click here.